Despite some neighbourhood opposition, Dunbar Ryerson United Church in Kerrisdale will be able to proceed with its plans to build an eight-storey tower on its property. Justin McElroy of CBC News reported October 31, following a Vancouver City Council meeting which dealt with the issue:
"It was a relatively rare sight at Vancouver city council on Tuesday: a unanimous vote in favour of building a tower."
By a 10-0 vote, councillors approved rezoning parts of two blocks at West 45th Avenue and Yew Street to allow an eight-storey residential tower and five-storey addition to Dunbar Ryerson United Church.
"It has met the test, which is not easy to do in these times, but we appreciate the extra that's been gone to," said Mayor Gregor Robertson moments before the rezoning passed. . .
The church has partnered with Wall Financial to demolish current units it owns next to the church to build a tower with market housing. Proceeds from that will fund renovations to the church, along with the building of a community centre and 32 units of social housing.
He added that while there has been opposition, it has not been as significant as with some other neighbourhood developments; 74 percent of correspondence from residents and 20 of 29 who attended the hearing supported the project. To check out the nature of the opposition go to Ryerson-Vancouver Neighbours and CityHallWatch.
The two-storey neo-Gothic stone church, built in 1928, will be restored as part of the project. The project covers one-and-a-half city blocks on either side of Yew Street on the north side of 45th Avenue.
I wrote in February about the background of Dunbar Ryerson Church (the joining of Dunbar Heights United Church and Ryerson United Church) here and the redevelopment plans for the Kerrisdale property here. And go here for city hall's overview of the whole Rezoning Application process
Heritage: St. Andrew's-Wesley
It is encouraging to see the ongoing interest shown by Vancouver Heritage Foundation in our historic city churches. The most recent example is their focus on St. Andrew's-Wesley United Church:
Come to St. Andrew's-Wesley Church [November 1] to hear Kate Robertson, Heritage Consultant at Donald Luxton and Associates, explain the process and considerations for creating a restoration plan of a Heritage Register 'A' building.
Designed by architects Twizel and Twizel and completed in 1927, this Gothic church was built of granite and local Haddington Island stone, and was inspired by Durham Cathedral in England.
Kate will speak about the process of creating a conservation plan including identifying significant features to be considered in a future restoration, the history of the site and story behind several stained glass windows as well as future plans to replace the roof.
Vancouver Heritage hosts all kinds of events, including house tours, walking tours and much more.
Duty Calls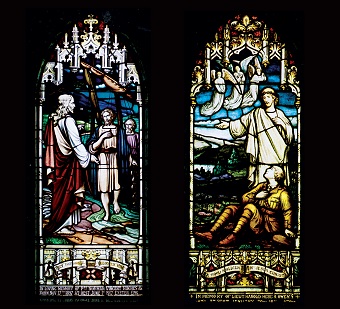 Christ Church Cathedral will commemorate the 100th anniversary of Vimy Ridge with a staged reading of Duty Calls on Remembrance Day:
What were they thinking, our men who marched away a century ago, straight toward Hell on the Western Front? Come – and listen – as Lieutenant Harold Owen and Private Norman Hughes step out of their stained glass windows on the east wall and Lieutenant-Colonel William Hart-McHarg leaves his plaque in the military alcove, to tell us of their lives.
In a staged reading of a script by Cathedral parishioner Anne Fletcher, we will live through the Great War, singing the anthems and hymns of Christ Church of 1914-18, hearing stories from the trenches, and remembering the deaths of those who once sat in our pews.
This special Remembrance Day observance is in honour of all members of Canada's Armed Forces, past and present. By donation.
October 30, 2017
Understanding People, Mental Health & Trauma
– October 30, 2017 - November 3, 2017 at 8:00 am - 5:00 pm
October 31, 2017
Hope on the Edge of a Precipice: The Reformation at 500
– October 31, 2017 - November 2, 2017 at All Day
November 1, 2017
Equip Study Conference 2017: Transforming Discipleship
– November 1, 2017 - November 3, 2017 at All Day
November 2, 2017
MEDA Convention 2017: Business as a Calling
– November 2, 2017 - November 5, 2017 at All Day
November 3, 2017
The Compassion Experience
– November 3, 2017 - November 6, 2017 at All Day
Audible: Poems, Stories, Songs
– November 3, 2017 at 7:00 pm - 9:00 pm
Dr. Iain Provan: The Reformation and the Right Reading of Scripture
– November 3, 2017 at 7:00 pm - 9:00 pm
Graham Ord in Concert
– November 3, 2017 at 7:00 pm - 10:00 pm
Kairos Blanket Exercise
– November 3, 2017 at 7:00 pm - 9:00 pm
Luke Vandevert/The Arctic The Great Atlas & We are Mystic in Concert
– November 3, 2017 at 7:00 pm - 9:00 pm
Web Wise Internet Safety Seminar
– November 3, 2017 at 7:00 pm - 9:30 pm
Y2Y Night
– November 3, 2017 at 7:15 pm - 9:30 pm
November 4, 2017
Iain Provan: 500 Years of the Reformation
– November 4, 2017 at 9:00 am - 12:30 pm
Gerald Hobbs: Luther - Let God be God
– November 4, 2017 at 9:30 am - 12:30 pm
Heart for Asia Conference
– November 4, 2017 at 9:30 am - 3:30 pm
Mental Health Ministry Workshop
– November 4, 2017 at 9:30 am - 12:30 pm
Neighbourhood Stories at Granville Chapel
– November 4, 2017 at 6:30 pm - 9:00 pm
Hymn Festival: A Mighty Fortress is Our God
– November 4, 2017 at 7:30 pm - 9:30 pm
November 5, 2017
Jazz Vespers: 3 Generations of Arntzens
– November 5, 2017 at 4:00 pm - 5:00 pm
Book Launch: Mike Mason - Jesus: His Story in Stone
– November 5, 2017 at 7:00 pm - 9:00 pm
The Throne, the Lamb and the Dragon: A Seminar on the Book of Revelation
– November 5, 2017 at 7:00 pm - 9:30 pm
November 6, 2017
National Liturgy Conference: Temple Built of Living Stones
– November 6, 2017 - November 7, 2017 at 7:00 am - 4:30 pm
Stephen Snobelen: Science, Religion and the New Atheism
– November 6, 2017 at 7:30 pm - 9:00 pm
November 8, 2017
My Father, Maker of the Trees: How I Survived the Rwandan Genocide
– November 8, 2017 at 1:15 pm - 2:15 pm
JustWork: A Taste of Dignity
– November 8, 2017 at 7:00 pm - 9:00 pm
November 9, 2017
The Lonesome West by Martin McDonagh
– November 9, 2017 - November 11, 2017 at All Day
November 10, 2017
In Theatres: The Star
– November 10, 2017 at All Day
The Remusicking Series: Dr. Dan Brunner
– November 10, 2017 - November 11, 2017 at 7:00 pm - 5:00 pm
Duty Calls: Commemorating the 100th Anniversary of the Battle of Vimy Ridge
– November 10, 2017 at 7:30 pm - 9:30 pm
Gloria! A Concert Celebrating the Reformation 500th Anniversary
– November 10, 2017 at 7:30 pm - 9:00 pm
November 11, 2017
Fr. Rob Galea in Concert
– November 11, 2017 at 1:00 pm - 3:00 pm
Vancouver Cares About Refugees: Free Screening of 'Nowhere to Hide'
– November 11, 2017 at 6:30 pm - 9:00 pm
Brian Doerksen Album Release Concert
– November 11, 2017 at 7:00 pm - 10:00 pm
Fr. Rob Galea: No Greater Lovev
– November 11, 2017 at 7:00 pm - 9:00 pm
November 12, 2017
International Day of Prayer for the Persecuted Church
– November 12, 2017 at All Day
Verdi Requiem
– November 12, 2017 at 2:00 pm - 4:00 pm
A Legacy: Alternate Responses to the Call to Arms
– November 12, 2017 at 3:00 pm - 5:30 pm
Jazz Vespers: L.J. Mounteney & Van D'Jango
– November 12, 2017 at 4:00 pm - 5:00 pm
November 15, 2017
Russell Stendal: Religious Freedom in Colombia, Cuba and Venezuela
– November 15, 2017 at 1:00 pm - 2:00 pm
November 16, 2017
A Rocha: Intro to Creation Care Workshop
– November 16, 2017 - November 18, 2017 at All Day
Pastoral Mentorship Training
– November 16, 2017 - November 17, 2017 at All Day
Russell Leng: Temporary Tunnels
– November 16, 2017 - November 25, 2017 at All Day
The Cover of Life
– November 16, 2017 - November 24, 2017 at All Day
The Kingdom of What Is: Book Reading by Karl Petersen
– November 16, 2017 at 12:00 pm - 1:00 pm
Book Launch: Christmas with Hot Apple Cider
– November 16, 2017 at 4:00 pm - 5:30 pm
DivorceCare (Thursday evenings)
– November 16, 2017 - November 30, 2017 at 6:30 pm - 8:30 pm
DivorceCare for Kids (Thursday evenings)
– November 16, 2017 - November 30, 2017 at 6:30 pm - 8:30 pm
November 17, 2017
FaithTech: Vancouver Hackathon
– November 17, 2017 - November 19, 2017 at All Day
Living Free Conference
– November 17, 2017 - November 19, 2017 at All Day
Lights of Hope Celebration
– November 17, 2017 at 6:30 pm - 7:30 pm
Faith & Film Evening: Cromwell
– November 17, 2017 at 6:45 pm - 9:30 pm
Christmas Special: Amy Grant & Michael W. Smith with Jordan Smith
– November 17, 2017 at 7:00 pm - 9:30 pm
Glen Soderholm in Concert
– November 17, 2017 at 7:00 pm - 9:00 pm
All Handmade Sale
– November 17, 2017 at 7:30 pm - 9:30 pm
November 18, 2017
Writer's Breakfast with NJ Lindquist: Writing a Story is Like Baking a Cake
– November 18, 2017 at 7:30 am - 9:00 am
The Exchange Young Adults Conference
– November 18, 2017 at 9:30 am - 9:00 pm
All Handmade Sale
– November 18, 2017 at 11:00 am - 5:00 pm
The Art of Art: A Westcoast Formal, by Youth Unlimited
– November 18, 2017 at 7:00 pm - 11:00 pm
Phil Keaggy in Concert
– November 18, 2017 at 7:30 pm - 9:45 pm
November 19, 2017
VBCC in the Community: Christmas at Hycroft
– November 19, 2017 at 11:00 am - 9:00 pm
Jazz Vespers: Marcus Mosely Chorale
– November 19, 2017 at 4:00 pm - 5:00 pm
November 21, 2017
Copenhagen
– November 21, 2017 - December 2, 2017 at All Day
Ascent Church Planters Base Camp
– November 21, 2017 at 9:30 am - 3:30 pm
Barry Pointon: The Human-Haunted Cosmos
– November 21, 2017 at 7:30 pm - 9:00 pm
November 22, 2017
Dwelling in the Wilderness
– November 22, 2017 at 1:00 pm - 2:00 pm
Bro. Guy J. Consolmagno, S.J.: 'Why Do We Look Up at the Heavens,' with Director of Vatican Observatory
– November 22, 2017 at 7:00 pm - 8:30 pm
November 23, 2017
Open House: Saint Francis of Assisi School
– November 23, 2017 at 6:00 pm - 7:30 pm
November 24, 2017
Almost, Maine by John Cariani
– November 24, 2017 - December 16, 2017 at 12:00 am
Ancient Paths to Creator: Spiritual Formation Retreat
– November 24, 2017 - November 26, 2017 at 5:30 pm - 2:00 pm
Celebrating 40 Years of Prayer Canada
– November 24, 2017 at 6:00 pm - 8:00 pm
Sharing the Table: An invitation to experience Syrian culture through food and stories
– November 24, 2017 at 6:00 pm - 9:00 pm
Life on the Margins Workshop
– November 24, 2017 - November 25, 2017 at 6:30 pm - 4:00 pm
Choral Music for Christ the King
– November 24, 2017 at 7:30 pm - 9:30 pm
Ryan McMahon in Concert
– November 24, 2017 at 7:30 pm - 9:30 pm
November 25, 2017
Stand: Faithful Reading in a Faithless World, with Iain Provan
– November 25, 2017 at 9:00 am - 1:00 pm
Fair Trade Christmas Market
– November 25, 2017 at 10:00 am - 4:00 pm
Gloria Dei Chorale presents Messiah
– November 25, 2017 at 7:30 pm - 9:30 pm
November 26, 2017
Day of Prayer for Religious Freedom
– November 26, 2017 at All Day
Fair Trade Christmas Sale
– November 26, 2017 at All Day
Jazz Vespers: Original Blend
– November 26, 2017 at 4:00 pm - 5:00 pm
Monthly Hymn Sing
– November 26, 2017 at 6:00 pm - 8:00 pm
City-wide Prayer on Zoom
– November 26, 2017 at 6:30 pm - 7:30 pm
VOS Chorus & Orchestra: The Star of Bethelehem
– November 26, 2017 at 7:30 pm - 9:30 pm
November 29, 2017
Cold Clear Sky: An Anthology of Woodcuts by Dan Law
– November 29, 2017 - December 21, 2017 at All Day
Entrepreneurial Leaders Conference: Called to Lead
– November 29, 2017 at All Day
Vancouver Pastors Prayer Fellowship Christmas Meeting & Dickens Dinner
– November 29, 2017 at 10:30 am - 2:00 pm
Dr. Thomas Heilke: Discerning the Times - Rethinking the Foundations and Sources of Democracy
– November 29, 2017 at 4:00 pm - 5:30 pm
Cold Clear Sky: An Anthology of Woodcuts by Dan Law - opening reception
– November 29, 2017 at 4:30 pm - 7:30 pm
Mission Possible Gala
– November 29, 2017 at 6:00 pm - 9:00 pm
Jonny Lang Sings World Tour
– November 29, 2017 at 7:00 pm - 9:00 pm
November 30, 2017
Reformation 500: Why Should Pastors Care?, with Dr. Iain Provan
– November 30, 2017 at 2:30 pm - 4:00 pm
Book Launch: Martina Scholtens - Your Heart is the Size of Your Fist
– November 30, 2017 at 6:30 pm - 8:00 pm
Book Launch: The Quiet in the Land by Richard Toews
– November 30, 2017 at 7:00 pm - 8:00 pm
Handel's Messiah
– November 30, 2017 at 7:30 pm - 9:30 pm
December 1, 2017
The Two Sides of Christmas
– December 1, 2017 at 7:30 am - 8:30 am
Christmas Tales
– December 1, 2017 at 7:00 pm - 9:00 pm
ECBC Christmas Musical: The Plan
– December 1, 2017 - December 2, 2017 at 7:00 pm - 9:00 pm
Handel's Messiah
– December 1, 2017 - December 2, 2017 at 7:30 pm - 9:30 pm
Reconciliation as a Christian Response to the Israeli-Palestinian Conflict
– December 1, 2017 at 7:30 pm - 9:30 pm
Rejoice! European Carols and Readings
– December 1, 2017 at 8:00 pm - 10:00 pm