There is not much that gladdens my heart more than to see churches gathering together, in the midst of the broader community. That's what will be happening this Sunday (June 18) at the Point Grey Fiesta Ecumenical Service. (Even better, it's in my old stomping grounds, where I remember so little sign of the church in the community as I was growing up.)
Here is the invitation, from the West Point Grey United Church
website
:
Each year, the churches in the West Point Grey area gather together to celebrate worship during the Point Grey Fiesta Days. We meet in the lovely outdoor location of Trimble Park, welcoming friends from the various churches and our neighbours in the community. This year, our theme is 'Welcoming The Stranger,' with a focus on refugees. Some of the new to Canada Syrian families will be present. And the service will be in English and Mandarin.
The Rev. Dr. Richard Topping, principal of the Vancouver School of Theology, will be our guest preacher for the service. In his bio, he describes himself as loving the church and experiencing it as agent of God's love and mercy in his own life and in the world.The scripture for the day is Acts 10:34-43 and the title of his talk will be "Open to Everyone."
Everyone is most welcome to come to the [10 am] service. The setting is informal, and you are encouraged to bring a lawn chair or blanket to sit on. Some chairs will be available as well. Refreshments will be served in the park following the service – a great time to see old friends and meet new ones!
It is also good to see that the Welcoming the Stranger theme is the same one celebrated in many churches around Metro Vancouver last week as part of One City, One Message.
Churches involved in the ecumenical service include West Point Grey United, St. Helen's Anglican, St. Andy's Community Table, West Point Grey Baptist, West Point Grey Presbyterian, Our Lady of Perpetual Help Roman Catholic, Point Grey Inter-Mennonite Fellowship and St. Anselm's Anglican.
Between the Sheets
Pacific Theatre's 2016/2017 season has just come to an end, but their theatre space will still be humming with activity into early July. PT offers non-professional community members the opportunity to work alongside professionals in Stone's Throw Productions.
The company will produce three shows: Between the Sheets (June 21 – 24), Danny and the Deep Blue Sea (June 28 – July 1) and Problem Child (July 5 – 8).
Here is a portion of the article:
"It's a rarity to find such meaty roles for two women, an older woman and a younger woman," said Klaudt, 24. "That was a big part of choosing the show."
Rehearsals for the confrontational drama have been intense, she said.
"It's not a play where there's a lot of frivolity," Klaudt said. "Then, with Stone's Throw, the other two apprentices both have their final projects coming down the line. There's a lot of energy and machines running here at the theatre, and that's intense in its own right."
During her apprenticeship with Stone's Throw, she's come to appreciate Pacific Theatre and its "alley configuration" (the stage is between two sets of bleachers).
"It is one of my favourite spaces to both see a play and perform," she said. "It's such a fly-on-the-wall experience for the audience. You can see those beads of sweat dripping off the faces. It's so personal and intimate, I just love it."
Go here for the full article.
Migration, Mission & Multiplication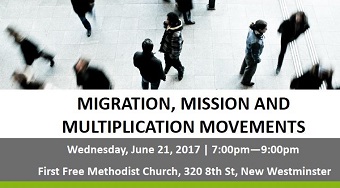 Four groups concerned with mission are banding together to present
Migration, Mission and Multiplication Movements
next Wednesday (June 21). Missions Fest Vancouver and Outreach Canada (based in Delta) will join with Lausanne Canada and Evangelical Missiological Society to host Dr. Narry Santos and Dr. Robert Cousins.
Here is the invitation:
Is your church confused about their role in global missions? This seminar is all about reverse missions or, as [the
Lausanne Movement
] says, missions is no longer "the West to the rest but from everywhere to everywhere."
Where the West sent missionaries (the Global South), these countries are now sending missionaries to the West. While the mainline churches are hemorrhaging, the immigrant churches in our urban centres are growing. Pastor Narry is an example of this reverse missionary movement. The key to the Canadian church's future may be in partnership for kingdom outcomes.
Narry Santos is part-time senior pastor of Greenhills Christian Fellowship (GCF) Peel and GCF York. He recently planted Saddleback South Manila and served as its pastor for three years. He has helped plant six churches in Canada and four in the Philippines. He also served as adjunct professor in Diaspora Missiology at Tyndale Seminary.
Robert Cousins was born and raised in Northern Ireland and later immigrated to Canada. He and his wife Sheila served as missionaries in East Africa for 12 years. He is presently director of Tyndale Intercultural Ministries (TIM) Centre, seeking to engage and encourage multicultural leaders in global missions.
June 15, 2017
UGM: Call for Artists
– June 15, 2017 - June 16, 2017 at All Day
Generous Space Launch Party
– June 15, 2017 at 7:00 pm - 9:00 pm
Steve Imbach: Spiritual Direction – Contemplative Prayer Night
– June 15, 2017 at 7:00 pm - 8:30 pm
June 17, 2017
Serving Refugees
– June 17, 2017 at 9:00 am - 3:00 pm
St. Andrew's United Church 12th annual Teddy Bear Picnic
– June 17, 2017 at 10:30 am - 2:00 pm
Market Day for Cambodia
– June 17, 2017 at 2:00 pm - 9:00 pm
Organ Concerti: Gail Ovington, Carmen Ranta
– June 17, 2017 at 2:00 pm - 3:30 pm
June 18, 2017
World Refugee Sunday
– June 18, 2017 at All Day
Point Grey Fiesta: Ecumenical Service
– June 18, 2017 at 10:00 am - 11:30 am
Beyond 150: A Street Party in Honour of National Aboriginal Day
– June 18, 2017 at 2:00 pm - 6:00 pm
Screening: Countdown to Sanctuary Wood
– June 18, 2017 at 7:00 pm - 8:30 pm
June 20, 2017
Church Leaders Forum: Flying in Formation
– June 20, 2017 at 9:30 am - 12:30 pm
June 21, 2017
Mental Health, Faith and Community
– June 21, 2017 at 12:00 pm - 1:00 pm
Migration, Mission and Multiplication Movements
– June 21, 2017 at 7:00 pm - 9:00 pm
National Aboriginal Day Observance
– June 21, 2017 at 7:00 pm - 9:00 pm
Jazz Evensong: Marcos Flo & Friends
– June 21, 2017 at 8:00 pm - 9:30 pm
June 22, 2017
Grace W.S. Tan: Through the Eyes of Agape
– June 22, 2017 at All Day
Charles Montgomery: Soul and the City
– June 22, 2017 at 5:30 pm - 7:00 pm
Between the Sheets
– June 22, 2017 - June 24, 2017 at 8:00 pm - 10:00 pm
June 23, 2017
Vancouver International Jazz Festival: Jazz Vespers at St. Andrew's-Wesley
– June 23, 2017 - July 2, 2017 at 12:00 pm - 1:00 pm
Jenny Banai & Bre McDaniel
– June 23, 2017 at 8:00 pm - 11:00 pm
June 24, 2017
Over 18 Film Screening
– June 24, 2017 at 9:15 am - 12:30 pm
Martin Luther Remembered
– June 24, 2017 at 10:00 am - 12:00 pm
Walk for Water
– June 24, 2017 at 1:30 pm - 3:30 pm
Borders to Beginnings
– June 24, 2017 at 6:00 pm - 9:00 pm
Jeremy Pearsons
– June 24, 2017 at 6:30 pm - 9:00 pm
Pastor Anil Kant and Family
– June 24, 2017 at 6:30 pm - 8:30 pm
Ember
– June 24, 2017 at 7:00 pm - 9:00 pm
June 25, 2017
World Refugee Sunday
– June 25, 2017 at All Day
Jazz Vespers: Karen Graves & Miles Black
– June 25, 2017 at 4:00 pm - 5:00 pm
Jazz Vespers: Quintessential Jazz
– June 25, 2017 at 4:00 pm - 5:00 pm
Pastor Anil Kant and Family
– June 25, 2017 at 6:30 pm - 8:30 pm
June 27, 2017
Eastside Story Guild: Women at War
– June 27, 2017 - June 30, 2017 at All Day
Vancouver International Jazz Festival: Cyrus Chestnut Trio
– June 27, 2017 at 7:30 pm - 9:30 pm
June 28, 2017
Prayer Walk for Voices Together
– June 28, 2017 at 7:30 pm - 8:30 pm
Danny and the Deep Blue Sea
– June 28, 2017 - July 1, 2017 at 8:00 pm - 10:00 pm
Jazz Evensong: Nathen Aswell & Friends
– June 28, 2017 at 8:00 pm - 9:30 pm
July 1, 2017
Lamenting Canada's 150 Years of Colonization
– July 1, 2017 at 4:00 pm - 5:00 pm
Voices Together 2017
– July 1, 2017 at 5:00 pm - 7:00 pm
July 3, 2017
Athletes in Action: Tsawwassen Alliance Church Soccer Camp
– July 3, 2017 - July 7, 2017 at 8:00 am - 3:00 pm
Athletes in Action: Richmond Baptist Church Soccer Camp
– July 3, 2017 - July 7, 2017 at 9:00 am - 3:00 pm
When Injustice Becomes Law, Resistance Becomes Duty
– July 3, 2017 at 7:00 pm - 9:00 pm
Krish Kandiah: Spirit of Adoption – The Forgotten Gospel Treasure
– July 3, 2017 at 7:30 pm - 9:00 pm
July 5, 2017
In the Garden: Beauty Bears Witness
– July 5, 2017 - August 4, 2017 at All Day
Formation and Vocation: Christian Spirituality as it Relates to Vocation
– July 5, 2017 at 12:00 pm - 12:45 pm
In the Garden: Beauty Bears Witness - Opening Reception
– July 5, 2017 at 4:30 pm - 7:30 pm
Soong-Chan Rah: Prophetic Lament – Moving from Triumphalism to Truth
– July 5, 2017 at 7:30 pm - 9:00 pm
The Choir of Christ's College, Cambridge
– July 5, 2017 at 7:30 pm - 9:30 pm
Problem Child
– July 5, 2017 - July 8, 2017 at 8:00 pm - 10:00 pm
July 6, 2017
Scorsese's Silence and the Revelation of God
– July 6, 2017 at 12:15 pm - 1:15 pm
Annual Merton Lecture: Western Monastics Look East
– July 6, 2017 at 7:00 pm - 9:00 pm
Watoto Choir free concert
– July 6, 2017 at 7:00 pm - 9:00 pm
July 7, 2017
Rising Eagle Reconciliation Concert
– July 7, 2017 at 7:00 pm - 9:00 pm
Watoto Choir free concert
– July 7, 2017 at 7:00 pm - 9:00 pm
July 8, 2017
Carolyn Arends & Christopher Hall: John 17 - Praying Like Jesus (Summer Prayer Retreat)
– July 8, 2017 at 10:00 am - 4:00 pm
Earthkeepers: Clean Up New Brighton Park
– July 8, 2017 at 10:00 am - 12:00 pm
Watoto Choir free concert
– July 8, 2017 at 6:00 pm - 8:00 pm
July 10, 2017
Kickers Soccer Camp
– July 10, 2017 - July 14, 2017 at 9:00 am - 3:00 pm
New Christian Reformers and the Jews
– July 10, 2017 at 7:00 pm - 9:00 pm
Susan Phillips: Retrieving the Ancient Practice of Spiritual Direction in an Age of Self-help
– July 10, 2017 at 7:30 pm - 9:00 pm
July 11, 2017
Ashley John Moyse: The Art of Living for a Technological Age
– July 11, 2017 at 7:30 pm - 9:00 pm
July 12, 2017
Rikk Watts: Steve Jobs, Jonny Ive and the Gospel – Reading Mark with Leading Edge Designers
– July 12, 2017 at 7:30 pm - 9:00 pm
July 14, 2017
BC Christian Ashram Retreat
– July 14, 2017 - July 16, 2017 at All Day
The Small Glories
– July 14, 2017 at 8:00 pm - 10:00 pm
July 17, 2017
Athletes in Action: Richmond Baptist Church Multi-Sport Camp
– July 17, 2017 - July 21, 2017 at 9:00 am - 3:00 pm
FLO Summer Soccer Camp 2017
– July 17, 2017 - July 21, 2017 at 1:30 pm - 4:30 pm
Adrienne Dengerink Chaplin: The Bible in the Modern Artistic Imagination
– July 17, 2017 at 7:30 pm - 9:00 pm
July 18, 2017
Loren Wilkinson: Imago Mundi Poetry Reading
– July 18, 2017 at 7:30 pm - 9:00 pm
July 19, 2017
Malcolm Guite: The Truth's Superb Surprise – How Poetry Can Open Your Eyes and Deepen Your Thought
– July 19, 2017 at 7:30 pm - 9:00 pm
July 21, 2017
Songs & Sonnets: An evening of music and poetry with Steve Bell & Malcolm Guite
– July 21, 2017 at 6:30 pm - 9:00 pm
July 22, 2017
David Ley: Postmodern Urban Spaces - A City Tour
– July 22, 2017 at 9:30 am - 1:00 pm
July 24, 2017
Mark Noll: Martin Luther and the Dilemmas of Sola Scriptura
– July 24, 2017 at 7:30 pm - 9:00 pm
July 26, 2017
Scot McKnight: Adam and the Genome – Rethinking the 'Historical' Adam
– July 26, 2017 at 7:30 pm - 9:00 pm