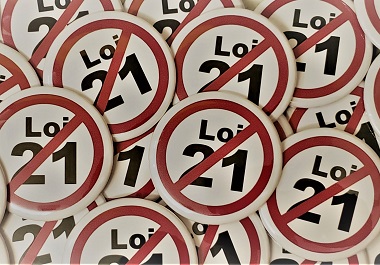 Bill 21 applies only in Quebec, but outrage and opposition remains strong across the nation, including from Christian groups.
The controversial Bill is front page news again since the Quebec Court of Appeal began hearing a constitutional challenge November 7.
CBC News reported on the opening day of the hearings:
Opponents of Quebec's secularism law – known as Bill 21 – argued before the province's Court of Appeal Monday that the CAQ government went too far in pre-emptively invoking the constitutional notwithstanding clause in order to protect the law from court challenges.
The Quebec government and several civil liberties groups are presenting arguments about a Superior Court decision last year, which upheld most – but not all – of the province's controversial secularism law.
Enacted under the Coalition Avenir Québec (CAQ) government in June 2019, the secularism law prohibits public school teachers, police officers, government lawyers and a host of other civil servants – and even some politicians – from wearing religious symbols at work.
Policy Options comment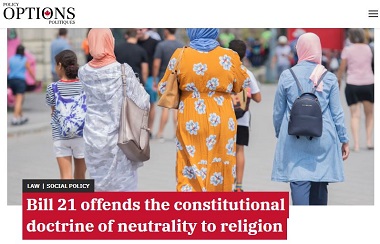 Among those opposing Bill 21 are Brian Bird, Assistant Professor at the Peter A. Allard School of Law at UBC, and Derek Ross, Executive Director and General Counsel of the Christian Legal Fellowship.
They wrote 'Bill 21 offends the constitutional doctrine of neutrality to religion' for Policy Options November 1, beginning:
The government of Quebec says that by clothing Bill 21 with Section 33 of the Canadian Charter of Rights and Freedoms – the so-called 'notwithstanding clause' – Bill 21 is immune from claims rooted in Charter rights such as freedom of religion. Many commentators agree with this position, even if they believe the law to be disturbingly discriminatory.
However, we take the view that Bill 21 is unconstitutional and that Section 33 does not grant this law passage in our constitutional waters. As groups challenging the law have argued, no government in Canada, federal or provincial, is empowered to enact legislation that mandates religion or irreligion as a precondition for participation in public life. This principle, which existed before the Charter, can not be extinguished by Section 33.
In our view, a core basis for this principle is the constitutional duty of state neutrality toward religion. This duty equally forbids the state from establishing a state religion and from categorically excluding religion from the public square. By excluding many religious citizens from their intended careers, Quebec has unambiguously favoured irreligion and violated its duty of neutrality.
They addressed the issue of neutrality more fully:
It strikes us that the duty of neutrality is not an unwritten principle but a prime example of one of what the Supreme Court of Canada recently described as "structural doctrines unstated in the written Constitution per se, but necessary to the coherence of, and flowing by implication from, its architecture."
Such doctrines are already a part of our constitutional tradition. The doctrine of paramountcy – which dictates that a valid federal law will prevail over a valid provincial law where the two laws are contradictory – is one example.
Recognizing the duty of neutrality as an independent constitutional doctrine does not place all religious freedom claims outside the reach of the notwithstanding clause. Many such claims do not engage the duty of neutrality discussed here. The notwithstanding clause could potentially be used in such cases, if the state opts to do so, subject to any other applicable constitutional constraints.
Nor does it mean that governments must be neutral on all questions which intersect with religion. As courts and legal commenters have observed, such 'absolute neutrality' is practically impossible. What the duty does require is that the state not deny its citizens equal access to the public square solely because of their religious or irreligious identity – which is the effect of Bill 21.
Go here for the full comment.
CLF intervention

The Christian Legal Fellowship (CLF) is among the groups granted leave to intervene in the litigation. A November 4 CLF release stated:
Since Bill 21 was introduced, CLF has decried its exclusion of openly religious lawyers, and others, from public service.
Indeed, one of the plaintiffs in the Bill 21 litigation is a practicing Muslim who is unable to practice as a criminal prosecutor under the law (see Hak c Procureur général du Québec, 2021 QCCS 1466 at para 64).
Derek Ross, CLF's Executive Director and General Counsel, explains:
"Bill 21 forces people of faith to suppress their religious identity as a pre-condition for public service. The Quebec Superior Court rightly described this as cruel and dehumanizing, and recognized that these prohibitions send a harmful message: that people of faith are not welcome to participate as equals in the public square, unless they hide the fact that they are religious. This is not religious 'neutrality' at all, but anti-religious discrimination. Bill 21 therefore undermines a foundational pillar of our free and democratic society: the right to openly and publicly identify as religious."