Jenny Hawkinson is a longtime resident of the Downtown Eastside (DTES) who works for 24-7 Prayer Vancouver and does pastoral street outreach and advocacy in the neighborhood.
She sent out an email March 24 under this heading: 'URGENT! DTES response to COVID-19 and how you can help.'
Here is what she said:
Hello friends,
In the midst of these trying times I'm praying that you are finding ways to connect meaningfully with those around you, and to embrace the rest that the Lord has for each of us (especially for those of us who are busier than usual with working remotely).
Some of you may be following the news regarding the DTES and wondering what you can do help. The main point being that you do not come into the neighbourhood (unless you already live here) and instead support people who are here to do the work.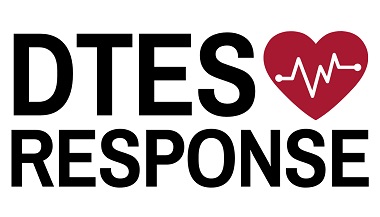 Below are a few immediate ways to get involved from a distance. I'm sure there are other amazing organizations that can use the support as well but these are the ones that I am closely connected with.
1. DTES Response: A coordinated effort from local advocates, community members and organizations in the DTES who are moving at breakneck speed to mobilize resources and operations before the virus blows up in our neighbourhood.
At the moment, the most immediate needs are funds to purchase supplies (cleaning/hygiene, masks, food packages and education/info) for the slum hotels.

2. Jacob's Well is still operating but with reduced services. They have some donations that recently came in for grocery packages, but if the quarantine continues for the next few months, they will need delivery supplies like disposable cups, bowls, paper bags, etc. (though not as high of a priority right now). They also need gloves and hand sanitizer.
An immediate need for Jacob's Well is funds to increase the staff onsite so they can continue to do outreach to people who are homebound.

3. 24-7 Prayer Canada has increased their availability for prayer support for the nation, as well as resources for churches, pastors and individuals to pray during this time of crisis. We offer weekday morning prayer online, and are making a combined effort to step into the gap.
People are so hungry for spiritual connection these days. Those of us who live in the DTES are continuing outreach (with proper social distancing). Our staff is small, and we are in a year of fundraising for the things that we feel God is breathing life into.
Thanks for the ways, small and big, that you are contributing and keeping yourselves and those around you safe and healthy.
Peace,
Jenny Hawkinson
DTES Response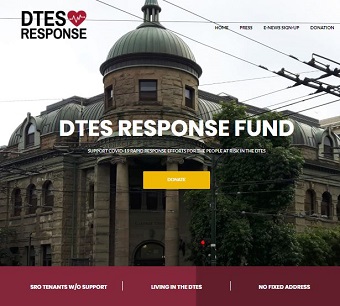 DTES Response describes its focus in this way:
We're mobilizing resources and coordinating operations to immediately respond to this crisis.
There are 15,000 people at risk in the DTES which include 3,000 who are homeless and 4,700 at high risk in privately run SRO's. We're mobilizing resources and coordinating operations to mitigate the challenges. We are activating networks in the community to create a stop-gap plan for the most urgent needs.
DTES Response has set up a collective fund to raise $100,000 for immediate needs. It will benefit: DTES SRO Collaboration (SRO-C), Western Aboriginal Harm Reduction Society (WAHRS), Friends of CCAP (Carnegie Community Action Project) and Overdose Prevention Society (OPS) who are supporting and connecting directly with people in the neighbourhood.
All hands on deck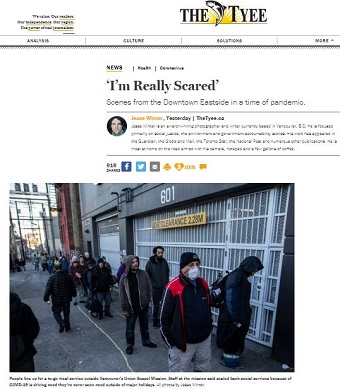 As I wrote last week (Front line workers make adjustments, need support), other groups such as the Salvation Army, Union Gospel Mission and Mission Possible are also working harder than ever in the Downtown Eastside.
Noting that line-ups for Union Gospel Mission are of unprecedented length, Jesse Winter wrote in The Tyee March 24:
As Vancouver – and the country – grapples with the spreading COVID-19 pandemic, fears are growing in one of the city's most vulnerable communities that not enough is being done to protect homeless and marginalized people.
On Thursday the City of Vancouver declared a state of emergency. The city has begun to give help to the Downtown Eastside, adding wash stations to a neighbourhood lacking in public washrooms and educating SRO operators and tenants about sanitation in their buildings. The city has also formed a Downtown Eastside Task Force with Vancouver Coastal Health, BC Housing and community groups. (A map of available services can be viewed here.)
Over the last 10 days, efforts have been made to step up the response. As well as the new hand washing stations — some of which have already been vandalized — more signage and information on COVID-19 prevention is appearing in business windows and public spaces.
But at the same time, some services have been cut back or closed to help promote social distancing. That's led to increased pressure on providers like Union Gospel Mission to help pick up the slack.
Go here for the full story, and some powerful pictures.