The fullest of full moons rose over the Burnaby Lakes soccer fields as the sun set on another perfect day, last Friday (July 11). Six teams from the BC Christian Soccer League battled it out for supremacy in the three-division league. The crowds swelled from the normal handful to scores, and everyone felt happy to be alive and out in God's creation.
The soccer wasn't too bad either. No Mario Gotze-quality goals, perhaps, but the winner was a rocket as my home team, New Life, edged out North Shore Alliance B in a hard-fought 2 – 1 battle, thus taking the Division 2 championship.
On the upper field we could hear some boisterous cheering as the Redeemer Eagles prevailed over Northside 3 – 1 in the Division 1 contest. And somewhere nearby, Broadway Church B beat Johnston Heights 2 – 1 for the Division 3 crown.
I'm sure that every player out on the field will remember the impressive World Cup finale, which also took place over the weekend, but most will no doubt retain fond memories of their own evening in the sun.
The BCCSL has done a good job over many years, fostering the league. Forty-two teams in three divisions took part in the three-month season this year. No doubt they'd be happy to hear from other churches that would like to join.
Folk Fest: 'Glory Bound' Sunday morning

The Como Mamas and Bud Welch will sing the gospel music and spirituals they grew up with in Mississippi, this Sunday morning at the Vancouver Music Folk Festival. I wrote about this at greater length last week, but I've enjoyed these mornings so much in the past that I thought it was worth repeating.
The Como Mamas grew up singing in church together. "We're family, says Della Daniels, "and someone in our family was always in church singing . . . We just started singing together because that was basically what we knew."
The Folk Fest people say of Bud Welch: "It is blues and it is gospel: fiery, heartfelt and glorious music. Bud says 'I believe in the Lord, but the blues speaks to life, too. Blues has a feeling just like gospel; they just don't have a [bible].' Neither juke joint nor house of worship, we think the wide-open outdoors of Jericho Beach Park is a perfect setting for Mr. Welch and his music."
Catholic schools announce 'gender dysphoria' policy
"In a joint statement . . . the Catholic Independent Schools of the Vancouver Archdiocese (CISVA), and the family of Tracey Wilson, an 11 year old diagnosed with gender dysphoria who had attended a Catholic school, announced the CISVA approval of a new policy that accommodates gender expression and students with gender dysphoria."
So read a statement released Wednesday (July 16) from the communications office of the Roman Catholic Archdiocese of Vancouver. The new policy deals with transgender issues similar to those considered last month by the Vancouver School Board, as it prepared to adopt a new policy.
"It directs that schools accommodate gender variant students and that an accommodation plan for gender dysphoric students be developed in collaboration with the family, educators, pastors and medical professionals."
Local media jumped on the story promptly, taking a fairly positive tone overall. Daphne Bramham, in The Vancouver Sun, for example, said; "Faced with this brave little kid, the Catholic school directors found the courage to move earth, if not heaven, to accommodate others like her."
The release continued:
The Wilson family is applauding the CISVA for paving the way towards accommodating gender expression and gender dysphoria in youth. It will be the first Catholic school district in Canada to have such a policy.
"I am so glad that the kids in the Vancouver Catholic schools won't have to go through what I went through," said Tracey Wilson. "It was really hard for me because I did not feel accepted at school. Now kids like me will hopefully be supported."
Doug Lauson, CISVA superintendent, said that Catholic teaching does not recognize that a student can change his or her sex/gender. However, the CISVA is committed to providing an inclusive school environment for its students and reasonable accommodation of students' forms of gender expression . . .
"The process of arriving at this policy was very collaborative and the CISVA took our suggestions very seriously, [said Tracey's mother, Michelle Wilson.] In the end though it will depend on how well Catholic schools are educated about gender variant students and how the policy is implemented."
The new policy was developed after Tracey, who was diagnosed with gender dysphoria, filed a human rights complaint because her school did not accommodate her request to be treated as a girl.
The human rights complaint was resolved after the CISVA approved the Gender Dysphoria and
Gender Expression policy and paid to the Wilsons a sum that both parties have agreed will remain undisclosed.
For the complete version of the 'Catholic schools approve gender dysphoria policy' release, go here. That release in turn links to the 'CISVA Elementary School Policy Regarding Gender Expression and Gender Dysphoria.'
John Stackhouse's Oxford University Press blog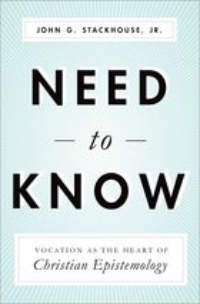 Regent prof
John Stackhouse
is in the midst of a four-part blog series for Oxford University Press (his publisher) on Christian epistemology titled 'Radical faith meets radical doubt: a Christian epistemology for skeptics.'
The series is based on his brand new book,
Need to Know: Vocation as the Heart of Christian Epistemology.
Here is the publisher's description:
How should a Christian think? If a serious Christian wants to think seriously about a serious subject – from considering how to vote in the next election to choosing a career; from deciding among scientific theories to selecting a mate; from weighing competing marketing proposals to discerning the best fitness plan – what does he or she do? This basic question is at the heart of a complex discourse: epistemology.
A bold new statement of Christian epistemology, Need to Know presents a comprehensive, coherent and clear model of responsible Christian thinking. Grounded in the best of the Christian theological tradition while being attentive to a surprising range of thinkers in the history of philosophy, natural science, social science and culture, the book offers a scheme for drawing together experience, tradition, scholarship, art and the Bible into a practical yet theoretically profound system of thinking about thinking.
John Stackhouse's fundamental idea is as simple as it is startling: Since God calls human beings to do certain things in the world, God can be relied upon to supply the knowledge necessary for human beings to do those things. The classic Christian concept of vocation, then, supplies both the impetus and the assurance that faithful Christians can trust God to guide their thinking – on a "need to know" basis.