Chris Smith is a community-cultivating, book-loving peace-maker – and he will introduce us to his favourite themes this Friday (January 17) at Regent College.
In the polarized era in which we live, it is often taken for granted that we don't know how to talk with others, especially others whose background and perspective differ from our own.
In this workshop with author Chris Smith, we will explore both theologically and scripturally why conversation is an essential practice for churches, and how churches can bear witness to the transforming power of conversation in our polarized times.
Workshop participants will also practice conversation with each other.
Registration is free, but is required. Register here.
Smith will then deliver a lunchtime lecture, The Future of the Church is Slow, Local . . . and Bright:
Although churches in North America face many cultural and missional challenges, we have good reasons to be hopeful about our future. This forum will feature an interview with Chris Smith, co-author of the recent book Slow Church, about the future of church life and how congregations will need to change in order to thrive in the coming decades.
When he is not writing his own books, Smith is editor of The Englewood Review of Books.
Week of Prayer for Christian Unity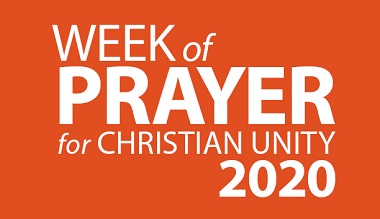 The glory days of official ecumenism are behind us, but it is good to see that some Christians will be gathering at several local churches next week to celebrate the annual Week of Prayer for Christian Unity, January 18 – 25.
The Canadian Council of Churches sponsors the movement in Canada, and describes it like this:
The Week of Prayer for Christian Unity is an annual ecumenical celebration. Christians around the world are invited to pray for the unity of all Christians, to reflect on scripture together, to participate in jointly-organized ecumenical services, and to share fellowship.
You can use the resources on this website not only during the Week of Prayer itself, but throughout the year. Let them help you express the degree of communion already given to the churches, and to pray together that we may be more fully united in the one Christ.
Abbotsford is the hotspot for local gatherings, with five gatherings in five churches.
These are the Metro Vancouver services I'm aware of:
Jesuit martyrs, for kids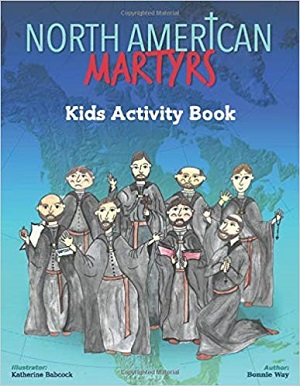 A Vancouver homeschooling mom has honoured
eight Jesuits
who were killed for their faith during the 1600s in a new book. An
article
in the
The B.C. Catholic
said this:
"They were so motivated by love, for the love of God and for the love of people," despite trials, torture and eventually martyrdom, said [Bonnie] Way.
But the homeschooling mother of five found there were few resources available to introduce the Canadian martyrs (also known as the North American martyrs) to children.
So, Way took it into her own hands. The first-time author published the North American Martyrs Kids Activity Book, the culmination of a year's work.
"There's nothing like this for families for teaching our kids about the saints," said Way.
The activity book, intended for children aged seven and up, tells the stories of all eight martyrs alongside colouring pages, word searches and even a "decoding" challenge to introduce the idea that the missionaries had to learn First Nations languages to properly preach the Gospel. St. Jean de Brebeuf, the "Apostle of the Hurons," is credited for writing the first dictionary of the Huron language.
"Often we think saints are superheroes with some secret power or special ability we don't have. That's not true," said Way. "They were ordinary men."
The book was illustrated by Katherine Babcock of Victoria.
Gramma by Maki Yi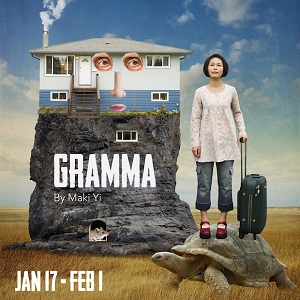 Pacific Theatre is starting off the calendar year with
Gramma by Maki Yi
. Here is how they describe it:
Korean-born Maki is excited to begin her new life in a Regina basement suite, but her elderly landlady seems determined to treat her as nothing more than a servant. Playwright and actor of Suitcase Stories Maki Yi returns to Pacific Theatre with the world premiere of her new one-woman show, a poetic new tale of human connection in the loneliest of circumstances.
What does it mean to connect?
Writing in the Richmond Sentinel, Hannah Scott said:
Director Laura McLean sheds light on the play's messages.
"This show is about the loneliness of making a journey away from home and the fight for life, love and connection," she says.
McLean likens the show to a memoir.
"It's autobiographical non-fiction about the life of creator and performer Maki Yi. It is at times both hilarious and heartbreaking," she explains. . . .
While the show is technically set in Regina, McLean notes that the city is never mentioned by name. "To me it feels like it could take place anywhere in Canada," she says. "It's a very relatable story for anyone who has recently moved to the country."
The show runs from this Friday (January 17) to February 1.
Jan 2020
Spiritual Formation & Emotional Health with John Mark Comer
– January 16, 2020 at 10:00 am - 1:00 pm
January Art & Prayer Retreat
– January 16, 2020 - January 18, 2020 at 7:00 pm - 5:00 pm
BC One Heart
– January 17, 2020 - January 18, 2020 at All Day
Transforming Conversations with Chris Smith
– January 17, 2020 at 9:30 am - 11:30 am
Chris Smith: The Future of the Church is Slow, Local . . . and Bright
– January 17, 2020 at 12:00 pm - 1:00 pm
Motivated 4 Mission Summit
– January 17, 2020 - January 18, 2020 at 6:30 pm - 9:00 pm
Evangelism for the Shy Christian: Learning to Speak our Faith Respectfully in the World
– January 17, 2020 - January 18, 2020 at 7:00 pm - 3:00 pm
44th Annual Musical Devotional Meetings
– January 17, 2020 - January 18, 2020 at 7:30 pm - 9:30 pm
Week of Prayer for Christian Unity 2020
– January 18, 2020 - January 25, 2020 at All Day
Day with Mark Glanville: Forming Communities of Mission
– January 18, 2020 at 8:30 am - 2:30 pm
Renegotiating Faith
– January 18, 2020 at 9:00 am - 12:00 pm
Town Hall Meeting: Government Consultations on MAID
– January 18, 2020 at 7:00 pm - 9:00 pm
Taizé Contemplative Service
– January 19, 2020 at 4:00 pm - 5:00 pm
Week of Prayer for Christian Unity 2020: Burnaby Service
– January 21, 2020 at 11:30 am - 1:00 pm
Troy Terpstra: Broken Hallelujah – opening reception
– January 22, 2020 at 4:30 pm - 7:30 pm
Week of Prayer for Christian Unity 2020: Vancouver Service
– January 22, 2020 at 5:00 pm - 6:30 pm
Week of Prayer for Christian Unity 2020: UBC Service
– January 22, 2020 at 5:30 pm - 7:00 pm
Gramma by Maki Yi
– January 23, 2020 - February 1, 2020 at All Day
Week of Prayer for Christian Unity 2020: New Westminster Service
– January 23, 2020 at 7:00 pm - 8:30 pm
Living the Change Webinar
– January 24, 2020 at 10:00 am - 11:00 am
Life on the Margins
– January 24, 2020 - January 25, 2020 at 6:30 pm - 4:00 pm
Screening & Critical Discussion: The Two Popes
– January 24, 2020 at 6:30 pm - 9:00 pm
Into the Deep: Sexual Orientation & Gender Identity
– January 24, 2020 at 7:00 pm - 9:00 pm
Aimless: Youth & Young Adult Rally
– January 24, 2020 at 7:30 pm - 9:30 pm
Demystifying MAID: Theology and Ethics
– January 25, 2020 at 9:00 am - 12:00 pm
Finding Your Calling in Life and Work (Saturday mornings)
– January 25, 2020 - February 1, 2020 at 9:00 am - 1:00 pm
Jazz Vespers @ St. Andrew's United Church on the North Shore
– January 26, 2020 at 4:00 pm - 5:00 pm
Jazz Vespers in the Valley: Wild Blue Herons
– January 26, 2020 at 4:00 pm - 5:00 pm
Fleetwood Gospel Hall Community Dinner
– January 26, 2020 at 5:00 pm - 7:00 pm
Table Talk: How to Read the Bible
– January 26, 2020 at 7:00 pm - 9:00 pm
Leo's Journey; 75th Anniversary of the Liberation of Auschwitz
– January 27, 2020 at 6:30 pm - 9:30 pm
Living, Dying & the Power of Presence
– January 27, 2020 at 7:00 pm - 9:00 pm
New Generations
– January 28, 2020 - February 1, 2020 at 7:30 pm - 9:00 pm
Unity in Mission
– January 29, 2020 - January 30, 2020 at 2:00 pm - 5:00 pm
The Twelve Thousand: private TWU film screening
– January 29, 2020 at 9:00 pm - 11:00 pm
Dorothy L. Sayers on Work
– January 30, 2020 at 7:00 pm - 8:30 pm
Night with the Persecuted Church
– January 30, 2020 at 7:00 pm - 8:45 pm
Missions Fest 2020: Altar Vision
– January 31, 2020 - February 1, 2020 at All Day
Theology for Non-Theologians
– January 31, 2020 - February 1, 2020 at 7:00 pm - 3:00 pm
Film in Concert: The Passion of Joan of Arc, featuring The Orlando Consort
– January 31, 2020 at 7:30 pm - 10:00 pm
Feb 2020
Mandarin Kairos Course (Saturday mornings, Tuesday evenings)
– February 1, 2020 at All Day
Demystifying MAID: Moral and Legal Issues
– February 1, 2020 at 9:00 am - 12:00 pm
Project Dovetail: SOGI Training for the Church
– February 1, 2020 at 9:00 am - 3:30 pm
Equip Worship
– February 1, 2020 at 10:00 am - 3:00 pm
Cooking with Stewing Hens
– February 1, 2020 at 2:00 pm - 5:00 pm
Mission Sunday . . . at your church
– February 2, 2020 at All Day
Book Launch with Steven Garber
– February 5, 2020 at 7:30 pm - 9:30 pm
Jazz Evensong: Adele M. Wilding
– February 5, 2020 at 8:00 pm - 9:30 pm
Kairos Course Vancouver (Thursday evenings, two Saturdays)
– February 6, 2020 at All Day
Laila Biali
– February 7, 2020 at 7:00 pm - 10:00 pm
The Cost of Colonialism, the Joy of Jubilee
– February 7, 2020 - February 8, 2020 at 7:00 pm - 4:00 pm
Comagape: United by Love
– February 8, 2020 at 9:00 am - 6:30 pm
Demystifying MAID: Spiritual and Pastoral Care
– February 8, 2020 at 9:00 am - 12:00 pm
TWU Ending Poverty Together Workshop
– February 8, 2020 at 9:00 am - 3:30 pm
Alzheimer Café
– February 8, 2020 at 2:00 pm - 4:00 pm
Gallery Exhibit Opening Reception Mennonite Gals Can Paint: Watercolour and Acrylics
– February 8, 2020 at 2:00 pm - 4:00 pm
Iain Provan at UBC
– February 8, 2020 at 2:00 pm - 4:15 pm
Jazz Vespers in the Valley: Marcus Mosely Chorale
– February 9, 2020 at 4:00 pm - 5:00 pm
Tony Campolo: Why Christians Should be Involved in Seeking Social Justice
– February 9, 2020 at 7:00 pm - 9:00 pm
Kairos Burnaby (Tuesday evenings, Saturdays)
– February 11, 2020 at All Day
Experience Regent: Be a Student for a Day
– February 11, 2020 at 9:45 am - 4:00 pm
Gender, Albinism & Human Rights Cafe
– February 11, 2020 at 6:45 pm - 8:30 pm
Journey Discipleship Course (Tuesday evenings)
– February 11, 2020 at 7:00 pm - 9:30 pm
Screenagers Next Chapter Presented By TWU School of Education
– February 11, 2020 at 7:00 pm - 9:00 pm
Jazz Evensong: Maria Ho
– February 12, 2020 at 8:00 pm - 9:30 pm
Book Launch with Dr. James Houston
– February 13, 2020 at 7:00 pm - 8:30 pm
Focusing on Quality of Life in Health Care for Older Adults, with Richard Sawatzky
– February 13, 2020 at 7:00 pm - 9:00 pm
Genesis: So What? – Evening Seminar with Iain Provan
– February 13, 2020 at 7:00 pm - 9:00 pm
At a Time Like This, Who Needs Another Apocalypse? The Book of Revelation and Christian Identity
– February 14, 2020 - February 15, 2020 at 7:00 pm - 3:00 pm
The Date Night Tour
– February 14, 2020 at 7:30 pm - 9:30 pm
Taizé Contemplative Service
– February 16, 2020 at 4:00 pm - 5:00 pm
Black History Month: a Gospel Celebration
– February 16, 2020 at 7:00 pm - 9:30 pm
Skillet: the Victorious Tour
– February 16, 2020 at 7:00 pm - 10:00 pm