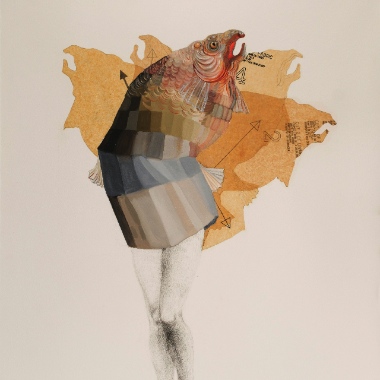 Immigration, identity, sense of place – these are some of the themes Pilar Mehlis explores in her I Belong Here . . . exhibition at Regent College's Lookout Gallery (until June 23). The focus is not surprising, given her background. Though she now lives in Vancouver, she was born in New York, then spent most of her youth shuttling between Bolivia and Whitehorse.
Here is Lookout's description of the exhibition:
Immigration is a transformative experience: it takes the original person and "dresses" them in new cultures, languages, sensations, ideas and attitudes. This transformation creates a hybrid that often belongs to two places and cultures at once and yet not wholly to either. There is a collision between innocence and new experiences involved in such transitions.
Her work explores these frictions and the ideas of identity, sense of place, transformation and cultural hybridization with particular emphasis on her own transformative experience from being culturally Bolivian to becoming Canadian and how, through cultural narratives, those two identities are embodied within her.
Mehlis says this about her faith:
I grew up Catholic and through all my travels and in my imperfect relationship with God I have found my faith to be the source of strength and consolation. It has also provided me with a rich source of reading and visual materials that in one form or another have manifested in my artwork.
I believe that my work is an extension of my life and faith experiences, however weak or strong the latter may be at one time or another. There is no separation between the two as to distinguish one would diminish the other.
Mehlis adds, "Recently I have had the privilege of being mentored by master sculptor David Robinson."
David Robinson in Image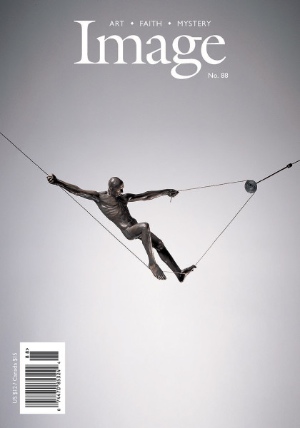 Speaking of David Robinson, he is featured in the current issue of Image Journal. The weekly Imageupdate said:
The cover [of Image 88] features the sculpture of David Robinson, whose figures teeter on the brink of their own limitations – sometimes in triumph, sometimes in tragedy.
Following are a couple of excerpts from the long essay Levity and Gravity: The Sculpture of David Robinson by Gordon Fuglie:
In describing Robinson's [Strathcona] workspace, I use the word studio advisedly. Yes, there can be found figures and forms in various states of completion or abandonment. But the overall sense is of a factory shop. Robinson works in the least compliant of materials – bronze and industrial steel – and on scales that most artists rarely imagine. . . .
The idea for Font [A functioning fountain; a pedestal supports a water basin containing a bronze hemisphere over which strides an attenuated male figure burdened with two dripping buckets, 2003] originated in 1999 when Robinson was approached by Regent College and asked to make a series of architectural pieces based upon the "I am" sayings of Jesus in the Gospel of John.
The son of an Anglican priest, Robinson is somewhat guarded in speaking about his faith and has been critical of the ossifying traditionalism found in parts of the Anglican Church of Canada. In art, this traditionalism has often meant a complacency about iconography and a resistance to innovation.
"When I feel the need to draw nearer to the church, I do so with a bowed head and on bended knee," he writes. "A posture of humility, yes, but also one of cagey caution . . . one eye on the exits." Wary of what control Regent might try to impose, he first recoiled at their invitation, but eventually agreed to produce a body of work to be shown in their Lookout Gallery. Font was one of them. . . .
In 2015, as I viewed more than 25 years of his oeuvre, I pondered what kind of world he was creating. It would be too easy to chalk up his lone men at crossroads, his strivers grappling with impossible situations, and even his de-heroicized statuary as self-referential metaphors for his own artistic journey. He has wider interests and strategies in mind. . . .
Go here for the full article – there is much more, and it is well worth the read.
Bridge: Art by David Robinson is a video made at the time of his Bridge showing at Lookout Gallery in the spring of 2012. He also had a Lookout Arts Installation Exhibit with Grace Tan in the fall of 2013.
Pacific Theatre: Wit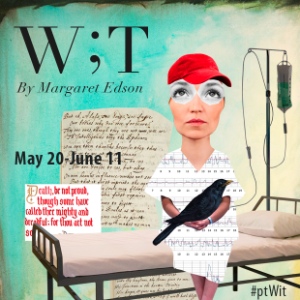 Pacific Theatre's latest offering of live art on stage is the Pulitzer Prize winning play Wit by Margaret Edson. Here is the company's description of the play:
Brilliant and exacting, renowned professor Vivian Bearing approaches her cancer therapy with the same academic rigor she applied to her studies. As her treatments progress, however, her intellectual armour gives way to her need for human kindness. A poignant and exquisitely-written story of unwitting redemption.
In a Vancouver Presents interview, director Angela Konrad said that, despite the potentially stark subject matter:
I actually think the play is very funny. Like my favourite art, Wit walks the razor-thin line between the beauty and horror of life, that exquisite balance of humour and pathos at the core of most human stories. . . .
The reason the play has such a resonance for so many people is partly because these are people who seek to do good in their work. Certainly, researching cancer treatments and educating students about great literature are noble professions. In fact, the nobility of the work is the trap: it's easy to put aside the people around you when you are in pursuit of some greater good.
For a Biz interview with Katharine Venour, who plays the professor, go here.
The play runs until June 11.