His home is Southampton on the south coast of England. His heart is in Kenya, where he grew up.
But he lives in Vancouver now, because he heard God's call to pray for our city – and now he has created a 'Break the Ground' app which allows everyone to coordinate prayer walks, both here and around the world.
John Irvine first heard from God almost 30 years ago, while he was at Bible college in England:
God was very specific about coming to Vancouver. It was incredibly clear – not Burnaby, not British Columbia – Vancouver. . . .
Vancouver hadn't been on my agenda at all; I barely knew it existed.
At the time, I interpreted it as just to keep praying for Vancouver.
Over the years he worked in the merchant marine for a decade (never stopping in Vancouver), and then in coding, writing software for various companies.
Though John had received a clear call from God, "circumstances didn't add up until just under five years ago, when they came together quite miraculously." He and his wife Linda moved close to the Downtown Eastside: "Because of our underlying desire to work with homeless and disadvantaged people, we deliberately took an apartment in Chinatown – as it turned out, opposite an SRO."
They have been very active both as employees and volunteers, on the streets with Gospel Mission Society, Salvation Army Boundless Vancouver and Union Gospel Mission. They teach coding to local children at Chinatown Peace Church, and more.
On the day we spoke, John had just returned from a day volunteering with UGM's Mobile Mission vehicle on the North Shore, mainly visiting homeless people, supplying food and clothing, and helping with hospital appointments.
Praying for Vancouver
John's dream, and his legacy, has been to pray for Vancouver – something he has now done close-up:
I've walked every street in the city – maybe missed a few in the far southeast corner. I walked around the city at least three times [that is, on streets by the waterfront, up Boundary Road, etc]. I once did every fourth street, which are often the main streets.
He prays in different ways as he walks, but added, "I often pray around the framework of the Lord's Prayer and the Beatitudes." If he sees a house in disarray, he will sometimes pray for God's kingdom to come to them.
If the house is very well kept, "they could feel they're in a pseudo heaven, but actually, God offers so much more." He enjoys walking through Shaughnessy.
Whenever he walks by highrises, he prays that a  church will come there.
He wants to make it easier for others to do the same – and to know where others are praying. To that end he has designed the 'Break the Ground' prayer app (his instructions below).
After prayer walking Vancouver for a while, John realized:
I created the app for my own benefit. Then I thought other people could use it as well, and we'd get a picture of the coverage of the city.
It is difficult to know who's prayer walking the city, and there's no evidence of where they've been. There is an app that allows people to sign up for a street, but my app actually logs walks done.
The real advantage of this is that we know which streets have not been prayed for, 'so no street gets left out.'
App will work anywhere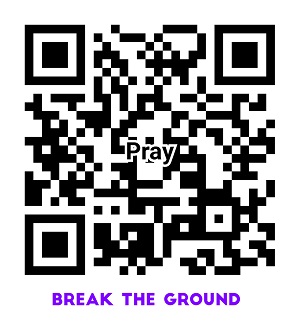 This is how John describes his work:
Break the Ground is an application for Android and iPhone that record your walks, much like Strava and others. The difference is that it enables those walks to be shared anonymously to display on a map together with everyone's prayer walk anywhere.
You can start the app recording at the beginning of your walk, when you've finished you can stop it and then you can share it.
The website https://breaktheground.org allows you to see the progress and coverage. The app has the license key you need to access the website, and there is no correlation between your login and this token.
So, at its most basic, this app helps you to prayer walk an area together, seeing what streets have been left out and target them. Because it doesn't show who walked, it becomes a community effort, no walk too small, and the fittest don't get any credit. You can use it individually or as part of a church or community effort to pray for your neighbours.
Together we can pray for our cities, towns and neighbourhoods. Call it 'ploughing the fields' and pray to our Father that his kingdom would come to the place where you walk.
The web link (above) or the QR code will take you to Break the Ground website, where there are two links to the apps (Android & iPhone) where can download the app from Apple or Google Play stores. It is free, with no advertisements. If you want to help with the app itself, please contact John Irvine at [email protected]
Together we can be part of our Father's plan to bring new life to hurting people everywhere.
John and Linda, who attend West Coast Christian Fellowship, plan to be in Vancouver for up to three more years. With three children and one grandchild back home, they welcome visits and are managing to get home reasonably often (John dropped Linda off at the airport for a two week visit home yesterday).