Last month I attended the World Evangelical Alliance (WEA) General Assembly in Indonesia, and discovered that the movement is thriving. But that hasn't always been the case – and Canadians have played a major role in its renewal.
Brian Stiller, in particular, has led the way. He was called up to the main stage on the last evening of the gathering, and WEA leaders affirmed his role with a special award, describing him as "the best General Secretary we never had."
Stiller is now Global Ambassador for the WEA, but his involvement stretches back over decades, while he was leading major initiatives in Canada.
'Find a broken wall'
Stiller was raised as a Pentecostal on the prairies. He told me, when we had a chance to chat at the General Assembly, that as a young man, "my goal was to be a great preacher," a travelling evangelist – but that he didn't have much success on that front.
After building up Youth for Christ for several years back east, he experienced something of a revelation. He had been invited to pastor Christian Life Assembly in Langley when he read some passages about Nehemiah rebuilding Jerusalem which spoke directly to him.
Ever since that time, he has sought to "find a broken wall," working to restore key institutions that are under threat. He built up the Evangelical Fellowship of Canada (the EFC is a National Alliance of the WEA).

The EFC describes his impact on its history page:
Stiller became the first executive director of the EFC in the spring of 1983 and quickly transformed the organization, building its individual membership to 17,000 and expanding its budget. By the time he left in 1997 the budget had grown from about $60,000 a year to more than $3 million.
The fellowship also began to take its place in Canadian society. For Stiller, a key goal was to help evangelicals understand the role they could have in engaging the public and government. "We had so long vacated that role," he says. To that end he developed a seminar called Understanding Our Times and took it across the country.
Under Stiller, the EFC became a more visible presence. "What became obvious to me was that evangelicals were looking for a voice," he recalls, "a voice to government and a voice to media."

Stiller then took on a new role, becoming president of Ontario Bible College and Seminary (now Tyndale University College and Seminary).
From the Tyndale site:
In 1997, Brian became President of Tyndale University College & Seminary and led the school through major restructuring. During his tenure Tyndale received university status from the Ontario Government, a 56-acre campus was purchased, and a major capital drive lifted the school into a new era of growth. In 2009 Stiller retired from his presidency. After serving as Chancellor for a year, he was named president of the Tyndale Foundation, where he served for two years [raising $44 million for the purchase of a new campus and $8 million for endowed chairs].
It was during his tenure at the Evangelical Fellowship of Canada that Stiller first became involved with the WEA. During the award presentation at the General Assembly, WEA stalwart John Langlois (see below) referred to a critical intervention by Stiller in the 1980s. David Howard, who led the WEA for a decade, had said the organization was not going to survive:
Brian saved the World Evangelical Alliance that day, when David Howard said the World Evangelical Alliance was folding, Brian called to encourage and said, 'I'm with you all the way.'
Global Ambassador
Since 2011, Stiller – who is now 78 years old – has been travelling around the world on behalf of the WEA and writing about what he has found along the way.
Here is how he has described the experience:
. . . I've had this extraordinary privilege of serving as Global Ambassador for the World Evangelical Alliance. This calling has led us to some interesting and tough places.
It began with a trip to Somalia. Protected by a warlord – five soldiers and a truck – they guarded me as I visited refugee camps, examining the safety and viability of Christian aid groups being able to get back into this lawless land. All the while they kept eye out for al-Shabaab, the terrorist group.
Then on to how many countries? Someone asked. Well, I haven't even counted. But in most every region of the world.
They include meeting with the other two major Christian communities of Roman Catholics and the World Council of Churches in the Global Christian Forum. Visiting disaster areas such as Japan, Nepal and South Sudan.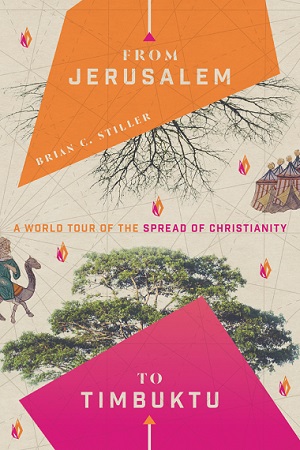 Sitting down with my WEA colleagues with Pope Francis for a two-hour leisurely lunch, allowing our conversation to carry us to so many place of common interest. Lily and I were in Egypt during the revolution, returning time and again to the Middle East. Ministering to Iraqi young people in Iraq.
Then we completed a first-of-its-kind book: Evangelicals Around the World: A Global Handbook for the 21st Century, a composite of 50 writers explaining our history, theology and community.
As I visit I write perspectives for Dispatches and articles for newspapers and magazines. Then a prayer guide – An Insider's Guide to Praying for the World and From Jerusalem to Timbuktu; a World Tour of the Spread of Christianity.
That's how he spent his first several years with the WEA, and still does in many ways.
Earlier this fall, for example, he spoke on behalf of WEA before the UN Human Rights Council, stating, that "hate speech, exclusion and the scapegoating of minorities and foreigners are on the rise" and urging that more attention be paid to the "well-being of minorities."
'Time you stepped up'
But he told me that a couple of years ago the Spirit said to him; "Stiller, it's time you stepped up." Since then he has spent a lot of his time applying the skills he learned during his years at the EFC and Tyndale – in "organizational renewal and raising funds."
He said he discovered that the WEA involved many good people, but few with the vision or capacity to build funding streams. "We needed a renewed accountability structure." As well, "We've lived with a mentality of poverty."
During his State of the Movement address to the General Assembly, WEA Secretary General / CEO Bishop Efraim Tendero said:
We have created a task force on development in order to enable the WEA to expand its efforts while remaining financially sustainable. We thank God for Brian Stiller, our Global Ambassador, who has agreed, even on a short term, to lead this financial development program.
Stiller told the General Assembly that he has "been through a lot of gruelling meetings, but we are emerging out of that . . . we will be able to do the things that are in our heart."
Why bother?
Some have asked Stiller why he bothers with this work, especially given ongoing challenges to the viability of the WEA. He gave me three key reasons:
Explosive growth of evangelicalism. The movement, he said, has grown from 90 million in 1960 to 600 million ("probably 650 million now"). The family of Christian evangelicals has a responsibility:
 . . . to be a voice to others on their behalf, to defend the persecuted, to facilitate joint action in moments of crisis and especially to foster among our hundreds of thousands of church groups around the world the unity of spirit that Jesus mandated.
2. Delivery system. The WEA represents more than 130 affiliate groups which have developed since the advent of the organization in 1846:
. . . We are a cooperative network in the face of theological liberalism, which is dying. We have the potential of influence beyond what we've ever seen, in deep humility.
3. Persecution of Christians. Referring to the many good groups, working on the issue (Voice of the Martyrs, Open Doors, International Justice Mission, etc):
. . . We're the only ones that have a seat at the table in Geneva for the United Nations.
A column he wrote this fall offers a brief history of the WEA movement and expanded upon his reasons for participation. He concluded:
What is our calling as evangelicals? Making up a quarter of the world's Christians, we are vitally active in ministry start-ups and new church plants, generous in creating humanitarian initiatives, bold in recruiting personnel for missions and NGOs, and creatively using modern media. But what else might be part of our future?
Could it be that of all we do alone, we might do better together? Might it be that the time has come that we would take the prayer of Jesus seriously – that we might be one, even as he and the Father are one? I think so.
Go here for the full comment.
'We are like brothers'
Toward the end of the WEA General Assembly I was able to sit down with John Langlois, who had been honoured for his service with the WEA along with Brian Stiller.
His 50-year record as a volunteer with the organization speaks for itself; starting in 1969 as administrative secretary / treasurer, he was a founding member of the Communications Commission in the early 1980s, participated in the executive committee, chaired the Religious Liberty Commission, and more. He has been made a life-long member of the International Council of the WEA.
Not that WEA matters have taken up all his time. He was awarded an OBE by the Queen in 2005 for his work (which still continues) in law and politics on his native island of Guernsey.
Langlois said, "Brian Stiller has intervened at the right times." He inspired the WEA to keep going, provided organization help and, most recently, has helped with development and funding. "We are like brothers."
He referred also to Geoff Tunnicliffe, who took over the WEA in 2005, "when it was about to die again. . . . without the Evangelical Fellowship of Canada it would have crumbled."
Tunnicliffe, who lives in Metro Vancouver, was originally invited to work with the EFC by Stiller.
In an interview posted just as he was about to step down from the WEA, Tunnicliffe said:
Because of that role with the EFC, I was involved with WEA's mission commission. When WEA went through somewhat of a crisis and I was asked to become interim secretary general, I turned it down three times.
But with the strong support of the EFC – and for me, having the EFC as a strong model of what an evangelical fellowship could look like – that helped frame what we could do.
(I have posted several stories about Tunnicliffe during his time as leader of the WEA, from 2005 – 2015. His work was also recognized at the General Assembly; Stiller told me he was particularly effective in raising the profile of the WEA.)
Bright spots
Stiller sees a couple of particular bright spots these days:
Younger leaders. Within the WEA, staff in Geneva, Sri Lanka, Ethiopia and elsewhere: "They're bright, they're creative, they're not intimidated."
Rebuilding. "It's been an absolute joy for me to help in this rebuilding, to help these people to do what they're called to do . . . I try to bring dignity and honour to fundraising."
Langlois said his experience with the WEA has been about "80 percent discouragement and 20 percent encouragement."
"What on earth is God doing," he often wondered, but he has also recognized that God "is building his church. It's the connections [from all over the world] and handing it over to the next generation."
He added, "The progress being made is significant . . . this is the best General Assembly ever, with the best spirit – I have much more hope."
Canada will retain a strong role in the WEA. Brian Stiller clearly plans to carry on, and EFC executive vice president and resident theologian David Guretzki was appointed as the North American representative to the International Council of the WEA at the General Assembly.