Date/Time
Date(s) - July 7, 2014 - July 12, 2014
8:00 pm - 10:00 pm
Location
Pacific Theatre
Categories No Categories
While operating a fully professional mainstage, Pacific Theatre is also community based and offers non-professional community members opportunities to work along side theatre professionals in its community shows through its non-professional counterpart, Stone's Throw Productions. Most Stone's Throw shows are produced by our season apprentices.
Upcoming
Gruesome Playground Injuries by Rajiv Joseph
July 3 – 12, Wed – Sat at 8pm
PWYC Preview – July 2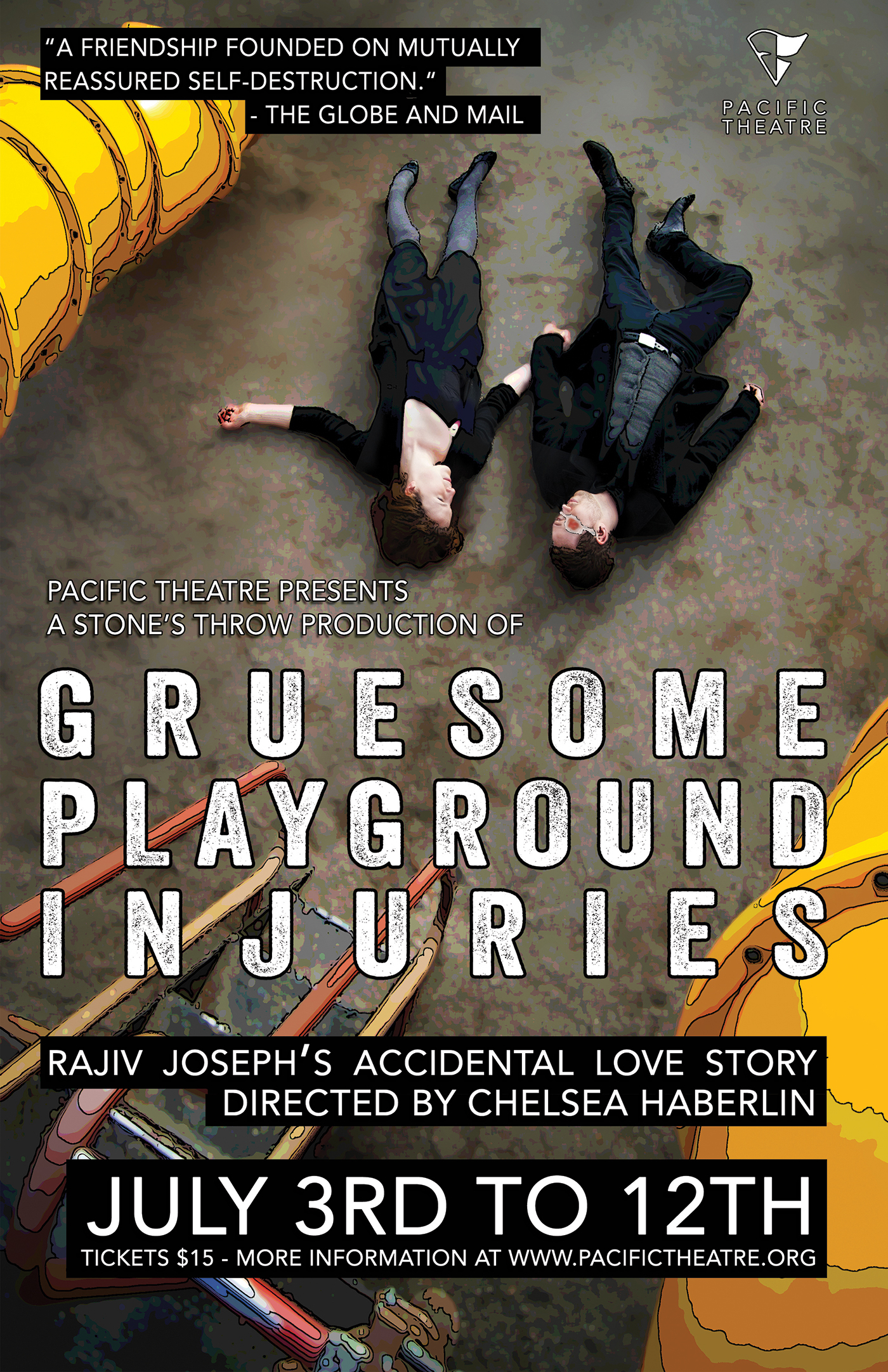 Gruesome Playground Injuries follows the decades-spanning relationship of an accident-prone dare devil and a corrosive masochist who navigate friendship, love, and the wounds created in between. Doug and Kayleen first meet in the nurse's office at the age of eight: Doug rode his bike off the roof and Kayleen can't stop throwing up. Over the course of the next 30 years, their lives continue to intersect at the most bizarre intervals and places, leading the two childhood friends to compare scars and the physical calamities that keep drawing them together. Gruesome Playground Injuries tells a different kind of love story through sharp humor and even sharper insights into the human condition.
"This wondrous strange two-hander finds as much humor as horror in the play's bizarre events." —Variety.
Tickets – $15
Director – Cheslea Haberlin
Stage Manager – Shelby Bushell
Kayleen (co-producer) – Pippa Johnstone
Doug (co- producer) – Kenton Klassen
Costume Design – Christopher David Gauthier
Set Design – Carolyn Rapanos
Sound Design – Chris Adams