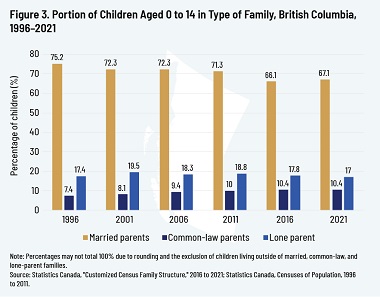 A new report from Cardus finds some good news when it comes to the state of the family in Canada. Maybe good is too strong a word, but at least a slowing of not-so-positive news.
A February 28 release noted:
Six in 10 children in Canada live in married-parent families, a proportion that's held steady since 2016 after declining for decades.
That's the key finding in a new Cardus report on previously unreleased Statistics Canada data from the 2021 census. 
Canadian Children at Home: Living Arrangements in the 2021 Census also finds:
Almost one in five children in Canada live with a lone parent
About 17 percent of children in Canada live in common-law families
At just 39 percent, Quebec is the province with the lowest proportion of children living in married-parent families
Nearly one in three children living in common-law families are in stepfamilies
Less than seven percent of kids in married-parent families are in stepfamilies
Here's why this matters:
Children's living arrangements matter because while no family is perfect or immune to break-up, married families are generally less likely to dissolve than non-married families – and children in healthy, stable homes tend to be happier and healthier and to do better in school.
"Good kids come from all kinds of families, but governments should consider family structure when discussing inequality and children's wellbeing," says Peter Jon Mitchell, report author and Cardus's family program director. "Given the benefits of healthy marriages, governments concerned about inequality should address barriers preventing young adults from forming stable marriages and families."
The Canadian Children at Home report said British Columbia, along with Manitoba and Yukon, has actually seen a "slight increase in the portion of children living with married parents."
The report concludes:
Examining the family structure of children provides an indirect indication of family stability. While no family form is immune from shocks or instability, married families are generally less likely to dissolve than non-married families. Healthy, stable family environments are correlated with better outcomes for children.
Data from the 2021 census reveal that 60 percent of Canadian children aged zero to14 live in married-parent families. While the portion of children in this family form has been declining for decades, the data suggest that the portion of children in married-parent families has been relatively stable since the 2016 census.
In Quebec, nearly as many children live in common-law families as in married families. Previous research suggests that common-law families in this province experience greater stability than do common-law families outside of the province, but they remain at greater risk of dissolution when compared to married families both within and outside Quebec.
The 2021 census shows that a greater portion of children in common-law families are in stepfamilies than in married-parent families.
The global pandemic had a significant disruptive effect on marriage and divorce rates and on fertility decisions. The long-term impact of the pandemic on these measures and on children's family structure is yet to be determined, but the 2021 census will serve as an important waypoint in assessing the impact of the global health crisis.
Go here for the full report.
Cardus Family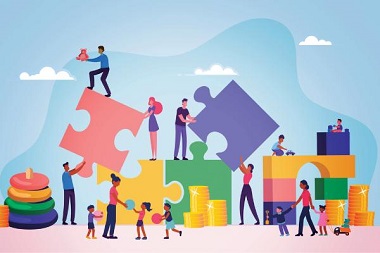 "conducts, compiles and disseminates Canadian research on family and marriage and their strengthening impact on civil society."
Among the topics it has covered in the past couple of years:
She's (Not) Having a Baby

Backgrounder on Federal Parental-Leave Benefits

Summary: Who Will We Become – A Survey of Children's Public Lives in Christian Thought

For Love or Money

Missing Marriage and the Baby Carriage

Look Before You Leap: The Real Costs and Complexities of National Daycare
Go here for the full list, and links to the reports.