Mission Possible is an innovative community economic development agency operating in the Downtown Eastside. It runs two social enterprises, MP Maintenance and MP Neighbours, which employ an average of 50 individuals per year in transitional jobs. 
They are the subject of a comprehensive Social Enterprize Case Study undertaken by Dr. Kyleen Myrah and Kerry Rempel of the Okanagan College School of Business, supported by Trico Charitable Foundation.
The 60-page case study "weave(s) a story of Mission Possible from inception to its current state, with a focus on the planning, introduction and execution of social enterprise."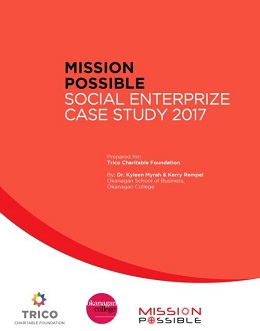 Mission Possible's tagline of "People, Purpose, Paycheque" speaks to their belief that those challenged by homelessness and poverty want an opportunity to work:
Social enterprise is the vehicle by which people achieve a renewed sense of dignity and purpose. Part of the dignity of a job, is that it is a real job.Our employees do all the work, and they get all the rewards. This presents a stark contrast to our charity-oriented culture. The entrepreneurial mindset necessary to start social enterprises has also influenced our street-level services as well. All of our programs are now focused on providing opportunities for engagement and meaningful work, whether paid or unpaid. Social enterprise is changing the way this non-profit operates and measures success.
Following is a portion of the study, which focuses primarily on the process leading up to adopting the social enterprise model. For the full study go here. 
Mission Possible (MP) started in the late 1980s when Liz Wall, a member of the Vancouver First Church of the Nazarene congregation, and her husband Gord served sandwiches to individuals in need in the area. From the back end of Walls' station wagon, MP was born.
Volunteers, drawn by the passion of the founder, worked with the couple to provide street level services wherever and whenever they could find space. In the 1980s, the Vancouver Downtown Eastside (DTES) was an area steeped in addiction, poverty, homelessness and crime.
Wall believed that a stationary location would improve access and connection with individuals struggling with homelessness and poverty, and with the assistance of a group of Nazarene churches, she was able to purchase a property; 543 Powell Street became the first permanent home for MP. In 1992,
the organization became officially recognized and incorporated as the Mission Possible Compassionate Ministries Society.
MP came into being during tumultuous times in the DTES. The situation in the 1990s saw an exit of businesses as retailers big and small moved away from the area, an increase in street activity, and more street entrenched individuals inhabiting abandoned properties. The de-institutionalization of mental health patients led to many being released on the streets of the DTES. The city's stock of SRO (single room occupancy) hotels became the homes for many of those people.
During the 1990s and into the 2000s, MP served those in need. They grew, delivering increased front line programming to the street entrenched. The focus of the organization during this time was to provide individuals with basic needs, effectively operating as a drop-in space. They hosted Saturday morning breakfasts and a Sunday service.
Support took the form of physical sustenance (such as community meals and warm clothes) but also spiritual support provided by volunteers from the churches associated with MP. A true founder, Wall was the driving force during the first 15 years of the organization. Ken Jarvis, who knew Wall, joined the board of MP in 2001. He remembered her as having "tremendous compassion for the people we serve."
In the early 2000s, the challenges in the DTES had worsened. More individuals were street entrenched, and as a result, more social service organizations were providing street level service. By the year 2000, MP had recruited its second leader, Reverend Doug Woods as the next executive director. MP was a family affair for Woods as well, and with the help of his wife he continued to expand the programming and services provided by MP, including crisis counselling and referrals to other agencies and support services.
During the first 15 years of operation, MP was funded primarily through the churches associated with the organization and private donations. Churches put on fundraisers which brought in between $12,000 to $30,000. In the late 1990s, MP established a relationship with the Port of Vancouver who wanted to be involved in creating a tangible impact in the DTES (the location of their operations), and in 1999, they ran the first fundraiser to benefit MP.
2007 signaled a turning point for the organization. The board of directors identified that they were interested in pushing the mission of the organization further, to see MP focus on the transformation of lives in the DTES. In this year, MP was able to hire additional operational staff and a new leader. Matt Smedley joined the MP team part-time to run some of the key community programs. He was followed shortly after that by Brian Postlewait, who became the third executive director of the organization.
Postlewait was an experienced leader. He engaged the board in strategic planning activities. Through those early months, Postlewait learned as much as possible about the organization, the impact that it was having on the local community and the strengths of the team at MP. Postlewait also began to review the organization's approach to meeting their mission.
Smedley recalled some of that early thinking:
There were metrics for MP such as meals provided, or coffee served, or clients in the door. While we provided an important service, we were unable to draw a clear link between our programs and how and if the lives of individuals had improved.
As an organization, MP was expending tremendous amounts of time and energy from staff and volunteers, but Postlewait challenged the idea that they were making the biggest impact they could. He realized that although the street level work MP engaged in was beneficial to the local community and filled a need, organizations such as the Union Gospel Mission, the Salvation Army and other Catholic charities were doing much the same work as MP.
Gradually, a subtle shift occurred in the organization. Postlewait and the team added employment services to their offerings. In 2009, MP took its first steps into social enterprise with MP Maintenance. In 2011, MP was awarded the Core Utilities Smart Meter install contract and received the Trico Social EnterPrize, which provided the funds and additional promotion to help take the business to the next level of sustainability.
MP continued to strengthen relationships with donors, and in 2014, Postlewait contracted with a local coaching organization called Essential Impact. Over the next two years, key staff in the organization went through targeted training intended to provide them with the skills to transform the way they provided service to clients. Front line staff went through a minimum of 24 hours of training with the new technique.
Supervisors and other leaders in the organization who were involved in both managing staff and working with clients completed 60 hours of training over this time period. The training focused on the skills needed to move from an advising role to one where staff acted as a coach to participants in MP programs.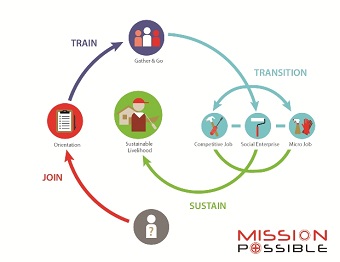 This shift signaled a new direction for the organization, one that integrated and supported social enterprise. The organization's goal became assisting those ready to transition into self-support by providing the skills and opportunities to step forward towards success. New staff continued to be introduced to this client approach through regular MP retreats. On a quarterly basis, MP staff engaged in "booster shots" where they utilized peer to peer coaching to reinforce this new methodology.
"We no longer do advising," Smedley remarked:
We only do coaching to help our participants achieve things for themselves. We are helping people work through a self-directed job search such as, 'How are you going to find your job? What are you going to do?' When issues arise, rather than saying, 'You should do this,' we try to help people work through, 'What are you going to do about it? How are you going to solve this problem for yourself?'
I have seen individuals have really significant changes through that process, just through those types of conversations. It has a great impact when we utilize that method; a differentiation from a lot of the service providers that are in this neighborhood where people become dependent and become really stuck and immobilized by the way that we provide care. We are trying in no way to allow that to happen here.
We want people to continue to move and to continue to grow their capacity. It really comes down to what an individual is willing to do for themselves. That is the extent in which we can help them.
Introducing social enterprise to Mission Possible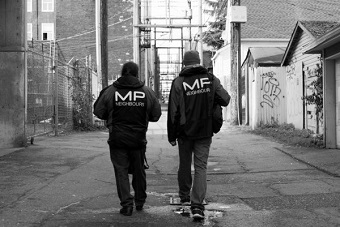 In 2009, MP started the journey into social enterprise, almost by chance. They found success in using social enterprise as a vehicle to better support their clients and fulfill their mandate. MP believed that they could build on these achievements and in 2014, Postlewait led staff, board and the leadership team in a refocusing initiative. He introduced the organization to 'reframe their work' through an appreciative inquiry approach.
"Rather than looking at the deficits of the Vancouver Downtown Eastside, we looked at the strengths of this area and the abilities and the untapped potential that actually existed," Jarvis recalled. As a result of this work, MP's program focus expanded to include more long term strategies. An organizational assessment followed by a strategic plan put Mission Possible on a new trajectory.
The projected future aimed to see more connection to businesses, the utilization of a social enterprise for financial sustainability and an overall tightening and streamlining of organizational process.
There were challenges to implementing this new direction. It required significant buy-in from multiple stakeholders, or what Jarvis called "an intellectual engagement of a whole lot of people." There was fear that Mission Possible was drifting from their original mission, and that they could be seen as isolating or moving away from their traditional donor base; that by appealing to the corporate sector, the organization would distance itself from their initial supporters. The refocus strategy therefore required several critical success factors to be effectively implemented. . . .
Go here for the rest of the study; the portion I have excerpted continues at page 9.