Now that young people are returning to school, is it time for the provincial government to loosen restrictions on places of worship?
Dr. Bonnie Henry has stated that "Keeping schools closed has a cost well beyond education." But she has also said, many times, "fewer faces, bigger spaces" and "gatherings of any kind increase the risk of transmission."
The return to school means that groups of people will be together, indoors, for hours each day – and Dr. Henry now says that that one metre instead of two is acceptable in controlled environments where a limited number of people are together for an ongoing period of time, such as in classrooms.
Compliance continues
Most churches have not been pushing for a quick return to their buildings – and that approach seems likely to continue during this "second ripple" as COVID-19 numbers are rising again and new restrictions are being imposed on some public gatherings such as bars and.banquet halls.
Here are a couple of recent statements of support from churches:
* Christian Life Assembly Next Gen pastor Peter Yoon concluded his September 6 Back to School blog post with this: "PS. In the words of Dr. Bonnie Henry, "Be kind, be calm, be safe."
* Coastal Church "is committed to creating an environment that meets government recommendations for safety. To make that possible, our weekend services have been redesigned to accommodate new safety procedures and physical distancing." (September 4 update)
Most denominations have provided their member churches with guidelines on how to deal with the pandemic. Those I have read all counsel following provincial guidelines. Among the best, as I have pointed out in earlier articles, is from the local office of the Christian and Missionary Alliance.
Their updated (September 3) BC Restart Plan: Church Guidelines and Considerations begins with these words.
BC has made significant progress in the fight against COVID-19 and on May 6, 2020, Premier John Horgan and Provincial Health Officer Dr. Bonnie Henry outlined BC's Restart Plan for slowly and carefully easing restrictions. As well, on July 21, 2020, the BC Centre for Disease Control (CDC) released an updated Guidance for Faith-Based Organizations and on July 27, 2020 a new order on gatherings was issued by Dr. Bonnie Henry. This document is intended to provide guidelines and considerations for churches as they navigate these changes in their unique contexts. . . .
We are currently in Phase 3 of the BC Restart Plan, and to continue to protect seniors, those at risk, and our health care system, we must continue to modify our behaviour and keep protective measures in place until a vaccine is developed. These changes in restrictions are not a return to normal, but instead a move to a new normal. Yet, there is increased freedom, and this is encouraging!
Go here for the full plan.
However, there are signs of restiveness among some church groups.
Important for well-being
While the Roman Catholic Archdiocese of Vancouver has remained very much on board with provincial guidelines, a recent article in The B.C. Catholic suggests that local Catholics are hoping for more.
Evidence suggests that church services following public health guidelines do not present a greater risk of spreading the novel coronavirus than other similar activities, doctors studying Mass attendance and the virus say. . . .
"To date, the evidence does not suggest that Church attendance – following the current guidelines – is any more risky than shopping for groceries. And the spiritual good for believers in coming to Church is immeasurably important for their well-being," the doctors said.
Though the article presumes the churches are following government guidelines, it does stress "that there is no evidence that church services are higher risk than similar activities when guidelines are followed." Go here for the full article.
Some churches and Christians groups are tiring of COVID-19 restrictions.
ARPA campaign
ARPA Canada, whose mission "is to educate, equip and encourage Reformed Christians to political action, and to bring a biblical perspective to our civil authorities," is pushing back, politely, against government strictures.
In mid-August, ARPA launched a Grassroots Campaign to Expand Worship Services in BC. Here is part of its statement:
On March 16, Provincial Health Officer Dr. Bonnie Henry mandated that a maximum of 50 people could gather for a worship service in British Columbia. Our hope was that the province would gradually increase this cap as the transmission of the virus decreased and knowledge about the virus increased.
But, 130 days later (as of August 19, 2020), the same restriction remains in place, even as other provinces have eased restrictions on worship services and many other businesses have been allowed to re-open with larger numbers.
It is time for Christians in British Columbia to redouble our calls for greater freedom to worship our God. Over the next few weeks, ARPA Canada will propose different messages and mediums that you can use to contact your local and provincial leaders.
Our goal is that the province allows churches to operate at a percentage of their capacity for worship services (e.g. 50 percent of capacity), allowing social distancing measures to be maintained while taking building size into account.
Go here for the full statement.
In a September 3 email, ARPA stated:
Over the last two weeks, we have encouraged you to share these two messages with our provincial leaders:
COVID restrictions infringe on our fundamental freedoms and
Churches are being treated unfairly, arbitrarily, and differently than other sectors of society.
This week we have a third message: churches are well-positioned to be effective contact tracers and to protect the health of their members. Safeguarding health is not only the government's job; it's the responsibility of churches and individuals too!
There has not been a single outbreak of COVID-19 at a worship service in British Columbia (to the best of our knowledge). Although some media sources have claimed that worship services are frequently the site of COVID outbreaks, this is demonstrably not the case in British Columbia.
Even if an outbreak were to occur at a worship service, churches are ideally equipped to contact trace. Given the current restrictions of the size of worship services, churches are able to closely monitor who attends their worship services. If a case of COVID were to arise, the church can easily and quickly alert other congregants.
ARPA is not alone in its approach to government restrictions.
Expand Worship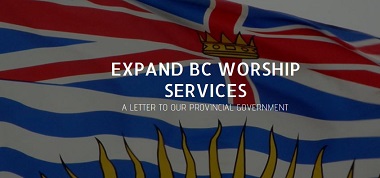 In its Grassroots statement, ARPA says "two Fraser Valley pastors (Reverend Rob Schouten and Pastor Paul Dirks) submitted an open letter signed by 144 churches to our provincial leaders, humbly but urgently requesting that British Columbia allow attendance at worship services up to a percentage of a building's capacity (e.g. 50 percent capacity)."
The pastors created an Expand BC Worship Services website – presumably the name and initiative influenced ARPA's campaign – which features their letter to the government and its (tardy and uncreative) response. Sent July 8, the government's response says, in part:
While we understand your desire to hold larger events in church, it must be understood there is an increased risk of COVID-19 transmission at gatherings of any size. As a result, by order of the public health officer, events where there are gatherings of larger than 50 people are prohibited and remain prohibited even now that some restrictions have been eased. This is not an order of convenience, but a requirement to protect everyone in our province. I welcome you to view a copy of the Mass Gatherings Event order . . .
Go here for the full response.
Vancouver Freedom Rally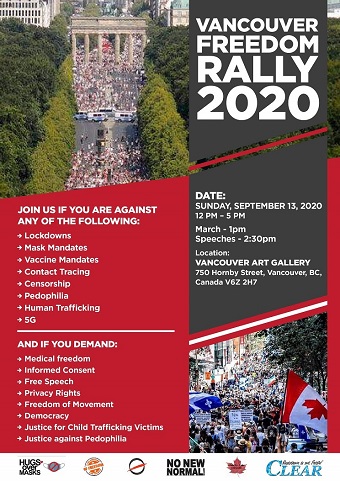 I also received this email September 8 about the Vancouver Freedom Rally coming up this weekend:
Dear Pastors and Leaders,
We trust you are well during this time of uncertainty and change.
As many of you have possibly seen throughout Canada and other nations of the world, a Freedom Rally Movement has been taking place as many are concerned about their loss of freedoms during the crisis.
A Freedom Rally will be taking place in Vancouver on Sunday, September 13th.
You may want to personally be present or let others know in your networks that may be interested in the issues.
It is not a Christian Rally but many Christians will be present.
Having said that, let's continue to pray that our provincial government will soon lift the restriction.
The ACMV / Accord Team
Creative responses
Most churches in Metro Vancouver continue to meet online and display no urgent desire to re-occupy their buildings, though many are introducing small Sunday morning gatherings.
Meanwhile, they have risen to challenges posed by the pandemic and have come up with any number of creative responses. Many of them are not brand new initiatives, they are modifications or extensions of their normal practices.
Here are just a few that have caught my eye: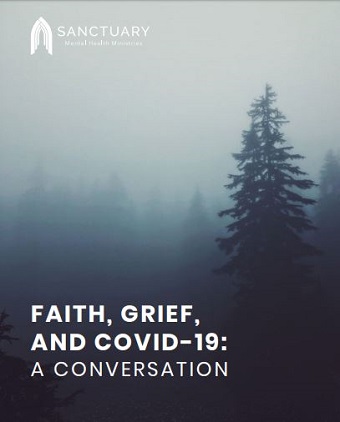 * Sanctuary Mental Health Ministries has proved to be an invaluable resource for many, especially through Faith, Grief, and COVID-19: A Conversation and other COVID-19 resources.
* Tenth Church, through its five Vancouver communities, has developed NeighbourCare, "a group of people ready to offer practical help to our neighbours during COVID-19, helping to be the hands and feet of Jesus."
* St. Augustine's Anglican Church hosts the Marpole Interfaith Food Hub: "The parish has a long-standing tradition of welcoming and helping their neighbours. . .  With the COVID-19 pandemic . . . St. Augustine's has taken on a new role in their service."
* St. Mary's Catholic Church has launched All Were Filled, "a ministry of distribution of frozen foods to families who have been hard-hit by the pandemic, have lost jobs and income, and are having a hard time making ends meet."
* Kitsilano Neighbourhood House invites locals "for a delicious FREE weekly meal" Kits Cares Cafe (now grocery bags in place of sit-down dinners), sponsored by several local churches
* CityReach (Broadway Church) is carrying on with Food for Family Mobile; during the pandemic, "locations will continue to serve vulnerable families, individuals and seniors through pre-packaged food hampers."
* Cedar Grove Church in Surrey has hosted Family Drive-In Movie Nights. Tri-City Church Port Coquitlam held Outdoor Family Movie Night.
Do not fear
Probably the most common theme I have seen on church websites is that we need not fret, nor do we need to be in a hurry to return to traditional practices. As pastor Rhoda Klein Miller of Oakridge Adventist Church wrote September 3:
To school teachers and administrators and parents of students who must lead and make tough decisions in uncertain and fearful times. In the days ahead you will do your best to plan despite missing or conflicting information and you will likely doubt your choices.
It would be nice to have bold assurance from a leader that everything will be fine if we adhere to simple rules but I'd be wary of those too confident they can control or contain this threat.
As Christians we proceed trusting in God. I am inspired by the friends of Daniel who when facing the threat of a fiery furnace spoke their conviction to the King of Babylon: "God is more than able to deliver us…but if He doesn't, He is still our God and we will serve and worship Him only" (Dan.3:16-18).
The message God has for us is repeated over one hundred times in the Holy Scriptures, "Do not fear!" I wish there was more I could do to support your difficult decisions but do know our church will be praying for you.
Go here for the full post.
A new study by Halo Canada on 'COVID-19 Impact on the Volunteer and Donor Activity of Religious Canadians,'  includes this encouraging observation:
During the pandemic [religious Canadians'] support appears to have been directed more towards local congregations and religious charities than secular-based charities. It also appears that this trend will continue when COVID-19 restrictions are relaxed even further.
This represents both a challenge and an opportunity for religious Canadians and the congregations they worship with. With secular charities limited in their capacity to respond, Canada will be relying on religious Canadians to offer creative and proactive strategies that address the needs of all Canadians; needs that have been newly created by COVID-19 and those that have always been present.
Go here for the full study.