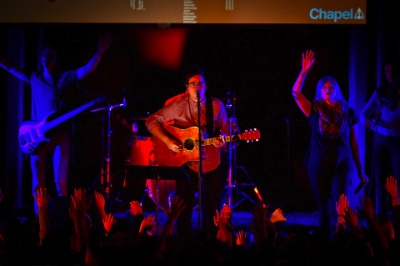 Chapel commences 7 pm, Friday (November 29) at John Oliver Secondary School.
Hundreds of young people from more than a dozen churches have been flocking to a monthly worship event in South Vancouver. Named 'Chapel,' the music-focused time started in South Hill MB Church (1) in 2011 with some 70 teens and young adults from Every Nation Church and South Hill. Since then, attendance has grown so spectacularly that Chapel leaders had to find larger premises. They now meet in the nearby John Oliver Secondary School auditorium.
The dramatic growth, the worship style and the succinct Bible messages are reminiscent of other youth gatherings that have sprung up in B.C.'s Fraser Valley and elsewhere. But the origin of Chapel is unique: it arose from the Christian camping experience.
Every Nation's youth had been going on annual retreat to Anvil Island for many years. In 2011, some campers asked why the chapel worship at camp couldn't be continued, even away from Anvil. The idea struck a chord with their leader, Jonathan Mitchell, who approached South Hill youth leader Louisa He. Her response was quick: "That is sweet!" She saw many possibilities, including a worship experience that her group of 20 youth couldn't do on their own.
Because the two congregations met in the same building, South Hill and Every Nation youth groups had done many things together before, she said. But on this venture, Mitchell had a vision bigger than their own neighbourhood. Mitchell and He started planning, and brought four other youth pastors in as a steering committee.
Word about Chapel spread among other Anvil campers, who not only attended, but brought their friends. It seemed like no time before the size approached 200, said He, and the small South Hill building was no longer adequate. Chapel moved to 'JO.'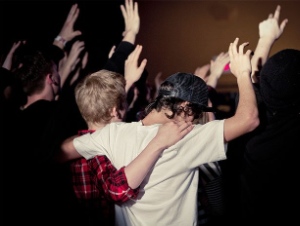 Mitchell says some six or seven leaders have been bringing their youth groups on a consistent basis, making Chapel part of their calendar. Teens and young adults from other churches have also shown up regularly on their own.
Mitchell, now youth pastor at Culloden Church, heads the Chapel program and leads the band. Each session includes a 10 – 15 minute, Jesus-focused message. (Mitchell says the presenter "just goes for it with the gospel.")
Mitchell also maintains contact with youth leaders in South Vancouver to keep in step with their programs and needs. "It's a miracle when even 10 youth leaders are willing to join something bigger," he says.
Mitchell says, "There is a whole bunch of faith-filled kids, and some of them lead kids to Christ. They see passion for the first time. Chapel shows kids they are part of something bigger.
"God is creating a network of excited kids."
This article is reposted from the Mennonite Brethren Herald by permission. All photos by Stefany Mailhiot.
(1) South Hill Church donated its church building to Christ City Church earlier this year.