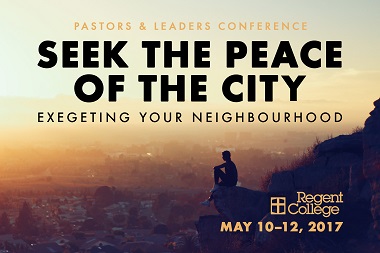 May 10 – 12, Regent College will be hosting its annual pastors conference, Seek the Peace of the City: Exegeting Your Neighbourhood. This year's conference examines the challenges and vital importance of contextual ministry with speakers including Ray Bakke, Brenda Salter McNeil, Karen Wilk and Eric Jacobsen.
I sat down with Christina Lui, Regent College's alumni and church involvement officer, to hear about the highlights of the conference and surrounding events happening at Regent next week.
You served as a pastor before stepping into your current role. How do you see this year's pastors conference shaping and influencing the ministries of the people who attend?
One of the great things about this conference is that we're bringing in speakers with a wide variety of experiences and expertise.
Ray Bakke is a pioneer in urban and inner city mission. He's gone to cities around the world to learn from and with Christians trying to serve their cities and neighbourhoods in vastly different contexts. So he brings that breadth of global awareness.
We're also going to hear from Brenda Salter McNeil, who is a leader in equipping the church to take on the challenges of living out God's call to the church to be truly multicultural – to live out unity in diversity.
And then alongside that we've got workshop speakers like Jonathan Bird, Karen Reed and Justin Tse, who bring really rich, on-the-ground expertise. So people will walk away from this conference not only with head knowledge but with lived examples and concrete skills.
I don't want pastors to just come and attend and feel fired up about the content, but then go home and feel too tired and overwhelmed to do anything with this information. We want to equip them to go home, take the fruit of this experience, and start to apply it with their congregations in their neighbourhoods.
What are you excited about?
I'm obviously looking forward to hearing from our phenomenal line-up of keynote speakers and workshop leaders, but I also want to see how the pastors and church leaders who've taken the time to come to this conference will integrate that knowledge into their ministry. Our goal is to help participants thrive as they seek to be a blessing in their local context, and I think this conference is going to do that.
Tell me a bit about the course running alongside the conference.
We're supplementing the conference with a course taught by Ray Bakke from May 11 – 17 called Urban Immersion: Mission & Theology in the 21st Century. The course is exciting because it takes the themes introduced at the conference and both expands on them and applies them, looking at how they play out in the specific context of Vancouver.
That's not to say that the course is only relevant to people who minister in Vancouver. What we get from studying missiology in this particular context is a picture of where many North American and western cities are moving: things like pluralism, neighbourliness, and local consciousness.
We're seeing a reaction to modernity where there's a deep and obvious longing to be more conscious again of our particularity: identity as "this is who we are in this place." Vancouver is really on the vanguard of that movement, so the lessons we learn in this place can give people the tools to go back to their homes and think missionally in a fresh way.
Tell me a bit about the other events happening around the conference.
Yeah, there are a few different things going on. We're really excited to be holding the Vancouver premiere of the short film Godspeed May 11. It was created by a Regent alum and pastor, Matt Canlis. Matt's entire philosophy of ministry and of life was dramatically reshaped when he began to minister in a small parish in Scotland that was founded 1,600 years ago by St. Ninian – obviously a really different context than ministering in North America.
Matt has returned to North America now. He's back pastoring in a church in Washington and he's been thinking about how the lessons he learned in Scotland are relevant to parish ministry here. The film is going to be great, and Matt's going to be here to talk and answer questions. I'd really encourage people to come. It's affordable – free for conference attendees and $5 for everyone else.
The other exciting thing is a bus tour with Ray Bakke and Jonathan Bird called Missiological Landscapes in a City of Villages. Ray and Jonathan are going to be looking at the particularities of Vancouver neighbourhoods and how the church can respond well to the local dimensions of a particular place. I'm really excited about that: there's nothing like getting out of a conference room, out of your church office, and going and being in a place – thinking and talking about what you want to do and be while you're actually experiencing the reality on the ground. That tour is open to the public for $35 and I'd totally recommend it.
There's also a free public lecture with Ray Bakke May 10, on The Glorious History of the Syrian Church, which is so applicable both as we wrestle with how to welcome Syrian refugees into our midst and also with how we think about the relationship between the church and place. You know, seeing the way the deep rootedness of the church in Syria, which has been there for almost 2000 years, has impacted faith and identity and what that has to say to us in our own context. I'm excited about that.
Is there anything else you'd like people to know?
Just that the conference – the whole lineup of events, really – is going to be a time that is not just informative, but encouraging and refreshing. At the conference we'll have worship every day led by local pastor and Regent alum Josh Koh along with a faithful, accomplished team of musicians. I'm looking forward to entering into that as a time of real refreshment.
Learn more about Seek the Peace of the City: Exegeting Your Neighbourhood or check out the remaining events at Regent's summer events calendar.
For a recent podcast with Karen Wilk and Eric Jacobsen related to Seek the Peace of the City, go here.