Our weekly Creating Conversation editorial gives opportunity for people to speak about issues they believe are vital for the church to respond to.
We asked Zenith Bose to respond to Joshua Koh's accompanying comment, in part to model healthy conversation.
One of the goals of this weekly article is to spark dialogue – and action. We invite you to join the dialogue either here on Church for Vancouver or on the CityGate Vancouver website.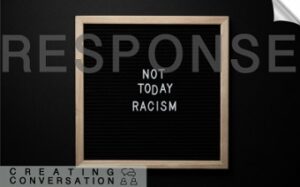 We also invite you to use the article as a discussion starter with your church small group, your church staff, your friends or your neighbours. Feel free to re-post the article on your own social media. Thanks for participating in the conversation!
Reverend Joshua Koh encourages the Christian community in Vancouver to actively engage in conversations about race and racism. After briefly sharing his journey in anti-racism and exploring what the Bible has to say on this subject, Koh offers suggestions on starting points for dismantling racism.
I appreciated the time Koh took to make a biblically founded argument for why racism is sinful. I also commend Koh's decision to include the following points in his article:
1) Historically, there has been a lack of meaningful discourse on racism in Christian spheres as varied as multi-ethnic churches to theological institutions led by white evangelicals.
2) European colonization, white supremacy, and white nationalism are active agents in racism.
3) Public repentance is an essential part of the reconciliation process.
4) Addressing racism without understanding power is futile.
Since the 2020 resurgence of the Black Lives Matter movement, one could argue that discourse on racism has finally become a regular, public affair. Yet the way in which many have been stumbling through the process makes it painfully clear that we have little to no experience in engaging with this topic.
As Koh mentioned, racism has never been intentionally explored in church communities or seminaries. As someone who works in the education sector, I can also confirm that race, racism and white supremacy have not been intentionally included in our provincial curricula.
Being in a society lacking in the foundational knowledge required to partake in productive conversations on racism continues to alienate racially marginalized folks in every space, including Christian communities. I have witnessed non-white congregants experience this alienation in Christian circles over the years.
This past year has been especially taxing for me, as a Christian woman of colour actively engaging in discussions with Christians who have not taken the time to increase their racial literacy.
When the Black Lives Matter movement became a society-wide trend in spring of 2020, it was hard to keep track of the performative gestures. In early June, it was impossible to avoid the sea of #BlackoutTuesday social media posts, or the online anti-racism statements shared by thousands of organizations, from small non-profits to global multinational organizations.
Most churches were quick to join the trend. There is nothing inherently wrong with publishing public anti-racism statements. They can be a great place to start the anti-racism journey. However, if a year later the racially marginalized folks in your organization are faced with the same barriers they have always encountered, it is time to ask yourself whether your organization is set up for real culture change.
To add to Koh's invitation to join the anti-racism conversation, I would like to invite churches to offer opportunities for growth for their congregants in the following areas:
1) Racial literacy: Formal or informal ongoing sessions that explore the vocabulary required to understand and speak knowledgeably about racism and white supremacy, coupled with the exploration of local racial context, will better equip congregants to have nuanced conversations on the topic.
2) Healthy communication skills: Conversing about topics as charged and complex as racism in a group setting can often lead nowhere. Our communication skills seem to leave the room as soon as the subject of racism is brought up. It is worth investing in a session that solely focuses on how to communicate effectively and respectfully with fellow congregants, especially racially marginalized folks. It is worth noting that power and privilege must play a central role in designing any communication related workshop in an anti-racism series.
3) Community of care pledge: Giving congregants the opportunity to create a pledge at the beginning of the anti-racism journey will hold individuals accountable by creating a core set of values specific to racial literacy and racial justice advocacy. Net Impact published an article that offers some helpful suggestions.
At the height of the Black Lives Matter movement in 2020, I remember reading tweets by Black activists stating that we were really living through two pandemics, not one. The difference between COVID-19 and racism is that the latter is not a new pandemic. It has been around for centuries, and it will live among us long after we stop social distancing.
How quickly this insidious pandemic is put to rest depends mainly on those of us who have the most power in society to effect change. During this time of turmoil, I hope Christians will be among those leading the way.
Zenith Bose is an educator in the post-secondary sector. In her role as an instructional development consultant, Zenith incorporates equity, diversity and inclusion (EDI) initiatives to her institution's academic strategic plan. She also works as an EDI consultant in the Lower Mainland. Zenith, who attends Grandview Calvary Church, is a Bengali Canadian long-time Vancouverite, currently living in East Vancouver with her husband and her three year old son.