Creating Conversation is a weekly editorial, curated by the Centre for Missional Leadership (CML), which gives opportunity for people to speak about issues they believe are vital for the church in Vancouver.  
One of the goals of this weekly article is to spark dialogue – and action. We invite you to join the dialogue here on the Church for Vancouver website.
We also invite you to use the article as a discussion starter with your small group, church staff, friends and your neighbours. Thanks for participating in the conversation!
Years ago, a Buddhist friend of mind told me about Buddhist death meditation, the practice of imagining one's own death – step-by-step – which includes spending extended times on nine fairly descriptive (and arguably grotesque!) stages of corpse decomposition.
Perhaps the closest that we Christians come to that kind of reflection, at least those of us with more of a liturgical bent, is to mark our foreheads with ashes at the beginning of Lent – this 40-day season we're now in – which leads up to Easter. I personally think that it's a good and holy thing to do – to remember that we are dust, and that to dust we shall return.
Dying Church
But sometimes, I wonder if we shouldn't take this personal reminder of own individual deaths  and mortality – and widen it to meditate on the death of the very body of Christ, that is, the Beloved Community of the Church.
Now, before you accuse me of heresy – talking about the death of the Church – hear me out on this. I know that someone once said that to talk about the death of the Church is bad theology. And I wholeheartedly agree that that's true.
Still, I wonder if it isn't a worthy exercise for us to imagine what was happening to Jesus in that stone cold tomb; what was actually happening to the cells of his fully human decomposing body – especially as we consider the state of the Church, his Body, these days.
For it really does seem that death is happening in the body of the Church.
I'd suggest that, from my vantage point, we are in a state of very real decay. Institutions are crumbling both locally and regionally. Clergy and lay leaders are burning out. Our sins, institutional and personal are (rightly) revealed for all to see. We're polarized on theology and social issues. Overall, finances are bleak.
Outside our doors, ecological crisis and war happen as we doze. Deconstruction is at an (again, understandable) all-time high. The modernist fundamentalisms: be they progressive or conservative – have failed us. Spiritual pockets that were once strong are declining – sometimes even fading into complete demise.
It seems to me that we are composting.
Resurrection
Of course (and this is where, I'd suggest, the possibility for heresy gets rectified), we Christians do trust in the scandal of resurrection – that is, the fleshy not-just-metaphorical but embodied rising up of that which once was dead. We trust that, in Jesus Christ's resurrection is the victory of life over death. Of love over violence. Of good over evil.
This is our hope – not just individually, but collectively as well.
And even as I reflect on this death among us, I can't help but believe that the very Spirit of the living God is already calling to resurrection – both individual and collective.
In The United Church, Dr. Janet Gear has done some great work to define some of the five living streams in our tradition. You might have a different framework than her (I think of Richard Foster's as another one) – but Janet talks about:
spirituals

(mystics and contemplatives),

ecclesials

(liturgical-sacramental, tradition-lovers),

ecumenicals

(justice-seekers / activists),

missionals

(those sent out to be present in their contexts to reflect the love of God) and

evangelicals (

those who emphasize the importance of a personal and experiential relationship of God in Christ and a high view of scripture).
I can't help but wonder if the latest movements of the Holy Spirit aren't coming from each and every one of those emphases – and perhaps, even, from other places too!
I also sense that they're not coming so much from the halls of privilege and power and establishment – but from the grassroots. I suppose that I shouldn't be too surprised they're not coming from the mainstream, mired in our polarized Christendom culture wars, institutional self-preservation and clinging to our idols; be those liberal-progressive, or conservative.
But, having said that, who really knows what the God's Spirit will use in the coming resurrection of the Body.
From the margins
I will say that the more I hang out in the "edges of the inside" of the church, the more it is that I come to believe that this resurrection of the Church will come from the margins; from newcomers and communities that aren't the linguistic or historical-cultural majority.
That is: from African or Asian church leaders, from Jesus-loving LGBTQ2IA+ and affirming folx, from indigenous Christian communities, from street churches and from BIPOC leaders who are speaking faithfully and challenging the white supremacist status quo.
Those are a few places I've sensing the rumblings.
Where have you?
And let me be clear: we may find it happening around kitchen tables, in abandoned buildings, in the woods or the wilderness, in a storefront, a café – or even in Cathedral-style worship complete with pipe organs, choirs and processions.
Perhaps it happens in the giving away – the surrender. Giving land-back or 'taxing' our budgets to give to those from whom our lands have been stolen. Concrete acts of penitence and restitution.
Perhaps it happens with deep sharing; in small circles of vulnerability and confession and lament and repentance as did the early church.
I really don't know.
But what I do experience, is that everywhere I turn these days, be that in quiet café conversations, in diverse forms of worship, on the streets, on the picket lines, and in the shifting of our orientation away from the empires of the earth – that, in spite of the churchy evidence, God is, indeed, doing something new.
Resurrect 2023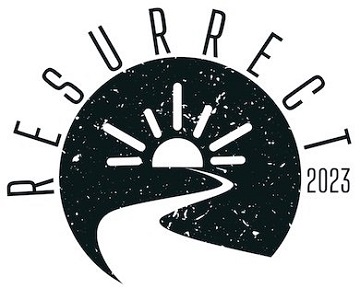 So a bit of a plug. These days, I'm working with a pretty amazing group of folks to put together a gathering, a learning party.
The concept, developed by the New Leaf Network, will hopefully highlight where some of this resurrection hope is happening – or, as a good friend of mine says, where we are experiencing the "already erupting subterranean volcanoes of the Spirit."
I wonder if you might join us in Victoria for Resurrect 2023, May 4 – 6, at First Met United / AbbeyChurch to join:
Randy and Edith Woodley (amazing Indigenous theologians/activists);
the incredible Liz Vice (known for her solo work and The Porter's Gate);

some amazing leaders from my own tradition: The Rev. Dr. Carmen Lansdowne and The Rev. Michael Blair; respectively the First Indigenous Woman Moderator and first General Secretary of the United Church of African descent;

a bunch of 'local heroes' whose names you won't likely recognize, folks whose communities are

practicing resurrection

even as we all wait in groaning.
We'll have chill out space, a full kids/tweens program, a beverages and hymn sing and a rave / dance party – as well as lots of contemplation and worship.
And I wonder if you'd come and share how God is calling the dry and dead bones to dance – to follow Jesus, that is, to practice resurrection in your context and community of faith.
And one of the things we feel called to do is to not just learning or fun partying – but even as we do that, to seek rest and renewal. For, if my take on the pulse is right – a lot of us are tired, exhausted, even burned out as we bring ourselves to really meditate on all the death around us in the church and in wider society. And there's something countercultural in taking the time to rest, nap and just 'be' together.
So come – be! If you're interested, please do check out what we're planning at www.resurrectparty.ca.
Ashes to ashes
And back to the death of the church for a second. Even with the resurrection in the back of our minds as our ultimate hope – it's still Lent for now. With that, I invite us to ponder what 'ashes to ashes' – the death and demise of the body – might mean for us as individuals and as the whole Body of Christ in these bleak days.
What does all that call us into as Jesus-followers?
Yes, I invite us to lean just a little bit into that practice my Buddhist friend told me about – to really imagine what is happening around us with all its grotesque decomposing reality.
And then, with joy and wonder, to prepare to gather to celebrate the Easter Season together, to celebrate all that God's Holy Spirit breathes new life into.
Rob Crosby-Shearer (he/him) lives in Victoria – on lands stolen from the Songhees & Esquimalt Nations. Rob is the Minister for Church Planting with the United Church Region and is honorary clergy with The AbbeyChurch and a founding member of The Emmaus Community.