The range of Christmas-related activity is already impressive, this early in December. That is probably just as well, because most of the events will be sold out. There is still a tremendous appetite for seasonal activities. Among the highlights:
Christmas Tales
Russ Rosen and Justyn Rees are running all over the province with their Christmas Tales tour, but there are several stops in Metro Vancouver. This week they'll drop in on Cedar Grove Baptist, Strawberry Hills Cinema and First Baptist Church, and there are more stops to come.
Justyn is a powerful story-teller, and Russ has led worship in several incarnations over the years, including last weekend at the Santa Claus Parade. The two are old friends, having spent five years travelling and evangelizing their way across Canada in the 1990s.
They and some musical partners promise to have you singing along with the traditional carols and inspired by some new ones. 
Singing Christmas Tree
Broadway Church is hosting the Singing Christmas Tree for the 46th year. It appears that all the events between the 6th and 15th are sold out, but the church "would encourage you to take advantage of our non-ticket holder line. Half an hour before performances begin, the doors are opened to non-tickets holders to fill any remaining seats in the auditorium."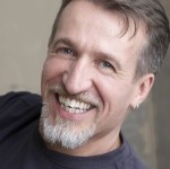 Steve Bell
His  'Solo Advent Tour' (he's not rushing into Christmas) won't be coming into Vancouver, but keeners can travel out to Chilliwack on Thursday (the 5th) or Abbotsford on Friday (the 6th). He is always worth the trip. Those who can't make it could buy his Advent e-book, the first in a sequence called PILGRIMAGE: Troubadours Journeying Through the Christian Calendar Year.
Red Light, Green Light
Pickings are a little slim in the non-Christmas department, but Red Light, Green Light, a movie about sex trafficking will play at West Coast Christian Fellowship, St. Andrew's Hall and First Baptist this week. This film is on a 10-month tour across North America, and two of the filmmakers will be around to answer questions.
Vancouver on Fire
Blessings Indonesian Church invites everyone to join them this Saturday (December 7) as they celebrate 'Vancouver on Fire with Pastor Herman Martir.' This will be a night of praise and worship at the church, which is on Hastings Street near the Value Village.
Dec 2013
Metro Vancouver Christmas Evening
– December 2, 2013 at 7:00 pm - 9:30 pm
Why Israel?
– December 3, 2013 at 9:00 am - 12:00 pm
Business By the Book Christmas Luncheon: David Bentall
– December 4, 2013 at 12:00 pm - 2:00 pm
Movie: Red Light, Green Light (documentary film about sex trafficking)
– December 4, 2013 at 7:30 pm - 9:30 pm
The Gospel According to Scrooge
– December 4, 2013 - December 8, 2013 at 7:30 pm - 9:30 pm
The Huron Carole
– December 4, 2013 at 7:30 pm - 9:30 pm
Hope in the City Breakfast
– December 5, 2013 at 7:30 am - 9:30 am
Both Sides of Christmas with Tom Cooper and Brian Postlewait
– December 6, 2013 at 7:30 am - 9:00 am
Rejoice!: The Marcus Mosely Chorale Celebrate a Gospel Christmas
– December 6, 2013 at 2:00 pm - 4:00 pm
Art Show "Light Source" Brian Buhler & Rose-Marie Goodwin
– December 6, 2013 - December 7, 2013 at 5:00 pm
Perogy Night in Vancouver
– December 6, 2013 at 5:00 pm - 8:00 pm
Christmas Concert
– December 6, 2013 at 6:30 pm - 8:00 pm
Movie: Red Light, Green Light (documentary film about sex trafficking)
– December 6, 2013 at 7:00 pm - 9:00 pm
Out of the Cold: Featuring Christmas Tales
– December 6, 2013 at 7:00 pm - 9:30 pm
Pies not Pipelines: Coffeehouse Fundraiser for the Unist'ot'en Camp
– December 6, 2013 at 7:30 pm - 9:30 pm
Steve Bell: Solo Advent Tour
– December 6, 2013 at 7:30 pm - 9:30 pm
Four Feet and Four Hands: Organ Duets and Solos
– December 6, 2013 at 8:00 pm - 10:00 pm
Rejoice!: The Marcus Mosely Chorale Celebrate a Gospel Christmas
– December 6, 2013 at 8:00 pm - 10:00 pm
Vancouver Chamber Choir: A Baroque Christmas
– December 6, 2013 at 8:00 pm - 10:30 pm
Christmas Crafts Fair
– December 7, 2013 at 10:00 am - 4:00 pm
Vancouver on Fire featuring Pastor Herman Martir
– December 7, 2013 at 6:00 pm - 9:00 pm
Movie: Red Light, Green Light (documentary film about sex trafficking)
– December 7, 2013 at 7:00 pm - 9:00 pm
The Covenant DVD Musical
– December 7, 2013 at 7:00 pm - 9:00 pm
Christmas Tales
– December 8, 2013 at 10:00 am - 12:00 pm
Waiting for the Light, Embracing the Darkness
– December 8, 2013 at 2:00 pm - 4:30 pm
L'Arche Christmas Benefit Concert
– December 8, 2013 at 3:00 pm - 6:00 pm
Community Carol Sing Featuring Christmas Tales
– December 8, 2013 at 4:00 pm - 6:00 pm
Christmas Hymns with the Abbotsford Male Chorus
– December 8, 2013 at 5:30 pm - 7:30 pm
[email protected]

16th annual Carols and Bells
– December 8, 2013 at 7:00 pm - 9:00 pm