A diverse and motivated group of 15 pastors and leaders gathered last week for a two-hour lunch meeting to prayerfully consider the rapidly changing neighbourhood straddling the Burnaby/Coquitlam boundary with Lougheed Mall at its hub.
The focus of this meeting was twofold: to get to know each other and the ministries represented, and to learn more about the neighbourhood around Lougheed Mall.
Development and diversity
We reviewed the planned development projects at Lougheed Mall – The City of Lougheed project will feature at least 23 high-rise towers – and at Simon Fraser University (UniverCity). In conjunction with the Burnaby and Coquitlam community plans, these projects and the SkyTrain Evergreen extension will have a significant impact on this community for years to come.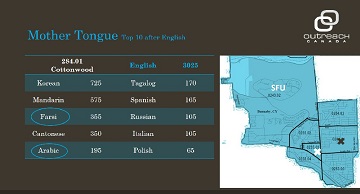 To better understand the Lougheed Mall community, we reviewed a summary of  2016 Census Data from Statistics Canada for the surrounding neighbourhoods.
Key findings were:
increasing population density
a rapid transition from single-family housing to low- and high-rise housing
a sharp increase in the proportion of Mandarin, Cantonese, Korean, Farsi, Russian, Tagalog and Arabic speakers
a significant pocket of refugees in the Cottonwood area
Diversity in the room too
What made this gathering remarkable was the diversity in the room – six Korean pastors and leaders, one Iranian leader and a Caucasian colleague, a Singaporean Chinese leader working with international students, a South Asian pastor of an established local congregation, and a South African pastoring another vibrant church, joined by others representing a range of ministries.
In many respects the diversity of the group mirrors the diversity in the neighbourhood. Each came motivated by a shared vision of being the visible presence of Jesus Christ in this increasingly densified and diverse neighbourhood.
The fruit of prayer and planning
This meeting was the fruit of a year of prayer and conversation between five leaders with a heart for and connections with the Lougheed Mall area. Three of the hosts worship at New Life Community Church. New Life was planted by a Vancouver church (Hope Reformed) just west of the Lougheed Mall in the early 1980s to engage the growing and already under-churched neighbourhood.
The other two hosts – a Korean pastor and an Iranian who came to Canada as a refugee – lead ministries focused on engaging the refugee and immigrant communities that have settled in the area.
While this grassroots meeting seemed very timely, it is not unique. Similar gatherings are happening in other neighbourhoods of Burnaby and New Westminster, and Metro Vancouver, perhaps reflecting a growing realization that the diversity in our neighbourhoods requires a diversity of ministry responses – and a collaborative, kingdom mindset.
For access to community demographics data and analysis contact the research department at Outreach Canada. To connect with other community clusters contact Jonathan Bird.
The next meeting is planned for early February to explore potential joint projects. If you are interested in connecting with the Lougheed Mall group please contact Phil Johnston.
Lorna Johnston is global team leader at Outreach Canada and attends New Life Community Church.