March 29 update: Indoor in-person religious gatherings and worship services of any size are again prohibited.
March 25 update: Dr. Bonnie Henry introduced a one-time variance on health restrictions March 25 to allow limited indoor gatherings for some religious holidays between March 28 and May 13.
"This hasn't moved the needle much."
Brad Sumner, lead pastor of Jericho Ridge Community Church in Surrey, made that comment about the provincial government's recent loosening of restrictions on faith gatherings during an interview on CKNW's Jill Bennett Show March 24.
Dr. Bonnie Henry announced a variance of 'the Gatherings and Events Order of the Provincial Health Officer' March 23. In-person religious gatherings of up to 50 people are now allowed to meet outside, as well as people in 50 vehicles.
Sumner said:
Part of the challenge is that it continues to restrict some of the key elements of what constitutes a worship gathering, particularly singing. That's probably people's biggest disappointment, because it's one of the big things people want to gather for.
There's an element of, it's understandable, there's a higher risk connected with some of those activities, but I think for us and for some other religious leaders, this hasn't moved the needle much to convince us that this is a helpful path to pursue.
However, Sumner still supports the government and its policies. Asked whether he feels people will be happy with these new rules – in particular as they make comparisons with bars and restaurants – he responded:
I think people will still want [indoor worship]. But the epidemiological evidence still is suggesting that indoor settings are much more challenging.
In the limited conversations I've had this morning with a few other pastoral leaders, I think they were hopeful for 50-person indoors, with singing.
That would be something that, in some settings like ours – we have a recently renovated facility, with a top of the line HVAC system – would work.
But I do also respect that a lot of churches have aging facilities, and bringing people indoors into poorly ventilated spaces, even with all the Covid protocols in place, at this point, by our provincial health office, isn't deemed to be the safest action.
It might buy a little bit of time, but I don't think it's going to make people happy enough to make the grumbling go away.
He said, "We're going to continue to think of creative ways that are well within the existing restrictions." Jericho Ridge will still hold online services, but is also planning a drive-in service for Easter. "People can come in their cars and they can then sing in their cars, so that contains and maintains a little bit more of a safety focus."
Most churches look set to continue with online services, but Jericho Ridge is not alone in planning to welcome vehicles to their Easter services.
Christian Life Assembly in Langley, for example, will host five Drive-in Services on Good Friday and Easter Sunday. TriCity Church in Port Coquitlam in planning three Good Friday Drive-In Gatherings and Gracepoint Community Church in Surrey is holding a Palm Sunday Drive-Thru. I'm sure a number of other churches will join them.
Catholic view

The Roman Catholic Church had put considerable pressure on the provincial government to allow churches to open in time for Easter.
A March 14 article ('Bishops calling out governments over arbitrary COVID regulations') on the B.C. Catholic site noted:
In Vancouver, Archbishop J. Michael Miller has filed a petition in B.C. Supreme Court seeking an exemption from religious service restrictions after Dr. Bonnie Henry rejected his February 19 request that churches be allowed to offer religious services at 10 percent of capacity.
Some Catholic churches have already been offering Mass outside, carefully following provincial rules. For example, St. Patrick's Catholic Church at 12th and Main has these guidelines:
Though in-person Masses inside our Church building continue to be suspended  by order of the Provincial Health Officer, until further notice, we continue to offer our parishioners outdoor, "drive-in" opportunities for attending Mass and "drive-in" and "walk-on" (ONLY for those with no access to a car) opportunities for receiving Holy Communion.
Open letter
The new provincial guidelines do not live up to the expectations expressed at length and with great clarity by pastor Sam Chua of Westlynn Baptist Church.
His widely-supported February 11 open letter said, in part:
BC's health orders treat religious and non-religious group activities differently, but not because their respective public health risks are demonstrably different.
How is transmission risk any different when multiple tables of people are listening to a live band playing in a pub, separated by two to three metres (as permitted in your orders), compared to when multiple families are listening to a pastor lead a church service, separated by two to three metres (as currently prohibited)?
Likewise, I cannot see how a group fitness class of 25 people can exercise in a room more safely without masks (as permitted in your orders) – despite their increased respiratory rate – than a congregation like ours, which wears masks at its gatherings and merely sits quietly.
If it be argued that singing in church poses a significant risk, I think it is only reasonable to ask whether merely a few minutes of singing once a week – even accompanied by wearing face masks (as our church has practiced) – is as dangerous as multiple, random groups of people exercising in a communal space, every day, all week long, and without face masks.
Would our congregation be eligible to meet together if it refrained from singing, or if it added some light physical stretching on Sunday morning, and followed the exact protocols of a local gym?
Furthermore, when our church members meet together to prepare food distribution for the needy, you trust them to follow safety protocols (and they do), but then why can't they be trusted to follow safety protocols equally well when meeting for other structured activities?
Go here for the full open letter.
Dissenting churches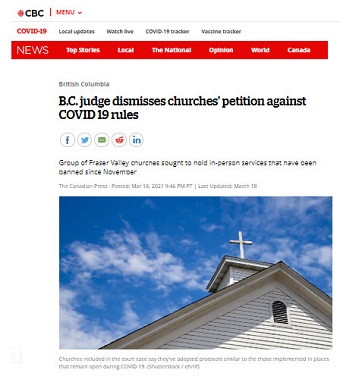 While the petition filed by Archbishop Michael Miller with the B.C. Supreme Court on behalf of the Archdiocese of Vancouver has yet to be heard, the case brought by three Fraser Valley churches was rejected March 19.
A release from the Justice Centre for Constitutional Freedoms (JCCF), which represented the churches, stated:
The Justice Centre is pleased with the decision of Chief Justice Christopher Hinkson of the Supreme Court of British Columbia to strike down Public Health Orders banning outdoor protests but is disappointed in the Court's dismissal of the challenge to the BC Government's prohibition on in-person religious gatherings.
Regarding the Applicant churches, Chief Justice Hinkson found that Dr. Henry's Orders infringe the fundamental freedoms of religion, speech, assembly and association, but ruled that the infringements are justified. The Chief Justice found that Dr. Henry was owed deference to her decision-making and was not required to be correct in making her orders but only needed to have acted in a reasonable range of alternatives.
The Justice Centre is reviewing the decision, which comes just two weeks after arguments concluded in a four-day hearing, held in Vancouver on March 1 – 3 and March 5, 2021.
Go here for the full statement.
Dr. Bonnie Henry stated she was thankful for Chief Justice Christopher Hinkson's "thoughtful decision upholding public health orders in regards to religious gatherings."
ARPA Canada posted a critical comment about the decision March 19. It began:
Many Christians will be very disappointed, perhaps even angry, with this decision. Reformed Christians have an earnest, deeply-held belief that they must both respect the governing authorities and gather regularly to worship with other believers.
The absolute prohibition of in-person worship services placed many Christians in an unfair dilemma, making it very difficult to balance both of these convictions. This decision perpetuates the tension between obeying the government and obeying the requirements of one's faith.
Go here for the full comment.
Good overviews
As I have done several times in the past, I recommend reading the COVID-19 & the Church guidelines prepared by the Canadian Pacific District of the Christian and Missionary Alliance. They also offer COVID-19 Church Gathering Restriction Guidance; all of the materials are updated to March 23.
And in a Faith Today comment, Phil Wagler looked at the big picture.
Wagler, now pastoring in Kelowna and acting as North American network coordinator for the World Evangelical Alliance's Peace & Reconciliation Network – but formerly with Gracepoint Community Church in Surrey – considered 'Lessons for the church from a year of pandemic.'
He said:
A year into this pandemic I am noticing that the common goodwill the majority of Canadians, including churches, contributed to (do you remember the 7 pm banging of pots for frontline workers and hearts in the windows?) is increasingly being replaced by frustration, fear and discord.
There is a ratcheting up of attempts to get governments to change what seem to be inconsistent measures (like churches being asked not to meet in-person while bars are open). There is increased polarization in our politics (shaped by news headlines and the bottomless well of internet searches and algorithm chasing) and deep pain and grief that always seeks a way out.
How are we to be the church now?
I've pondered all this deeply, as I'm sure you have. I've been asking the Lord for wisdom. I've conversed with other pastors – even globally. I am troubled by my own weaknesses and blind spots. I've wrestled with my convictions. This is most certainly a time to live into our role as the church, and a most challenging time to discern what that means.
His responses, fleshed out in the article:
Be patient.
Rejoice in pruning and refining.
Make disciples.
Do justly, love mercy and walk humbly with our God.
Do not say the church is 'closed.'
Love the church and contend for the unity of the Spirit and the bond of peace (Ephesians 4:2-6).
Pray.
Go here for the full comment.