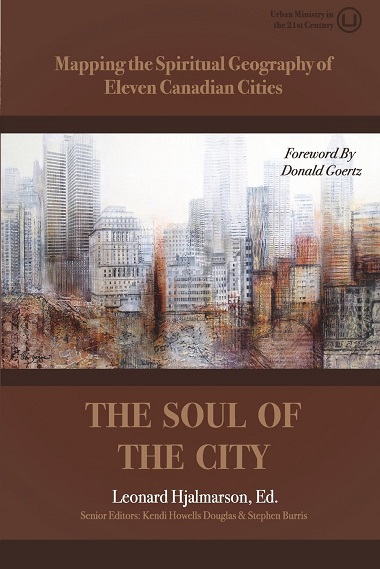 Ross Lockhart has two books coming out this summer. One is Beyond Snakes and Shamrocks: St. Patrick's Missional Leadership Lessons for Today ("Essentially, I ask the question, 'Are there lessons from a missionary to a pre-Christian culture for us as missionaries to a post-Christian culture.'")
The other, out this week, is The Soul of the City: Mapping the Spiritual Geography of Eleven Canadian Cities, for which he wrote the chapter on Vancouver. Following are two excerpts from that chapter.
A new religion
Traditionally, Christianity was one "bottle of glue" that helped form community cohesiveness in Canadian villages, towns and cities as franchises of Western Christendom set up shop in the British, French and Spanish colonies of North America. After all, it is Christianity that returns again and again to the question, "Who is my neighbour?"[1]
But here in the Pacific Northwest, or Cascadia[2], some argue that Christendom was never fully established. In her excellent work The Secular Northwest, historian Tina Block reminds us that census data today on both sides of the border indicate that "no religion" is now the number one religion in the region.[3] 
Block's historical survey of faith in Cascadia found that, "Northwest secularity is most evident in the region's strikingly low levels of involvement in, and attachment to, formal or organized religion."[4]  
Angus Reid's latest polling on religion in Canada confirms that BC is home to the highest proportion of Non-Believers at just over one-quarter (27%).[5]
If Christendom unraveled most quickly here on the west coast due to the shallow roots of a Constantinian baptized social structure, then one must ask, "What kind of belief system has replaced traditional religion" in this "spiritual not religious" landscape of steel and glass?  
In his book Cascadia, Douglas Todd suggests that environmentalism or care for creation is essentially the civil religion of the Pacific Northwest. While people may not feel a bond to each other as closely here in Vancouver as they might to neighbours "back east," there is a close bond with nature and human beings' responsible care for it.  
When the new Student Union Building opened two years ago at the University of British Columbia, my colleague Jason Byassee and I wandered over for lunch. At the end of our sushi and carrot juice meal, we gathered our garbage and stood, trays in hand, before a dazzling array of choices. 
Separate recycling options were offered for chopsticks and plastics and cans and compost and a million other things before one would finally surrender and put anything in the "garbage."  
"Whoa," I said, "you don't want to get this wrong or you'll be a social pariah around here."  
"Man, we never had this kind of dilemma in North Carolina," replied Jason.  
Environmentalism has become the new civic religion on the west coast.
---
[1] Luke 10:29.
[2] A term used to describe the shared geographic, social and cultural values of the Pacific Northwest region that includes Oregon, Washington State and British Columbia.
[3] Tina Block, The Secular Northwest: Religion and Irreligion in Everyday Postwar Life, (Vancouver: UBC Press, 2017), 2. In her scholarly treatment of religion in Cascadia, Block argues that historically, "Northwesterners were part of a regional culture that placed relatively little importance on formal religious connections."
[4] Block, The Secular Northwest, 48.
[5] http://angusreid.org/religion-in-canada-150/#part-2
God is on the move
Clearly, God is on the move in Vancouver. Old faltering expressions of Christianity are fading, and the Triune God is raising up new witnessing communities in the midst of this post-Christendom City of Glass. 
Missional leadership today in this context takes seriously the need to help people take steps towards faith in Jesus through adult catechesis and conversion. In a post-Christendom world, no one is "born Christian" and so disciples are made with intention and long-term commitment on behalf of the mission community or congregation. 
Michael Frost states, "Missional leaders don't see changing the church as central to their cause; they want to change the whole world."[1] Participating in the Missio Dei that Frost calls, "the unstoppable program of God's unfurling kingdom on earth," Christian leaders cannot "even conceive of how to control it, package it or franchise it."[2] 
Freed from a Christendom past, Christian witness today in Vancouver is not trying to recover a time when the church had a privileged place in society. Instead, there is encouraging evidence of what a Christian minority looks like as "salt and light" in the community, pointing to the power and presence of the risen Christ at work in the world, in the midst of our ordinary, everyday lives.
---
[1] Frost, The Road to Missional:  Journey to the Centre of the Church, (GrandRapids:  Baker, 2011), 21.
[2] Ibid., 21.
Ross Lockhart is associate professor at St. Andrew's Hall at UBC and director of the Centre for Missional Leadership. 
He serves as the Presbyterian Director of Denominational Formation at Vancouver School of Theology, as well as Adjunct Professor of Homiletics at St. Mark's College and Sessional Faculty at Regent College.
These excerpts are posted by permission.