Most of us are out and about sharing good food and fellowship with friends and families during this season. But some groups make a particular point of sharing their abundance with the surrounding community. 
Union Gospel Mission
Almost 3,000 people took part in a sit-down Christmas meal with the folks at Union Gospel Mission in three locations December 6. UGM's Women and Families Centre is located just behind the central 601 Hastings location. Both sites, as well as the New Westminster UGM, were open to the community all day, for a traditional Christmas meal, served by 250 volunteers, who at times spontaneously sang Christmas carols.
"UGM's Christmas dinner is about more than just spreading the holiday spirit and ensuring those in need receive a warm, nutritious meal," said Bruce Curtiss, manager of Hastings Chaplaincy and Outreach. "For those facing homelessness and poverty, the meal is an opportunity to access UGM's emergency services as well as a moment to reflect and possibly begin a process of recovery."
North Shore Community Christmas Dinner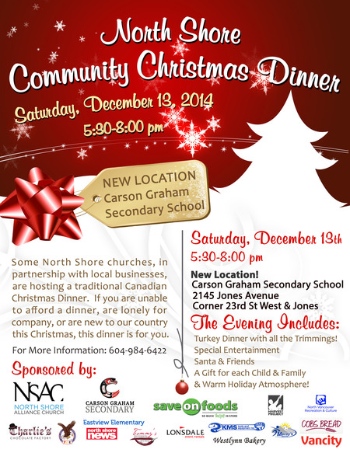 In partnership with local businesses, North Shore Alliance Church is hosting a traditional Canadian Christmas dinner this Saturday (December 13). Here's how they are presenting the offer to their neighbours: "If you are unable to afford a dinner, are lonely for company, or are new to our country this Christmas, this dinner is for you."  
The North Shore Community Christmas Dinner will be held at Carson Graham Secondary School. The evening will include "turkey dinner with all the trimmings, special entertainment, Santa and friends, a gift for each child and warm holiday atmosphere!"
The dinner is sponsored by North Shore Alliance Church, Carson Graham Secondary School, Save-On-Foods, Harvest Project, North Vancouver Recreation and Culture, Charlie's Chocolate Factory, Friends of Eagles, Eastview Elementary School, North Shore News, Tommy's Catering, Lonsdale Event Rentals, KMS Tools and Equipment, Westlynn Bakery, Macey's Sports, Cobs Bread and Vancity.
Cloverdale Community Kitchen
Pacific Community Church is hosting the Cloverdale Chamber of Commerce for a Christmas luncheon. The Chamber, they say, "has been an enthusiastic supporter of the Cloverdale Community Kitchen. Vera LeFranc, chair of the Surrey Homelessness and Housing Society, which [presented] CCK with a 25,000 grant – and now a newly elected Surrey councillor – will be speaking at the luncheon. We are looking forward to hosting the event and preparing a great Christmas meal for all to enjoy."
"The kitchen is called Cloverdale Community Kitchen because it's truly Cloverdale's kitchen," said Jim Heuving, executive pastor with the church. "We want it to be used to address poverty and homelessness in Cloverdale. . . And we think it happens around food. It's not the answer for everything, but it's a great starting point." . . .  
In early 2012, an attempt was made to hold such a program in Cloverdale, using the church as a base. Meanwhile, the existing kitchen serving the poor in Cloverdale, run by the Cloverdale Christian Fellowship, was closed down as the mall used for their operation was demolished for future development.
It became evident to the church that a qualified kitchen was needed, and after fundraising $400,000 and completing construction in December 2013, the kitchen now serves more than 100 meals a week, run by a variety of groups.
Now that the church has been able to build the kitchen, it's hoped it can become a "self-sustaining operation," noted Heuving. The church hired B Agile Consulting to explore the next steps. Those recommendations will . . . include hiring a [director] to develop and manage the operation. The director would expand meal programming, work with the community, develop fundraising models in addition to running and building on the kitchen's operations.
Soulkitchen
"A great time was had by all at a combined Soulkitchen, More Than a Roof (MTR) and Artisan Church dinner [December 8]" said Louise Tischhauser. "Demonstrating the fruits of a year-long relationship between Artisan Church and Soulkitchen, we threw together a great 'Crepes and Carolling' evening at Karis Place with about 50 to 60 tenants. It was a home-style evening, with everyone joining in the preparation and the singing."
Karis Place, located on Seymour Street near the Granville Street Bridge, is one of several buildings run by More Than a Roof, which "manages inclusive communities of affordable housing for those affected by low to moderate incomes, those suffering with mental health issues and those taking the bold step in addiction recovery." Artisan Church meets a few blocks away, at the Central Library on Georgia Street.
Louise and her husband Hannes run Soulkitchen, which "creates healthy and vibrant communities by welcoming the marginalized and lonely to the table and into the kitchen."
Soulkitchen is partnering with More Than a Roof; their work operates out of the Karis Place community kitchen. Louise says they have several other initiatives planned before Christmas:
The official Christmas dinner on the 16th. Soulkitchen will cook turkeys and all the trimmings for MTR's three downtown buildings. We are encouraging each building to have its own dinner instead of joining into one big dinner – keeps building communities together.
 We will keep our street outreach on Granville – run by the tenants themselves – going over December and January.
Then a few of us will host a brunch on Christmas Morning at Karis – a simple, home-style get together. Obviously on all these things we encourage people to get together with their families and/or bring them along.
It is easy to see how the Tischhausers are living out Soulkitchen's mandate:
Our vision for Vancouver is to use the resources that we have been given to service the needs of the poor and lonely in the downtown area of Vancouver. We cook in our commercial kitchen and are able to serve not only the tenants of the More Than a Roof SRO buildings, but also other apartment blocks and shelters.
We are training our tenants not only in kitchen skills but also creating teams of tenants to serve others. We see this as a fabulous tool and part of their recovery process – giving dignity and leadership opportunities back within their reach. We have many examples of healing that happens when, amidst our own brokenness, we give out to others in need.