Chinese security officers detained Michael Spavor and Michael Kovrig a year ago, in early December. Kevin and Julia Garratt suffered through a similar experience and are now speaking about their experience on various media and in churches.
Following is an article about one of those presentations, re-posted by permission from The Light Magazine. 
"People ask the question. Why, why did they take you?" said Kevin Garratt, who spoke with his wife Julia at Willingdon Church in Burnaby recently.
Kevin and Julia Garratt were abducted August 4, 2014 after a 'set-up' dinner at a restaurant in Dandong, China. What followed was a horrendous, two-year ordeal of mental torture, isolation, daily interrogation and uncertainty under Chinese detention. The Chinese government accused them of spying.
"Thirty years of friendship, kindness and thank yous. Even imagining myself as a spy was impossible," wrote Julia in their riveting book, Two Tears on the Window.
The Garratts have four children and lived in seven different cities over the 30 years, back and forth serving in China. Chinese call their family 'eggs' – white on the outside and yellow in the inside, wrote Julia.
They arrived in China in 1984 as English teachers. They later ran a kindergarten; helped with orphanages; and established social enterprises, training centres and translation companies. Their last project was operating a coffee shop near the China / North Korean border while doing aid work into North Korea.
During the first six months of incarceration, Kevin and Julia were detained in separate, heavily-guarded isolation rooms in the same compound – without each other's knowledge until day 73. Canadian embassy visits were the only link to the outside world. Faith, hope, love and prayer sustained them in their helplessness and despair.
After six months, Julia was moved from residential surveillance to house arrest with bail, pending trial. Kevin was transferred to the public prison where he shared a small cell with a revolving door of inmates ranging from criminals and drug addicts to murderers.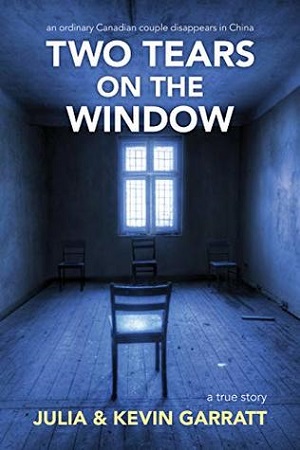 "All our lives have been focused on community development, loving people and giving answer for the hope that is in us," said Julia, who penned in their book that every day she chose to hope.
"The worst things got, the closer God came. The more intimate he showed me his love. He took my despair and gently called me back to hope," adds Julia, while guards and interrogators watched.
"When I was in prison for 19 months, I saw that the only thing I had was hope. I saw everyone around me was hopeless, and I felt more than ever now, we must proclaim the hope we have . . . the hope of Jesus," said Kevin.
The hope of Jesus is the reason for Christmas. "Hope for the hopeless, pardon for the guilty, forgiveness for the conscience-stricken, peace for those who knew no peace, Good News for those who have had nothing but bad news! Yes, Jesus Christ can save us from despair . . . if only we will let Him," wrote Billy Graham in Christmas: a Time of Renewed Hope.
God's plan and purpose
Kevin now deems his two-year imprisonment as God's bonus. "It was not a punishment, rather a part of God's plan and his purpose." He was reminded of Philippians 1:12 where the apostle Paul's imprisonment "actually served to advance the gospel."
"We were abducted, not arrested . . . about eight months later, I was officially arrested. When I was released after two years, I was convicted and deported immediately to Canada. I learned that a man named Su Bin had been arrested in Vancouver in June 2014. China took us so they could trade. Canada doesn't trade and we weren't spies."
"God is fully aware of what is going on in your lives as much as what is going on in our lives." Kevin quoted Psalms 139:16 and 46:1. God knew us even before we were created. He is our refuge and strength, an ever-present help in trouble.
Overcome hate with love
Despite enduring afflictions, Julia chose to love instead of hate her guards and interrogators. "The difference between an enemy and a friend is often a choice," she wrote. God showed her what He saw in her guards and interrogators, and how He loved them. That love was blessed with an answered prayer of reconciliation when her captors invited her for tea before she left China.
"They said to me, after all we have done to you, will you hate us? And, I said, No, that is the system, you are the people. I will love you." Her words bring to mind God's love and Christmas gift to mankind, Jesus – John 3:16.
"God is present, God is at work, and he loves you. He uniquely designed you for your story, whatever you are going through today or tomorrow," said Kevin, "God is the biggest joy."
Their miraculous story is a testimony to the power of prayer, perseverance and community, said Kevin, who was released on September 15, 2016. He thanks God for answers to prayers by the worldwide community and for the people who never gave up until they were home. They kept their hope alive reading the Bible, praying and penning inspirational thoughts.
"Pray for Michael Kovrig and Michael Spavor, December 10 will mark one year of their imprisonment, unjustly accused – and those on the World Watch List," said Kevin. The List highlights countries where Christians are persecuted.