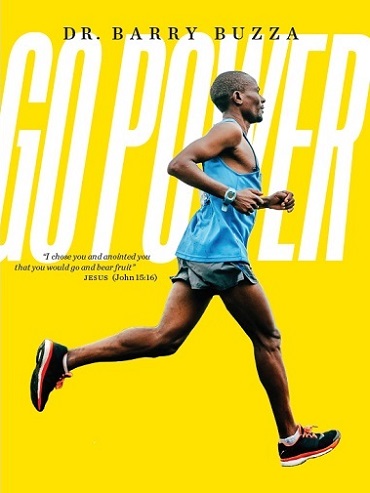 Pastor Barry Buzza was at Missions Fest this year, handing out cards with links to the eBook version of his missions book Go Power. Following is the Introduction to the book. I like its focus on the centrality of mission, and the autobiographical element. It is good to hear how one strong local leader became committed to his work.
I cut my spiritual teeth in a Foursquare Church in Vancouver. From year to year at our church, we heard unforgettable stories about the founder of our denomination, Aimee Semple McPherson, who, as a 17 year old girl in Ingersoll, Ontario, had a vision of a black river of millions of Chinese souls floating downward into the darkness of eternal death.
She and young, handsome Irish evangelist Robert Semple, who also felt God calling him to China, were married a few weeks later and shortly after, sailed off in faith, by ship, to the mysterious Far East.
It was 1907 and health conditions in the darkest parts of the Orient were not good. Within a year, Robert died of dysentery, after which pregnant Aimee watched his body burn to ashes on an open bonfire. Unrelenting, 18 year old Aimee, who was also suffering with dysentery as well as malaria, tried to carry on the work alone. But finally exhausted beyond strength, she was forced to return home to give birth to her precious daughter Roberta Star.
Aimee Semple McPherson's love for the lost people of the world never left her. In 1922, during the white-hot flame of Pentecostal revival, which ultimately led to the formation of the Foursquare Gospel Church, she moved to Glendale California to build the largest church in America.
On the cornerstone of Angeles Temple were written her words of commitment: "Dedicated to the cause of interdenominational, worldwide evangelism . . ." Every Sunday, 22,000 people would gather to worship our missionary God in the megachurch she pastored, and then for services every other night of the week, thousands of hungry seekers would excitedly line up to get a seat.
Pastors and missionaries by the hundreds were trained in the adjacent Life Bible College, ordained and sent out around the world to preach the Foursquare Gospel – Jesus is our Saviour, Baptizer with the Holy Spirit, Divine Healer and Soon Coming King.
In the years I was raised, after the war, in the 1950s, I was deeply affected by the dramatic stories of brave missionaries, who'd been commissioned by Aimee, and returned home for their furloughs every four or five years. We heard about cannibalistic natives in New Guinea, pygmies who came to Jesus by tribes in the darkest corners of Africa, New Testament fire blazing in the Philippines, pastors being martyred in Jamaica, as well as snakes and alligators in Panama and South America.
We understood clearly that to be a missionary was certainly God's highest calling and very well could mean sacrificing one's life for the Gospel.
It was late in August of 1965, sitting around a crackling fire at our Crescent Beach Youth Camp, that the direction of my life changed forever. I was 18 years old, had my future all planned out, was ready to enter university in the fall and become a high school English teacher.
The message that Dr. Roy Hicks preached to us campers on that warm summer evening was from the last chapter of Matthew's Gospel. And Jesus (after his resurrection) came and said to his followers:
All authority in heaven and on earth has been given to me. Go therefore and make disciples of all nations, baptizing them in the name of the Father and of the Son and of the Holy Spirit, teaching them to observe all that I have commanded you. And behold, I am with you always, to the end of the age.
I'd heard it before – Bible teachers call it "The Great Commission."
But that time it was different. Dr Hicks had a voice like we think God probably has and with deep, holy resonance, he concluded:
There's your call young people. If you are a follower of Jesus, (I was), then your Master has just commanded you to 'go into all the world and preach!'
You now have only two choices as a Christian. One is to purposely disobey God, and the other is to go and preach! The only way that you can escape your call to serve as a pastor, teacher or missionary, is to receive a direct word from God that you are exempt from his Great Commission!
I'm not sure how good our speaker's exegesis was, but the 120 teens who were listening, along with me, were transfixed. At the end of his message, when he challenged us all to take a pine cone, which represented each of our lives, and throw it into the fire as a picture of our willingness to die for Jesus, all but one of us went forward to commit our entire lives to the Great Commission.
It's because of Roy Hick's powerful sermon on that warm August evening over 50 years ago that I registered for Bible college soon afterward, and have served in "the mission" over this last half century.
My call to be a missional pastor was not from an angelic visitation; it was not because of a dream or vision; there was no burning bush and no prophetic word – it was simply the challenge of Jesus himself, to go in his power, make disciples, baptize them and teach those disciples to do the same. That's what I'm calling "Go Power."
Barry Buzza is lead pastor of Northside Foursquare Church in Coquitlam and has written more than 20 books. This excerpt from Go Power is re-posted by permission. For more information on Go Power and Go Power Study & Prayer Guide go here.