Sarah Rodgers: Why do How the World Began now, and here? Because we can!
Meghan Gardiner: It's live, it's literally live and intimate and together.
Ron Reed: Oh, it's amazing to be back at the theatre. It feels just like it was
Sarah Rodgers: It feels like coming home.
Ron Reed: Oh, I think people will leave talking. . . .
These lines may or may not have been scripted, but they sure sound spontaneous and heartfelt, reflecting the pent-up enthusiasm of theatre people as they anticipate returning to a season curtailed by COVID-19.  (See the short video just below.)
Sarah Rodgers is directing Ron Reed, Meghan Gardiner and Evan Rein in How the World Began (March 25 – April 16) at Pacific Theatre.
The basic outline is this:
Susan Pierce is a transplant in her rural portable-turned-classroom, teaching science to high schoolers.
But when conflict over an offhand comment to her strong-willed student Micah erupts, Susan and the wider community of Plainview find themselves unable to bridge the chasm between their beliefs.
Reed told me when I visited him recently between between rehearsal sessions, "It sounds like it would be about creation/evolution. It's not. It's about how polarized we've become, how we tend to build up misconceptions about one another."
Ragged end
Reed is clearly thrilled at the prospect of being back on stage with his favourite theatre company, especially as his carefully planned exit from Pacific Theatre was sabotaged by the COVID-19 pandemic.
His name is tightly connected with Pacific Theatre. He founded it, he was Artistic Director – he was the face of the little theatre company that elbowed its way into a respected position in Vancouver's active theatre scene.
(A key point here. I almost said "a little Christian theatre company," but Reed addressed that matter in an excellent interview with Jason Byassee in 2015: "We've never said we do 'Christian' theater. That word is a bad adjective but a good noun. I readily say I'm a Christian, but we don't do Christian theatre. We do plays that explore spiritual questions honestly from a Christian perspective.")
But Reed's time at the helm of Pacific Theatre came to something of a ragged end. His decision to retire wasn't a sudden one. In fact, he had been planning it since 2011: "I set out to be an artist and ended up being an administrator of a theatre."
"My last season was meant to be 2020/2021," he said. "I picked a completely self-indulgent season" – two plays to act in, two plays to direct. June 2021 was to have been the conclusion, but then in spring 2020 "the lights went out – that was very disappointing. It was a very unsatisfying final 10 months."
Reed does continue in the role of Artistic Director Emeritus.
Decades of focus
Reed ran Pacific Theatre for decades, so some might assume the enterprise consumed him. One of his recent Oblations posts, read alone, might buttress that view.
Titled 'carl jung / somebody who's tired and needs a rest,' it begins:
I've realized that somebody who's tired and needs a rest
and goes on working all the same
is a fool.
Carl Jung
I'm pretty sure my own tendency to just push on (and on, and on), working long past the point of feeling tired, has many times led to a kind of exhaustion that's really not good. Still . . .
"I've realized that somebody who's tired and needs a rest
and goes on working all the same
has a job."
Ron Reed
I understand what Jung's saying. That said, if I hadn't spent a good part of the past 30 years doing the opposite of what Mr Jung prescribes, there might very well be no Pacific Theatre. I would have written no plays. I would have left rehearsal halfway through, many days – and, most other days, I would have had no one to rehearse with, because one or another of my fellow actors would have called it quits, depending on their own levels of energy. . . .
But Reed told me, "I'm the opposite of a workaholic. I kept track of every minute I worked with PT and took time off for overtime." And he was careful to save time for his family and creative activities outside of the theatre world. He has described himself in the past as "half ant and half grasshopper."
'I produce things'
Reed worked hard running Pacific Theatre. But he has always been "skeptical of achievement, of ambition." He said he did not found Pacific Theatre in order to engage Christians more in the culture (though that has happened). He did it primarily because he loves theatre, he loves to be creative.
"I produce things," he said. Many of the things that keep Reed busy in 'retirement' have been long-term enthusiasms. He added:
I become unhappy, stressed, if there are not other activities. My brain needs to do these things. I need to reset my brain [comparing his brain to an electric filter on the now-replaced old furnace in his Richmond home, which needed to be reset when it acted up]. Whether it's to write a poem or make a spreadsheet of the Blue Jays' won/loss record from 1987 to 1993, I need to do something about it.
So, not an end
Reed's career is not over. Not only will he be back on stage acting in a few days, he has not been sitting idly by over the past couple of years.
"I haven't stopped being an artist," he said. "I've just stopped running a theatre company."
He says on his blog home page: "I'm in the group of those who aspire to be dilettantes," and lists his interests: "My family, Jesus, theatre, movies, music, photography, montage, Premier League Football (Liverpool), board games, books, radio."
He has been posting podcasts since March 2020. Soul Food: The Ghost Light Season features "A late-night disc jockey [spinning] records and stories, broadcasting from a pirate radio station somewhere off the coast of British Columbia."
Reed also posts regular updates on his Oblations ('Writings and Readings') site. They feature photos, poetry, links to literature, letters to the editor (of The New Yorker, for example) and more – various signs of a creative and engaged mind.
Life-long calling
Though Reed has many interests, the fact remains that he has always had a particular sense of calling to the theatrical world. An interview in the Richmond Sentinel just before the pandemic closed things down in March 2020 gave a sense of how early that focus became clear.
"I fell in love with theatre in Grade 8 when I went to see my first professional play, Great Expectations. My friends and I subscribed (to Theatre Calgary's season)," he says.
Reed and his chum took the bus every six weeks to watch Theatre Calgary's matinee. At 13, they were much younger than the average theatre subscriber. Reed points out how unusual that is by saying that Pacific Theatre has no Grade 8 subscribers.
In high school, Reed participated in all the theatre he could.
"When I graduated and first wanted to go into acting, my parents didn't really like that idea," he says.
They told him that as an actor, he wouldn't earn any money. Reed says that in their eyes, "It was the worst and most depressing future for me."
His father was a sales rep who sold small engines, and his mother worked part time at the school library.
"There's no theatre in my family tree," says Reed.
He prepared for law during his undergraduate degree, seeing that field as a good outlet for his strong sense of social justice. But "after about four years, I realized I was progressively unhappy." Time as a youth pastor proved no more satisfying.
So, with his parents' acquiescence, he completed a Masters in Fine Arts at the California Institute of the Arts and returned to Vancouver to found Pacific Theatre 38 years ago.
The Richmond Sentinel article concluded:
While Reed acts, directs and administers a theatre company – and loves all aspects – he says, "I'm really happiest when I'm acting in plays."
Reed appreciates that fact that Kaitlin Williams – his successor as Artistic Director – has included How the World Began in her first full season. "I know she did want to, when she could, find roles for me." But he knew that wasn't an easy task: "I even had trouble finding roles for myself, as an older white man."
How the World Began
Of course, How the World Began isn't a one-man play. Meghan Gardiner plays Susan Pierce, single and pregnant, a liberal east coast teacher newly arrived in Plainview, while Evan Rein is Micah, one of her students. Reed plays his guardian, Gene.
Sarah Rodgers is returning to Pacific Theatre to direct the play. She and Reed worked together on The Lion, the Witch and the Wardrobe in 2018.
Broadway World (Vancouver) posted an article about Pacific Theatre's new production which included this portion:
Director Sarah Rodgers looks forward to pulling a live audience into this ethical firestorm: "I cannot wait to dig into this powerful play – as I turned each page my stomach was in knots. As it unfolds, I know our audiences will be at the edge of their seats."
Reed agrees, and a statement he made to Vancouver Presents about their earlier project still applies:
"Narnia is magic because the audience brings magic to it," says Reed. "Without our audience, we're just a bunch of ordinary people putting on someone else's clothes and talking weird. To me, co-creation of the play is the essence of live theatre."
The setting should help. The Broadway World piece noted: "The Pacific Theatre stage has been transformed by set designer Jessica Oostergo and lighting designer John Webber into a grassy Kansas plain with a repurposed horse trailer perched on the torn-up earth."
Very timely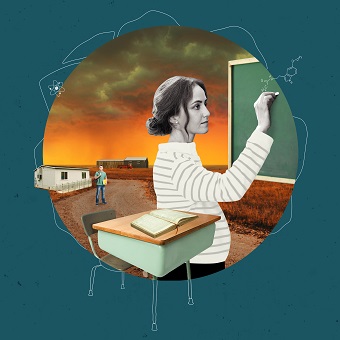 A 2015 review in The Chicago Tribune asked of Catherine Trieschmann's play: 'Can we call a truce in the culture wars?'
There has been no truce; the wars have intensified. Whether or not How the World Began can be said to be asking that exact question in Vancouver in 2022, it is still relevant.
Reed clearly hopes the play will cause people to be willing to consider other points of view. Recalling his Alberta roots, he said, "This guy [Gene] could be me, if I'd gone a different direction."
He said the play reveals "a slow motion train wreck, developing from one comment. It's so familiar. It couldn't be more timely, with the deep, dangerous divisions in our culture."
He is even concerned about future of a theatre company like Pacific Theatre. Speaking of the company's early days, he said, "Christians were not wanted on the voyage."
That changed dramatically over time. By the turn of the century there was something of a detente, he added, saying "we were very much part of the theatre community." In 2014 they won more awards from the Jessie Richardson Theatre Award Society – an organization that promotes the Vancouver professional theater community – than any other large theatre company.
(I again commend the Byassee/Reed interview for more insights.)
Pacific Theatre is still well regarded and well established in the Vancouver theatre community, but Reed is concerned now that "the culture wars have heated up again." Reed, who is a Faculty Associate with Regent College, told Byassee that the evangelical world in which the company developed is "more free-spirited" than on the Prairies.
But now all groups have closed ranks; evangelicalism is lumped in with fundamentalism and is "more of a swear word." Not that he focuses on those labels: "Look, I try to follow Jesus."
Four Talkbacks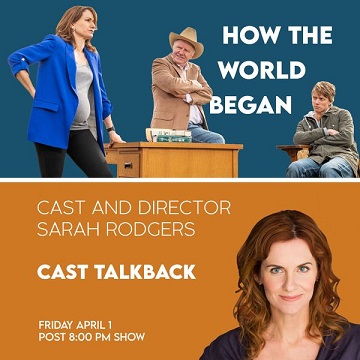 Four post-show 'Talkback sessions' will take place during the run of How the World Began:
March 26: Kaitlin Williams & Ron Reed
April 1: Cast and Director Sarah Rodgers
April 9: Jason Byassee: Biblical Literalism and the Story of Creation
April 10: Ron Reed
Kim's Convenience
One very contemporary example of Pacific Theatre's influence is captured by a recent review. Writing for The Vancouver Sun, Jerry Wasserman said:
Many of us know Kim's Convenience from its five-year run as a CBC-TV series. The gently disarming sitcom about the Korean-Canadian Kim family revolves around Mr. Kim, or Appa, and the convenience store he runs in Toronto's rapidly gentrifying Regent Park neighbourhood. . . .
Kim's began as a stage play, and what a treat to see Ins Choi's original script brought back to life at the Stanley in this Arts Club remount of Pacific Theatre's superb 2018 production.
Confidently directed by Kaitlin Williams, with the remarkable James Yi returning as Appa and Maki Yi as his wife Umma, the production has lost none of its charm in the transition from Pacific's tiny church basement to the Stanley's expansive stage.
Go here for the full review.