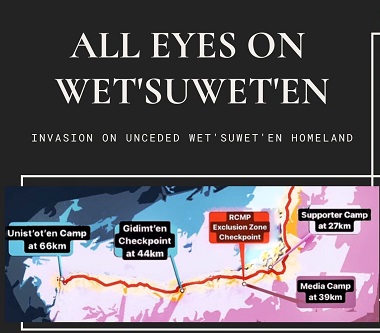 Blockades in Wet'suwet'en territory, on railways across Canada, in Victoria, in the streets of Vancouver . . . divisions run deep on issues relating to Indigenous rights and title.
Some would remove all protesters forthwith and encourage the Coastal GasLink LNG pipeline, while others unreservedly support the hereditary chiefs' approach to protecting their land – and everything in between.
David Staples responded with the kind of article (National Post, February 12) that will appeal to many. In 'Chaos has come to Canada under Trudeau – and it could quickly get much worse,' he wrote:
It's poetic justice this is happening on Horgan and Trudeau's watch. Both their governments have done much to encourage the most aggressive of activists. For example, both governments have supported UNDRIP, the United Nations Declaration on the Rights of Indigenous Peoples, which rashly declares no major project must proceed without prior and informed consent of Indigenous groups. This notion runs counter to Canadian law, which makes it clear there is no veto for any First Nation on a major project which is in the overall public good.
Premier John Horgan took a much milder tone, but still played to public sentiment when he began his February 11 statement on protest activity with these words:
British Columbians have the right to peaceful protest. We support people in the exercise of their democratic rights – within the law.
That said, I understand the frustration of people who have been unable to go to work today, who have been unable to enter government buildings or have been unable to get around in their communities.
An Angus Reid Institute poll released on the morning of February 13 is titled 'Coastal GasLink chaos: two-in-five support protesters in natural gas project dispute; half support pipeline.' The numbers are 46 / 49 percent in BC.
These numbers probably apply among Christians as well. However, in terms of organized (re)action within the church, momentum appears to be with those who support Indigenous rights in general and the Wet'suwet'en in particular. Following are several signs of that mobilization:
Steve Heinrichs: settler colonialism
Some 80 people, particularly Mennonites and Quakers, but from many backgrounds, gathered to hear from Indigenous rights advocate Steve Heinrichs last weekend at Peace Church on 52nd Avenue.
"Whether we define ourselves as immigrants or settlers," he said, "we are on lands unjustly seized." Opening up the day-and-a-half gathering last Friday night, he described the opportunity to engage the issue as "an uncomfortable yet joyous conversation."
Heinrichs, who works as Director of Indigenous-Settler Relations for Mennonite Church Canada, certainly urged us to consider ourselves settlers: "It's not used as an insult, it's used as truth-telling."
He said colonialism is a continuing reality in Canada, distinguishing between 'regular colonialism' and 'settler colonialism.'
The former pertained in nations such as India or Indonesia, where the elites worked for the colonial power, and were able to take over once they left. Settler colonialism refers to a situation in which settlers lay claim to the territory on behalf of the colonial power and want the Indigenous people to either disappear or assimilate.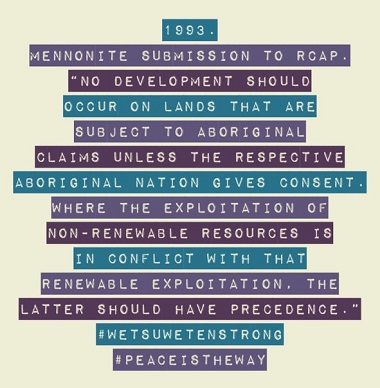 In the case of Canada, both approaches have been tried. Heinrichs pointed out that in the end, Indigenous people have been marginalized; though they make up five percent of Canada's population, just 0.2 percent of the land has been allotted to reserves. In the case of BC, most of the nations have not concluded treaties – and thus the land they claim is unceded.
Tweeting February 12 (see accompanying image), Heinrichs said:
Mennonites in Canada made a formal presentation to the Royal Commission on Aboriginal Peoples in 1993. They supported the principle of free, prior and informed consent & told the government to stop dividing Indigenous communities by playing them off one another. #WetsuwetenStrong
Several participants at the Cost of Colonialism gathering participated in the blockade of the Port of Vancouver in support of the Wet'suwet'en land defenders before, during and after Heinrichs' presentation.
Anglican statement
Archbishop of the Ecclesiastical Province of BC and Yukon Melissa Skelton was one of several national Anglican leaders who released a Statement on Conflict on Wet'suwet'en Unceded Territory February 11.
It read, in part:
Further to our statement on the situation in Wet'suwet'en First Nation of January 11, 2019, we as Indigenous and non-Indigenous Anglicans once again raise our voices to express our disappointment, distress and ongoing concern regarding events on the unceded (non-treaty) territories of the Wet'suwet'en First Nations.
We are disappointed that talks between the Wet'suwet'en Hereditary Chiefs and the colonial Government of British Columbia have failed. We are disappointed that despite calls from the United Nations Committee on the Elimination of Racial Discrimination, Amnesty International Canada, amongst many others, to cease work until there has been resolution to the conflict, the RCMP (contracted by the Province of British Columbia) have maintained a presence in the area for over a year and work on pipeline construction has continued.
We are disappointed that, although the BC government is the first jurisdiction of its level to formally adopt the UN Declaration on the Rights of Indigenous Peoples (UNDRIP), it has not honoured its stated commitment by failing to hold true nation-to-nation consultation that included the hereditary leadership of the Wet'suwet'en people. . . .
We continue to thoughtfully and prayerfully support the traditional, hereditary leadership of the Wet'suwet'en people, whose law and traditions pre-date Canadian law and is their inherent right to hold and practice and who are facing real-life hardship and danger. . . .
Go here for the full statement.
Ecumenical statement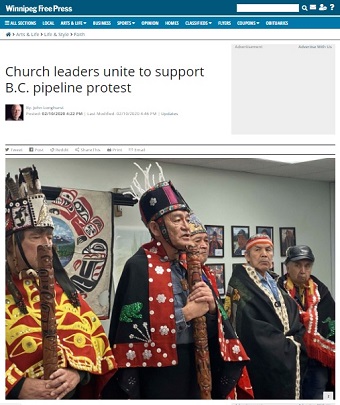 Anglican, Presbyterian, Lutheran and United Church of Canada leaders across Canada released a statement February 6. Here is a portion:
In solidarity with our Wet'suwet'en relatives, we call upon the government of Canada and the Royal Canadian Mounted Police to immediately cease their occupation, arrests and trespassing on Wet'suwet'en sovereign territory. . . .
The continual prioritizing of the interests of private sector and resource extraction over the rights of Indigenous Nations, laws, treaties, lands and waters, condemns our collective well-being and future. We call upon the RCMP and government of Canada to immediately halt all violations and assaults on Indigenous water and land defenders.
We stand with the Wet'suwet'en and their allies who have made significant sacrifices on the front lines of this violation on their territory. We honour and respect their commitment to defending the well-being of the waters, lands, creatures, people, and sovereignty of Wet'suwet'en.
Go here for the full statement, and here for an article about the statement in the Winnipeg Free Press.
Referring to this statement, the Canadian Council of Churches tweeted February 12:
Several of the member denominations of the @CCC_CCE have called upon the government of Canada and the Royal Canadian Mounted Police to immediately cease their occupation, arrests, and trespassing on Wet'suwet'en sovereign territory.
Among the 71 leaders who signed the statement are National Anglican Indigenous Archbishop Mark MacDonald, National Bishop of the Evangelical Lutheran Church in Canada Susan Johnson, KAIROS executive director Jennifer Henry and National Reconciliation Animator for the Anglican Church of Canada Melanie Delva (who works out of the Diocese of New Westminster).
UNDRIP's influence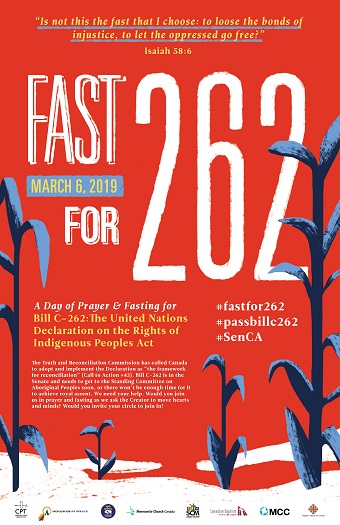 Article 10 of UNDRIP states:
Indigenous peoples shall not be forcibly removed from their lands or territories. No relocation shall take place without the free, prior and informed consent of the indigenous peoples concerned . . .
In his 'statement on protest activity,' Premier Horgan said:
The Declaration on the Rights of Indigenous Peoples Act passed the legislature with a unanimous vote. Our work here has not ended – it has just begun.
The federal government has signed UNDRIP, but thus far does not treat it as binding.
Jodi Spargur has been encouraging people to pray for Bill C-262, which would ensure that the federal government would fully adopt UNDRIP. She leads the work of Healing at the Wounding Place, which is based out of Grandview Calvary Baptist Church in east Vancouver . . .
. . . looking to engage people of faith and indigenous communities in walking into whole, healing and just relationships. Healing has begun in Indigenous communities across Canada. The question remains whether the church, one of the primary wounding places, can become a place of healing for Indigenous and non-Indigenous people alike.
Other views?
I would be interested to hear from or about any other local Christian groups or denominations which have taken a stand or made statements – of whatever kind – about the Wet'suwet'en situation, UNDRIP or issues related to Indigenous rights and title in general.