How does a marketing strategy shift involving a downtown Vancouver luxury hotel relate to the work of International Student Ministries Canada (ISMC) in and around BC's largest city?
The relationship comes in the fact that federal and provincial policies are driving an exponential increase in the number of international students coming to Canada's west coast to study, mainly from China but also from several other Asian and Middle Eastern countries.
This story is about ISMC and its vision to enable students to return to their home countries having, in Canada, come to faith in Christ. But it was triggered, in my mind, by recent business news stories about Viva Suites, a Vancouver luxury hotel, which was being converted into a student residence, to be ready for the fall term.
The hotel, situated at the south end of Howe Street by False Creek, has catered mainly to Asian business people needing a place to stay while doing deals on this side of the Pacific. Meanwhile, students from the same countries have had trouble finding residences close to where they are studying.
Toby Chu of CIBT Education Group, which is handling the hotel-residence conversion, told News 1130 reporter Joanne Abshire, in early February, that the low vacancy rate in the city makes it harder to attract foreigners. "If the student can't find affordable place to live, they'll go to other countries, the United States, Australia or the UK," he said.
Chu noted: "Currently, there are about 112,000 foreign students in Metro Vancouver, and among those students they pay typically $800 to $1,000 per month in rent (apartment, basement or homestay). So that is a $1.12 billion industry just for Vancouver. BC is about $2.5 to $3 billion [in tuition]."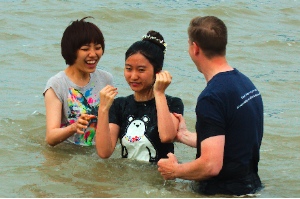 That, then, is the business argument for paying attention to international students. Bert Kamphuis and John Cuddeford of ISMC have a different take.
Notes Kamphuis, who developed the ministry's BC arm close to two decades ago: "[Canadian and BC] government intention is to double the number of international students over the next few years. [Already] Kamloops, a small city with a small university  – Thompson Rivers – has 1,600 international students. In 2001, there were 500. And UBC's growth [in that sector] is phenomenal. About 20 percent of the student body is international and comes from 155 different countries.
"They are here for three or four years. They come from high society and government backgrounds, with great potential for impacting their countries for God."
ISMC has great opportunity to meet felt needs, provide programs and extend fellowship in ways that pave the way to introduce students to the gospel.
Cuddeford, for his part, leads the UBC chapter, which at any given time works with several dozen students directly and maintains contact with many more. He says both federal and provincial governments are recruiting students in China, noting that Canada – particularly the west coast – is safe and multicultural.
"The bottom line for the universities is that these students support the budgets and pay for [university] expansion. They pay five times the tuition that domestic students do."
But Cuddeford adds another factor in the international student growth. "We know God is behind it."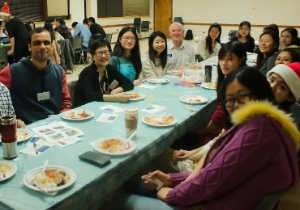 The 'flagship" of the ISMC activity on each campus is a Focus Club, says Cuddeford. "About 90 percent of our [UBC]  Focus Club come from China." The core event, each week is the Focus Club meeting, which will involve Bible study and other means to introduce students to the Christian faith.
"But that is just the tip of the iceberg. We involve Christian and non-Christian students in hiking and ski trips. Students come to family dinners," Cuddeford points out.
The gatherings are in English but much of the small group work occurs in Mandarin, more so at universities where they are working with undergrads who may not have firmed up their grasp of English. For them, "conversation cafes" help fit the bill.
Kamphuis and Cuddeford note that each of the universities and community colleges presents a different challenge. Simon Fraser Surrey, for example, along with many of the suburban and upcountry colleges, have mainly "commuter" campuses. Even international students live fair distances from where they study, so it is harder to get people to stick around for after hours Focus Clubs. UBC, on the other hand, has a virtual city surrounding it, especially in the areas south of the campus that have been developed in recent years.
Support for ISMC ministry – volunteers, dinner hosts and church backing – is fairly widely based, drawing from churches of various denominations and members who are interested.
Kamphuis notes that the students, in addition to being encouraged to come to faith and grow in it, are given some guidance as to how best to direct their impact once they get back to countries where the faith culture is different. "In short, we try to let them know how to be 'as wise as serpents and as harmless as doves,'" he points out.
And Cuddeford arranges periodical visits to China to encourage "alumni" and provide what might best be described as "follow up" to their Canadian studies and faith experiences. He has a trip coming up in May. Here is part of his rationale for the trip:
Returning students . . . face many challenges as they transition back into life in their home country. Rarely are they prepared for the difficulties that "reverse culture-shock" brings. The new worldviews, habits and ways of thinking and acting that the students have adopted now clash with those of people back home. They struggle to maintain the energy and passion required to sustain the vision of how they can make a difference.
More information about ISMC and its work is available here – including some stories about people who have been reached through the Focus Clubs and other activities.