Unfortunately, this first event is already over – but it does need to be recorded.
Wednesday night (March 19) will be remembered as a very significant evening by the hundreds of people in the very diverse crowd that gathered at the Maritime Labour Centre.
The founding assembly of the Metro Vancouver Alliance (MVA) drew sizable contingents from each of the three main streams supporting the movement: faith, labour and community groups.
Among those representing faith groups were Archbishop Michael Miller (Roman Catholic), Bishop Melissa Skelton (Anglican) and Executive Minister Jeremy Bell (Canadian Baptists of Western Canada).
Labour was very well represented, with Jim Sinclair (president of the BC Federation of Labour), Joey Hartman (president of the Vancouver and District Labour Council and Paul Finch (vice president of BC Government Employees Union) all taking lead roles.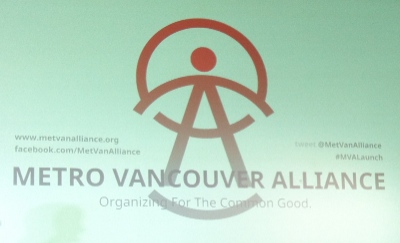 Community leaders included Virginia Weiler (board chair of Vancity Savings Credit Union) and Paul Michael Taylor (executive director of Gordon Neighbourhood House).
The sponsoring organizations are the BC Teachers Federation, the Roman Catholic Archdiocese of Vancouver, IBEW Local 258 and Vancity Savings Credit Union. Not strange bedfellows, exactly, but not necessarily a set of partners one would have imagined either.
There were plenty of politicians on hand too, including City of North Vancouver Mayor Darrell Mussatto, Vancouver City Councillor Geoff Meggs and several MPs and MLAs.
So, what was it all about? Organizers say the founding convention follows several years of organizing and "is just the beginning of our work to build a powerful [nonpartisan] organization. Over the next year MVA will develop campaigns to tackle the issues facing our community."
Following a series of 'listening sessions' – small discussion groups held at various locations around the city – MVA has determined that the four issues to be focused on will be housing, transit, poverty and social isolation.
As to the exact nature of the response, that is yet to be determined. MVA intern James Infante, a member of St. Mary's Roman Catholic Church, said it will be a matter of "power before program." By that, he meant MVA will mobilize diverse groups around justice issues they can agree on, leaving aside issues on which there is no agreement. When they do reach consensus on certain actions, the MVA will be hard for politicians to ignore.
Archbishop Michael Miller promised, "Faith-based traditions . . . work for the common good; they are an essential part of the wider civil community. We pledge to work together for the good of all."
Jim Sinclair said, "What it takes to change the world is what I see here tonight. We cannot change the world alone, we know this." He added with a laugh that, rather uncharacteristically, he has been quoting the pope quite a bit lately.
Geoff Meggs commented: "It is an honour to be here with such a diverse group – community, labour and faith. It is really unprecedented in my experience."
Time will tell how effective Metro Vancouver Alliance will be. But anyone who was in that old union hall tonight would tell you it made a very promising start. The air of good will and hope warmed my heart; I think there will be plenty of chances to attend future events.
For some good pictures of the event, see the Anglican Conversation: Diocese of New Westminster site.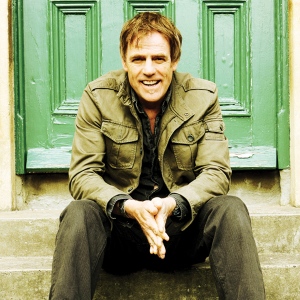 Martyn Joseph at St. James
I've been a big fan of the Vancouver Folk Fest since the beginning. Every year there are several memorable performances. But right near the top are a couple by Welsh singer/songwriter Martyn Joseph – who will be at St. James Hall this Saturday (March 22).
I've seen Martyn a couple of times now, and each time he sang a Larry Norman song – 'Six O'Clock News,' if I remember correctly. Not only did I enjoy the songs – Martyn is a very talented man – but I also loved the way he reached a largely secular/leftist audience with a song by a man often dubbed the father of Christian rock.  
I enjoyed the irony (Martyn was happy to leave the Christian music scene behind many years ago, while Larry was left behind, or shunted aside, by the same movement). But each believed, and their belief shone through in their music.
I'm not sure exactly where Martyn is with his faith these days, but I know he'll be worth watching. And if you don't believe me, check out the reviews by people who really know their music, from BBC Radio 2 Mojo magazine, Q magazine, etc.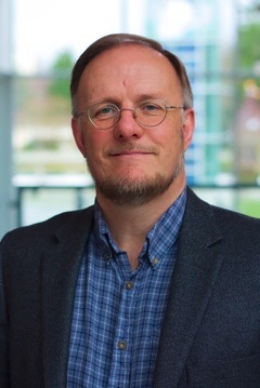 Seriously Dangerous Religion
Regent College prof Iain Provan has a way with catchy titles. Seriously Dangerous Religion is the name of his talk next Tuesday (March 25), and of his brand new book.
Here is what to expect:
"The Old Testament is often maligned as an outmoded and even dangerous text. Best-selling authors like Richard Dawkins . . . find the Old Testament to be problematic to modern sensibilities. Iain Provan counters that such easy and popular readings misunderstand the Old Testament.
"He opposes modern misconceptions of the Old Testament by addressing 10 fundamental questions that the biblical text should – and according to Provan does – answer: questions such as Who is God? and Why do evil and suffering mark the world? . . .
"Seriously Dangerous Religion constructs a more plausible reading. As it turns out, Provan argues, the Old Testament is far more dangerous than modern critics even suppose. Its dangers are the bold claims it makes upon its readers.":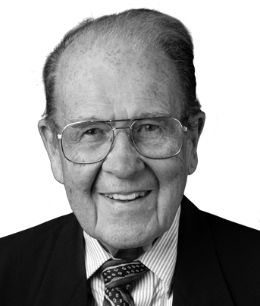 Cal Chambers memorial service
A memorial service will be held at Haney Presbyterian Church on Saturday April 5, 11 am, for Pastor Cal Chambers (June 17, 1925 – March 12, 2014).
Cal Chambers was a Presbyterian minister, but also one of the key charismatic leaders in Metro Vancouver from the 1970s. And he played a key role in founding M2/W2 Christian Restoration Ministries in this area (see related story).
The M2/W2 site tells the tale; here is an excerpt:
"Dick [Simmons] came up to Canada to see if he could find any ministers who would be willing to spearhead [a prison] visitation program into our area. He had been given the name of Les Pritchard who was a Pentecostal, my name as a Presbyterian, and a Mennonite . . .
 
"I was able to enlist the help of a dozen men from my church, First Presbyterian, and after some orientation we launched out to visit men from the Haney Correctional Institute. We began to meet with the men every two weeks. As we opened up our hearts and listened to their stories we also began to share our lives, where we are coming from. Thus was born the ministry of M2, which in 1974 included W2 – women to women."

Mar 2014
Son of God
– March 17, 2014 - March 20, 2014 at All Day
Willingdon School of the Bible
– March 17, 2014 at All Day
Company of Disciples: Agora Lunch Series - Alisdair Smith
– March 17, 2014 at 12:00 pm - 1:00 pm
Gospel Coach Training with Scott Thomas
– March 18, 2014 - March 19, 2014 at All Day
Israel and the Last Days: What the Church Needs to Know
– March 19, 2014 at 9:30 am - 12:30 pm
Metro Vancouver Alliance Founding Assembly
– March 19, 2014 at 7:00 pm - 8:30 pm
Martyn Joseph in Concert
– March 22, 2014 at All Day
Loving Your Neighbour
– March 22, 2014 at 8:30 am - 3:00 pm
Dr. Paul Pearce: Transition of Life - Healthy Aging, Retirement & the Spiritual Life
– March 22, 2014 at 9:00 am - 3:00 pm
Ken Ham and Bill Nye Debate
– March 22, 2014 at 2:00 pm - 5:00 pm
Eucharist in Spanish to Honour the Martyrdom of Oscar Romero
– March 23, 2014 at 3:00 pm - 5:30 pm