On Easter Sunday, Coastal Church formally launched its fourth Metro Vancouver campus just steps away from the always busy Commercial-Broadway SkyTrain Station.
"That's what attracted us to that location in the first place," says campus pastor Brad Bergman. "It's right at the biggest public transit hub in Vancouver. Thousands of people pour through there on a daily basis."
The building at 1645 North Grandview Highway had been home to the Estonian United Baptist Church (EUBC) since its construction in 1956. At the time, Vancouver's small Estonian immigrant community used to live in that area alongside the Italians and Portuguese.
Its founding members had fled their Baltic homeland near the end of the Second World War to escape Russian occupation. At its peak, about 110 people attended its Estonian-language services. But those numbers dwindled as their children rapidly integrated into Canadian society, and as the older generation began to pass away.
Last year, those few remaining decided to sell the building. "We were at the stage where we could afford to fix the church or pay a pastor," says EUBC chair Peter Lepik. "We had been running a deficit for quite a while."
Lepik says the congregation made the sale conditional on the purchaser agreeing to keep the building functioning as a church, and that they be allowed to rent back the facility as their ongoing place of worship.
Coastal senior pastor David Koop says when people they know who live near the 'The Drive' first approached them about buying the building, there was little enthusiasm for the idea.
"We had just started our site at Strathcona, so it wasn't really on the radar. But we prayed about it as a board," he says. "They were an older congregation, couldn't really afford anymore the upkeep and all the rest. So we said, 'They've come to us for help, so let's help them.'"
In the end, they were able to conclude what Koop calls "a fair deal" with the Estonian believers for the building. About 20 of them still worship there on Sunday afternoons.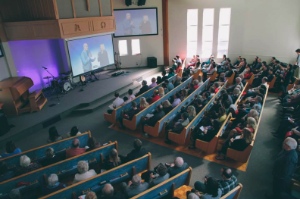 A critical factor in going ahead with the purchase is the fact that Coastal's main campus (on Georgia Street, not far from Burrard) is becoming maxed out with no room to expand. About 1,800 people on average attend one of its four weekend services. "So it became an overflow for us," Koop says.
"We also have a lot of life groups in that area already," Bergman says. "It's not as if we're new kids on the block."
Then there's the fact that this new campus is in sight of the lone station in the SkyTrain network where the Expo and Millennium lines intersect. It's also a terminus of Metro Vancouver's busiest bus route, the 99 B-Line. The result is a combined total of about 150,000 trips per day passing through the Commercial-Broadway transit hub.
With the Commercial Drive area also poised for redevelopment, the campus's prospects for growth look positive. And yet with 120 people or so already entering its small sanctuary on Sunday, multiple services may soon be their only option.
"With 100 people in there it feels comfortably full," Bergman says. "We still have room for growth, but we would absolutely move in that direction. Because I was the primary worship leader downtown, doing just one service is almost not enough for me."
"If there's been a sore spot with me," Lepik says, "it probably has been that our church was really to some extent not a community church. Now it's a true community church."
Meanwhile, all the proceeds from the sale have gone to support Baptist ministries in Estonia. "I thought it was a great kingdom-building way to do it," says Koop.