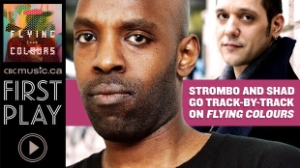 When Shad plays the Vogue Theatre this Friday (November 29), promoting his new Flying Colours CD, no doubt he will be feeling a combination of elation and relief. Elation because he is now widely recognized for the quality of his music, relief because he's right near the end of a demanding month-and-half cross-Canada tour (with dips into the States).
This should be a great show for those who like hip hop. For those of us who can take it or leave it, I recommend listening to the CBC interview with George Stroumboulopoulos, who goes through the album song by song with Shad. He is articulate, intelligent, humble and engaging – and the music is really strong. 
A comment from Pitchfork about an earlier album sums up the view of many, saying his music is "spiritual without being preachy, righteous without being self-righteous and human without sounding mundane."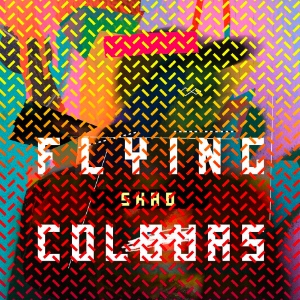 Earlier this year, CBC named Shad one of Canada's greatest rappers, coming in second after Maestro, but ahead of the likes of Drake, k-os and K'naan. 
Maybe Shad will rest up in Vancouver over Christmas. I understand he lives here, at least some of the time. ('Current Location' on his Facebook page reads: 'London / Kenya / Rwanda / Toronto / Vancouver.') But he did complete a Master's degree in Liberal Studies at Simon Fraser University in 2011, and he does refer to his apartment in Vancouver in 'Thank You.'
Shad has attended – maybe still does – Grandview Calvary Baptist Church. Several articles earlier this year noted that he wrote in an email that Flying Colours was "mainly inspired by kyle mooney, kanye west, kendrick lamar, eli stone, queen/spadina, grandview calvary baptist church, my friends, my family, 30 rock, we are the city, tolstoy, good weather, and the idea that trying is worth it even if you fail."
As to his faith, here is part of his interview in the November/December issue of Relevant Magazine.
"Making music has been a big part of my spiritual life," he says. "You are trying to express something profound all the time, and so you are constantly engaging with that part of your life. There are parts of it that are prophetic, for lack of a better term. You are saying things and putting them out into the world, so, spiritually, it is powerful. 
"Spiritual themes are very inspiring to me, and I think they are to most artists since that's what is most profound."
Shad was a performer in the 2011 Creative World Festival in Mission, a Christian event billed as "three days of music and art, creation and justice."
Our Truest Colours / W. Paul Young
Company of Disciples and City in Focus are putting on a rather spectacular evening to kick off your Christmas season Saturday night (November 30). Join them at the Sheraton Wall Centre for 'Our Truest Colours' Christmas Ball with William Paul Young, author of New York Times bestseller The Shack.
The evening includes a dinner buffet, live music by the Eli Bennett Jazz Quartet, and performances by Roy and Rosemary, Stradivari Orchestra and movement storyteller Dianna David. A portion of all ticket revenue will go towards relief and aid to the Philippines.
Santa Claus Parade
Every year the Rogers Santa Claus Parade attracts some 300,000 participants, and every year Coastal Church takes an active part, providing one float among the 60 marching bands, choirs, floats and community groups. Members of the church who are not actually in the parade gather outside the church on Georgia Street on Sunday (December 1) to watch the passing parade, which starts at 1 pm at Georgia and Broughton.
No doubt Russ Rosen will be leading Christmas carols, as he has done for several years now,  creating a party atmosphere as he goes. 
Christmas Tales
Russ is also joining forces with storyteller Justyn Rees, multi-instrumentalist Brett Ziegler and percussionist Calum Rees in an extensive Christmas Tales Tour to deliver the songs and stories of Christmas like you've never them heard before.  
Nov 2013
Witnesses: Art and Canada's Indian Residential Schools
– November 25, 2013 - December 1, 2013 at All Day
The Me I Want to Be Women's Christmas Event
– November 25, 2013 at 7:00 pm - 9:00 pm
C2C Fall Celebration Banquet
– November 26, 2013 at 6:00 pm - 9:00 pm
Architecture and Design: Film Night at the Hollywood: The Fountainhead (1949)
– November 26, 2013 at 7:30 pm - 9:30 pm
BARtalk #8: The Future of the Christian Church
– November 28, 2013 at 6:00 pm - 7:30 pm
Chancellor's Lecture Series: Dr. Hans Boersma - Jean Daniélou and Henri De Lubac
– November 28, 2013 at 7:00 pm - 8:15 pm
Jacob Moon in Concert, with Russ Rosen
– November 28, 2013 at 7:00 pm - 9:00 pm
Chapel
– November 29, 2013 at 7:00 pm - 9:00 pm
Inklings Institute: C.S. Lewis Birthday Party
– November 29, 2013 at 7:00 pm - 9:00 pm
Let Every Heart Prepare Him Room: Contemplative Service
– November 29, 2013 at 7:00 pm - 9:00 pm
Prelude to Christmas Benefit Concert
– November 29, 2013 at 7:00 pm - 9:30 pm
Shad
– November 29, 2013 at 8:00 pm - 11:00 pm
Sheree Plett
– November 29, 2013 at 8:30 pm - 10:30 pm
Let Every Heart Prepare Him Room: Prayer Vigil
– November 30, 2013 at 8:00 am - 9:00 pm
Joy Fellowship World Market & Christmas Tea
– November 30, 2013 at 10:00 am - 2:00 pm
Keepers of the Faith Concert
– November 30, 2013 at 6:00 pm - 9:00 pm
Our Truest Colours Christmas Ball with W. Paul Young
– November 30, 2013 at 6:00 pm - 10:00 pm
2nd Annual Ratanak Dessert Night & Silent Auction
– November 30, 2013 at 6:30 pm - 9:00 pm
Eastside Story Guild Presents: Swing Me High
– November 30, 2013 at 7:00 pm - 9:00 pm
Enns / Gjernes in Concert
– November 30, 2013 at 7:00 pm - 9:00 pm
Living Waters Canada 2013 Silent Auction
– November 30, 2013 at 7:00 pm - 9:30 pm
Coquitlam Chorale:'Welcome Yule' featuring Benjamin Britten's 'A Ceremony of Carols'
– November 30, 2013 at 7:30 pm - 9:30 pm
Dec 2013
Rogers Santa Claus Parade
– December 1, 2013 at 1:00 pm - 4:00 pm
Coquitlam Chorale:'Welcome Yule' featuring Benjamin Britten's 'A Ceremony of Carols'
– December 1, 2013 at 2:00 pm - 4:00 pm
Winter Harp with Vancouver Welsh Mens Choir
– December 1, 2013 at 2:00 pm - 4:00 pm
Christmas at the Chan Centre
– December 1, 2013 at 2:30 pm - 4:00 pm
Christmas Tales
– December 1, 2013 at 7:00 pm - 9:00 pm
Jacob Moon in Concert, with Russ Rosen
– December 1, 2013 at 7:00 pm - 9:30 pm