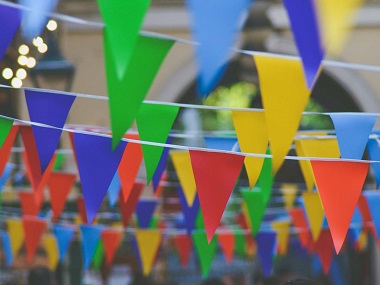 Friday is a significant day for about a quarter of the world's population. More accurately, it is the first day of a significant month – the month of Ramadan.
Ramadan is the Islamic month of fasting, which is one of the five core pillars of Islamic faith. This year, Ramadan runs from April 24 until May 23.
Here in Canada, home to about 1.9 million Muslims, Ramadan will be practiced differently than perhaps at any other time in history.
Typical Ramadan practices include fasting during daylight hours, diligently observing the five daily ritual prayer times, attending mosque on Friday (if not every day) and then breaking fast after dark in the company of family and extended community. But this year COVID-19 restrictions will limit Ramadan rituals to only those that can be done at home or online.
Islam has a long history in Canada. The first mosque, Al Rashid Mosque, was built in Edmonton in 1938, when there were probably around 700 Muslims in Canada. According to Canadian census data, from 1981 until 2011 the Muslim population rose from 0.4 percent of the population, (98,160) to 3.2 percent (1,053,945).
Current projections place the percentage of Muslim population in Canada at 5.1 percent, and there are more than 600 mosques scattered across Canada.
Vancouver Muslims, by country of origin
In Metro Vancouver, the Muslim community has grown most through immigration. The top 10 source countries are mapped here according to 2016 census information, with the majority of our Muslim neighbours originating from Iran and Pakistan. There are about 60 mosques in Metro Vancouver serving the diverse communities of our region.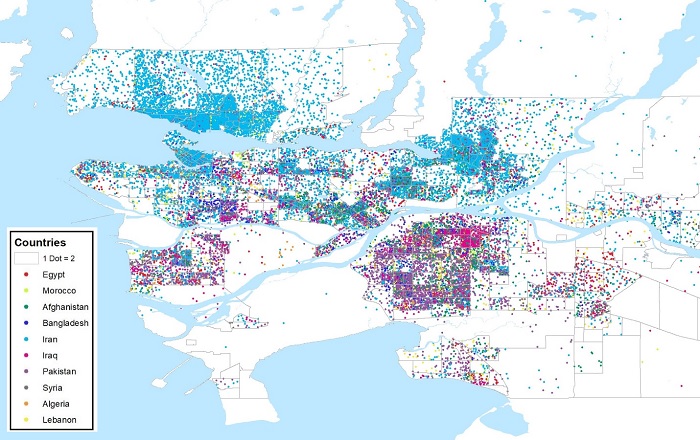 In 2017, some research among Muslims who, after arriving in North America, chose to leave Islam to follow Jesus Christ, identified several key 'fruitful' factors in their journey. Most notable among those factors was their positive interaction with a Christian church community, the faithful, loving friendship of Christians and access to the Bible in their heart language. Those fruitful factors are all things we can offer as we build relationships with our Muslim friends and colleagues.*
The other factors – time, opportunity, complex processes and supra-rational experiences (dreams, visions, answered prayer, etc.) – are not things we can do. Rather, they are things only God can do. Our role is to pray, asking God to reveal Jesus as 'the way, and the truth, and the life' (John 14:6).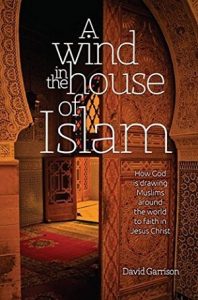 Global prayer
Perhaps the correlation between increased responsiveness of Muslims around the world to the Gospel – as documented by Dr. David Garrison in his book, A Wind in the House of Islam – can be attributed to a growing global prayer movement.
For 27 years, during this month of Ramadan, Christians around the world have prayed – persistently – that as Muslims practice the rituals of their faith, they would come into a living relationship with Jesus Christ the Messiah.
Last year my husband and I went to a three-day prayer gathering with 700 other people, in a Muslim nation. There was something amazingly powerful and encouraging about being part of such a large community, all focused together to seek God's heart for lost people.
Think how amazing it is to be part of a 30-day prayer movement with millions of people – one that you can join every year! Some in fact have been joining this prayer movement for 27 years, and the results have been astonishing!
You're invited! Join us?
You don't have to leave your home, (which is great in this COVID-19 restricted world). You don't need any special preparation or training, just a willing heart to commit to lovingly pray for people you may never meet.
Here are three tools, one event and one follow-up idea you can use to join this prayer movement.
Islam is primarily a prayer movement centred around the five daily ritual prayers. Join Jesus' global church in our own prayer movement, committing to fast and pray for 10 years that 10 percent of the Muslim population will turn to Jesus Christ and find the freedom and blessing that can only be known in Him. Imagine – in Canada that's almost 200,000 of our neighbours!
Only history will show what happens as we pray. Scripture tells us that our prayers are gathered into golden bowls, which are offered as worship to the Lamb that was slain (Revelation 5:8, 8:3-4). Add your prayers to the bowls. Pray for breakthroughs in the Muslim world. Pray for your neighbour!
Lorna Johnston is the Diaspora Ministries Leader at Outreach Canada, which is based in Delta. She leads two national ministry teams, working with diverse and experienced leaders and ministries across Canada to alert and activate the church in Canada to the changing opportunities to engage God's mission right here in Canada.