Premier John Horgan spoke with Christian and other religious leaders March 11 to deal with questions about the impact and spread of coronavirus.
He tweeted after the meeting:
Thank you to the 100+ faith leaders from across BC who joined us on conference call to discuss steps to prevent the spread of COVID-19 & how to reach out to seniors/others who may have negative impacts from social isolation.
CBC News reported on the event:
The BC government is urging faith leaders to limit the size of congregations to less than 1,000 people and limit physical contact as much as possible amid the ongoing coronavirus outbreak in BC
Premier John Horgan held a townhall with faith leaders across the province to discuss COVID-19 preparedness plans. The province avoided imposing any sweeping bans on gatherings, instead choosing to leave those decisions up to faith leaders – for now.
"The situation is grave in many parts of the world," said Horgan while on a call with more than 100 leaders across the province.
The premier said large events, like the Vancouver Prayer Breakfast [which he and Dix attended last week] that had well over 1,000 guests, "may well not be the most appropriate way for people to share fellowship and discuss personal and faith issues at this time."
Faith leaders on the other end of the conference call told CBC News that it's up to them to decide whether or not they will continue holding regular [congregational meetings], although the province underscored that large gatherings should be avoided.
Go here for the full story.
March 12 update: Adrian Dix tweeted: "As of today we are directing all event organizers to cancel any gathering larger than 250ppl." Many churches, such as Coastal, Village and TriCity, announced they would go online.
One response
Michael Miller, Archbishop of the Roman Catholic Archdiocese of Vancouver release a Letter on coronavirus (COVID-19) following the meeting. He began with these words:
Dear Fathers, Deacons, Parish Admin Staff:
This afternoon, British Columbia Premier John Horgan, Minister of Health Adrian Dix and Public Health Officer Dr. Bonnie Henry held a teleconference with faith community leaders from across the Province to discuss preventative measures to contain the spread of COVID-19.
They emphasized that the situation is continuously evolving, and new recommendations will be made as circumstances warrant. Daily briefings on the coronavirus situation are posted each afternoon on http://www.bccdc.ca/.
Arising from today's consultation, the following temporary measures are to be put in place immediately in all parishes of the Archdiocese of Vancouver:
Go here for the full letter, which deals with:
Sunday obligation
Reception of Holy Communion
Kiss of peace
Parish events
March 14 update: Archbishop Michael Miller tweeted: "Churches will remain open and Masses will be offered, but the recommendations of the Ministry of Health to restrict the number attending to 250 must be observed."
St. Francis of Assisi Elementary and Notre Dame Regional Secondary schools, both in Vancouver, were closed Wednesday after a parent connected with the elementary school tested positive for COVID-19.
Also on Wednesday, Seattle Archbishop Paul Etienne suspended all public masses "out of an extreme measure of caution."
Horgan and Henry both asked faith leaders to consider the Public Health Agency of Canada's site featuring "risk-informed decision-making for mass gatherings during COVID-19 global outbreak" when deciding whether to postpone or cancel an event.
Events cancelled
Most churches and ministries are carrying on, cautiously, with services and other gatherings, but at least three big events have been postponed, cancelled or moved online due to the spread of COVID-19.
Laing Lectures
Dr. John Milbank would have been delivering the third of his three Laing Lectures at Regent College tonight (March 12) if his visit had not been cancelled.
Regent College said:
We regret to advise that this year's Laing Lectures have been postponed. Due to concerns about the risks of intercontinental travel, Dr. Milbank will not be travelling to Vancouver at this time. The lectures will be rescheduled in Fall 2020.
Classes and other events currently scheduled will continue, but the college has created a COVID-19 response team to monitor the situation and will post updates on its site.
Dead Sea Scrolls Conference
The Dead Sea Scrolls Institute at Trinity Western University have cancelled an ambitious international conference planned for later this month at the university's Richmond campus:
Due to travel concerns presented by COVID-19, we have decided to cancel our upcoming Aramaic Dead Sea Scrolls Conference at TWU Richmond and its associated live-streamed event (March 23 – 24). While the risk in Canada remains "low" and our leadership at TWU has increased both policy and procedures to maintain health, safety, and prevention on our campuses, given the international scope of our program we don't feel comfortable asking presenters and participants to travel.
Institute organizers are now considering how to follow up on their plans. Trinity Western has prepared a COVID-19 Response Information page.
GMA Week 2020
Trinity Western University was to have hosted GMA (Gospel Music Association) Week this year, but that changed March 11 with this announcement by GMA president Gregory Strom:
Due to the increase in confirmed [COVID-19] cases in North America in recent days and weeks – we have decided to transition our GMA Week 2020 activities and the 41st Covenant Awards scheduled for March 20th and 21st, on the Trinity Western University campus, to an online experience.
This decision is in keeping with Trinity Western University's [policies] as they transition their campus weekend event to an online immersive experience, which they're calling, TWU Live: Bringing Campus to You.
Church for Vancouver Calendar
I am not aware of any other major local events that have been cancelled, but that situation could change day by day. Do check directly with organizers or go to the Church for Vancouver Calendar. When you click on the event, do scroll to the bottom of the listing and go directly to the organizer's page, to be sure you are getting the latest information.
Carrying on (or not)
Many groups have weighed the options and decided to go ahead. And some have had to change their mind at short notice.
For example, Mike Davies wrote participants on behalf of the Business as Mission Conference committee:
As the BAM committee has consistently prayed over the whole conference, we strongly believe we are to continue to move forward as planned [March 14].
Our approach to managing this situation continues to be guided by evidence-based information published by Vancouver Coastal Health, BC Centre for Disease Control and the Public Health Agency of Canada.
We have been carefully reviewing updates to determine our course of action during this unsettling period. As of today, the risk of contracting the virus continues to remain low for residents of Vancouver and the rest of British Columbia.
March 12 update: Davies emailed participants with a change in plan:
As the outbreak of COVID-19 continues to grow, the BAM Committee and ACE Board have made the prayerful decision to postpone the Business As Mission 2020 Conference in Vancouver.
Today's decision follows extensive consultation with health officials, conference partners, sponsors, speakers and the Marriott Hotel.
Prior to this decision, both Keynote Speakers, Troy Alstead and Gloria Nelund cancelled their travel today, due to concerns returning to the United States.
We have also received increasing concern from fellow conference attendees over the past few days.
He added that this is a postponement rather than a cancellation.
How churches are coping
Many churches have created or borrowed protocols to deal with coronavirus. Some have been featured in the local media.
Christian Life Assembly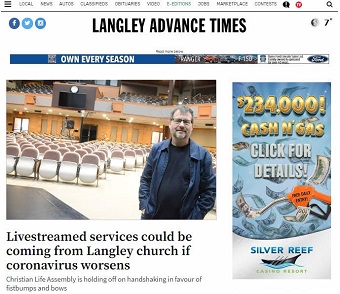 The Langley Advance Times wrote about Christian Life Assembly March 9:
Langley's biggest church could hold its services via online streaming if the COVID-19 outbreak becomes too bad, the lead pastor says.
It's just one of the ways Christian Life Assembly and other churches around Langley are considering to limit the spread of the novel coronavirus, which has infected more than 100,000 people and caused several thousand deaths worldwide.
Lead Pastor Derrick Hamre said there are two sides to consider with a major church like CLA.
There's our church family," Hamre said. "CLA has 3,000 people. And we have also a facility that's rented."
CLA was one of the first facilities impacted by the coronavirus in Langley, when the Live in Langley Lunar New Year Celebration was cancelled in late January.
Go here for the full story.
Holy Trinity Cathedral
CityNews ran an interview with Rev. Tasha Carrothers of Holy Trinity Cathedral in New Westminster March 8, particularly focusing on communion practices. Carrothers said they will use social media if forced to close their doors, but noted that a number of their parishioners are older and not very conversant with such methods.
Anglican Archbishop Melissa Skelton March has sent out several communiques about COVID-19, the most recent one March 10. She said:
For now, each parish needs to make its best decisions about what is below. Please know that this may change as the situation changes, that is, some of what is discretionary may become things that will be mandatory.
Go here for the full communique, which covers these topics:
Prayers
Sunday coffee hour / social hour
Meals that our parishes offer to the community
Classes, meetings and gatherings in parishes on Sunday and during the week
Those who rent our space
Parish and other offices
Finances
Other churches
By no means all churches have COVID-19 guidelines posted, but here are links to a representative group of denominational, church and ministry sites that do:
* BC Conference of Mennonite Brethren Churches
* Vancouver Chinese Alliance Church
* Christ Church Cathedral, Vancouver
* Coastal Church, Vancouver (only online services this week)
* First Baptist Church, Vancouver
       * TriCity Church, Port Coquitlam (only online services from this week)
* Canadian Pacific District, Christian & Missionary Alliance
* Pacific Mountain Region, United Church of Canada
* Baptist Housing Seniors Living
March 12 update: Story in The Province:COVID-19: Vancouver's Union Gospel Mission launches pandemic plan for homeless.