Anyone who has read my weekly updates knows I'm a fan of Regent College, but for the month of September you can consider me a super-fan.
The line-up of public events is particularly noteworthy this month, featuring several world-class speakers – Alister McGrath (Faith & Science), Mark Noll (Christians & Politics), retired UBC prof Dennis Danielson (The Tao of Right & Wrong) and Iain Provan (The Reformation & the Right Reading of Scripture) – and work by two impressive local artists, Colleen McLaughlin Barlow and Edith Krause.
Most of the activity will take place on campus, but Provan will be at New Life Community Church in Burnaby.
Here is the line-up:
Colleen McLaughlin Barlow: Whale Dreams
Whale Dreams is one of two art shows which will open September 12 and remain throughout the month. Regent says:
Dive into the underwater world of whales with the extraordinary crystal sculptures of whale bones by Colleen McLaughlin Barlow.
Barlow's website says of Whale Dreams:
I first encountered whalebones in the Hebrides in Scotland. In making sculptures inspired by these bones, I have become fascinated by the idea of transparency. When a bone is made transparent instead of opaque, it reveals new and striking internal lines. It is transformed into a dream like object, solid yet ephemeral, fragile and precious.
A week before the opening she said, "I have 93 pieces of whale glass now hanging in the north atrium window up about 50 feet against the window. It is the largest installation I have ever done (two days on a scissor lift at 50 feet in the air to cable it all up)."
She will be at the opening reception in the Atrium on the 12th, from 4:30 – 7:30 pm.
Edith Krause: Adam/Adamah
Edith Krause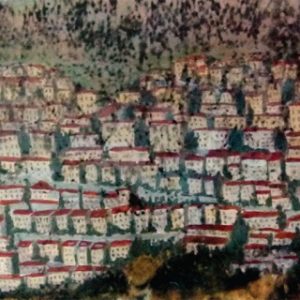 will also be at Regent (upstairs at the Lookout Gallery) for an opening reception on the afternoon of the 12th, to introduce Adam/Adamah.
An instructor in art and design at Trinity Western University, she and Barlow will be interested in each other's work as she studied and worked in the fields of marine biology and aquatic ecology at UBC and earned a Masters of Science degree in zoology.
Her interest in biology has been a major influence on the subject matter of her artwork, as is clear in the current exhibit:
In juxtaposing images of human tissue sections with landscapes, "Adam/Adamah" seeks to consider the connections between human beings and the land in which they originated. Our ties to the earth go beyond associations of familiarity and home, to the reality that we are made of this dust; when these unions are violated, through war and other conflicts, the impact is felt "in our bones."
Dennis Danielson: The Tao of Right & Wrong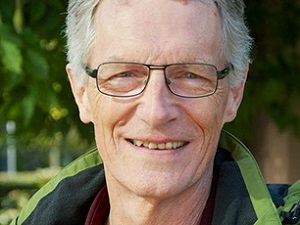 Dennis Danielson is professor emeritus of English at UBC (where he specialized in John Milton and his epic Paradise Lost) and an intellectual historian who has written about literature, religion and the history of science.
Regent College Publishing has just released The Tao of Right and Wrong: Rediscovering Humanity's Moral Foundations and Danielson will be at the college next Wednesday (September 12, the same day as the two art exhibits open) to launch the book with a lecture.
Regent College notes:
Written in the tradition of The Abolition of Man, C.S. Lewis's classic work on moral philosophy celebrating its 75th anniversary this year, The Tao of Right and Wrong addresses questions such as what is just? What is right? What is wrong? What purposes, and what virtues, are worth pursuing? And most importantly, how can we weigh answers to these questions without lapsing into, "That's only your opinion"?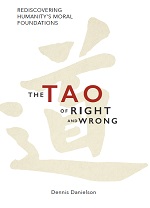 The Tao of Right and Wrong offers a vigorous primer on moral realism, asserting that humans can and should exercise ethical judgments – and that these judgments are not reducible to subjective opinion, animal instinct or cultural "construction." This book is a 21st century call for the virtuous cultivation of "humans with hearts," for a rejection of moral nihilism and for a life-affirming embrace of moral realism founded in the Tao – the transcultural fund of ultimate postulates that form the very ground of moral judgment, codes of ethics and standards of right and wrong.
According to Rex Murphy, commentator for The National Post and formerly for the CBC, The Tao of Right and Wrong is a remarkably compressed and equally lucid exposition of the truths that really count. . . . The debate in which the book engages is, in the full sense of the word, a fundamental one."
Iain Provan: The Reformation & the Right Reading of Scripture
Iain Provan is a leading biblical scholar who happens to live in Metro Vancouver and teach at Regent College. He will offer a presentation on The Reformation & the Right Reading of Scripture during the morning of September 15 at New Life Community Church in Burnaby:
The sessions will cover three topics:
Why the Bible can be trusted.
How God speaks to us through His word.
Reading rightly in the world today.
Baylor University Press, publisher (just last fall) of the magisterial 730-page book from which the lecture derives its name, stated: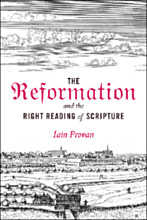 In the five centuries since the Reformation, the confidence Luther and the Reformers placed in the Bible has slowly eroded. Enlightened modernity came to treat the Bible like any other text, subjecting it to a near endless array of historical-critical methods derived from the sciences and philosophy. The result is that in many quarters of Protestantism today the Bible as word has ceased to be the Word.
In The Reformation and the Right Reading of Scripture, Iain Provan aims to restore a Reformation-like confidence in the Bible by recovering a Reformation-like reading strategy.
Response to the book from fellow theologians has been enthusiastic: "Prodigiously well-read, well-written, elegant and accessible" (John Goldingay, Fuller Theological Seminary). "A vigorous affirmation on how to read the Bible as a Protestant" (Timothy George, Beeson Divinity School). "A brave book that sails against the prevailing winds of hermeneutical fashion" (Kevin J. Vanhoozer, Trinity Evangelical Divinity School). "A timely affirmation of 'literal' reading, rightly understood" (Stephen B. Chapman, Duke University).
Alister McGrath: Faith & Science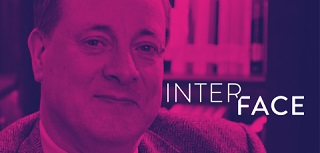 Oxford professor and prolific author Alister MGrath will speak at Regent September 18 – 19 to kick off the Interface: Faith & Science Lecture Series. Here is the description on Regent's site:
McGrath is the Andreas Idreos Professor of Science and Religion at the University of Oxford, and is widely regarded as one of the world's leading theologians. After an undergraduate degree in chemistry and a doctorate in molecular biophysics from Oxford, McGrath turned to the study of theology.
He has a special interest in the relation of science and religion, and has published widely on this topic. As a former atheist, McGrath has an especial interest in the "New Atheism" of writers such as Richard Dawkins. McGrath's bestselling books include the market leading Christian Theology: An Introduction (6th edition, 2017) and the award-winning C.S. Lewis – A Life: Eccentric Genius, Reluctant Prophet (2013).
McGrath will speak of his own perception of science and religious faith, reflecting on his progression from atheism to Christianity. The lecture will focus on two central ways of understanding the relation of science and religious faith, the "conflict" or "warfare" model, adopted by Richard Dawkins; the second is an "enrichment" model, adopted by McGrath, which holds that the natural sciences and religious faith can complement each other, and seen together, lead to a richer and deeper vision of life.
C. S. Lewis is one of the best-known Christian apologists in the world. Richard Dawkins is one of the best-known atheist apologists in the world. Alister McGrath has written acclaimed studies of each of these fascinating authors. What do they have to say on the meaning of life? How do they understand the role of the natural sciences as we work out the meaning of life? In this lecture, McGrath will dialogue with both writers, exploring their vastly differing opinions.
The lecture series, which concludes November 28, introduces a range of scholars exploring the relationships between theology and the sciences. Following Alister McGrath will be Sarah Coakley, Bruce Hindmarsh, Jens Zimmermann and David Robinson. Go here for more detail.
Mark Noll: Christians & Politics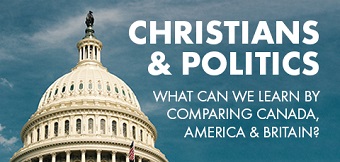 Subtitled 'What Can We Learn by Comparing Canada, America & Britain,' the presentation will be delivered during three lectures September 26 – 27. Though Mark Noll lives in Indiana, he has joined Regent as Research Professor of History.
This is Regent's description of Noll's talks:
The support of American evangelicals for Donald Trump has grabbed headlines across the globe. For Christians, especially those who consider themselves evangelical Protestants, opinions have become enflamed. Some applaud. Others are sympathetic. Some are bewildered. Some appalled.
The level of intensity in the American Christian-political relationship contrasts sharply with both Canada and the United Kingdom. In the States, politics and Christianity are enmeshed. In Canada and Britain, Christians remain active in public life but in a decidedly different context.
This series of three lectures will offer historical and theological insights from the contrasting histories of Canada, Britain, and America.
* Lecture 1 (September 26, 7:30 – 9 pm): The Current Situation: Embattled America, Quiescent Canada, Semi-Secular Britain
* Lecture 2 (September 27, 11:30 am – 1 pm): Triumphs of Anglo, American and Canadian Christian Politics
* Lecture 3 (September 27, 7:30 – 9 pm): Tragedies of Anglo, American and Canadian Christian Politics
Noll recently retired as the Francis A. McAnaney Professor of History at the University of Notre Dame, having previously served as Professor of History and Theological Studies at Wheaton College. He has taught courses on American and Canadian religious history, world Christianity, Reformation theology, Puritanism, historiography, 19th century British evangelicalism and American intellectual history.