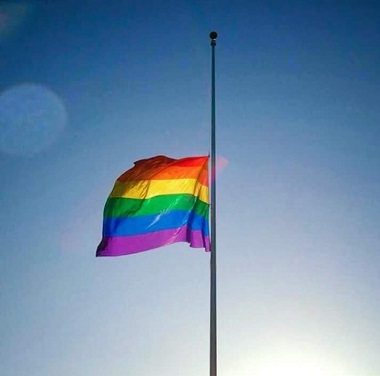 "Religious intolerance of homosexuality led to mass murder in Orlando." So ran the headline in the
Vancouver Courier
last week. Religion columnist Pat Johnson
was describing
anyone who believes in the traditional (scriptural) understanding of same-sex relationships.
He was talking about Christians, Muslims and Jews – and included the pope, despite his reputation for being compassionate and inclusive:
Shortly after being elected, Pope Francis said of homosexual people, "Who am I to judge?"
This seemed revolutionary. If it is not for the head of the Roman Catholic church to judge, who on earth is to judge? And that seems to have been his point. For those who believe in a higher power, and who contend that God sets out moral rules, then meting out rewards or reprimands really should be the purview of God, not humankind, shouldn't it?
In a clarification, however, the Pope let it be known that he was mostly saying in different words what well-intentioned people have said all along, that we should "love the sinner but hate the sin."
This is Johnson's conclusion:
Religious intolerance of both homosexuality and homosexuals led to mass murder last weekend and to so much pain and violence besides across the centuries. These ideas have no place in our contemporary world, no matter where they are written.
"Love the sinner, hate the sin" is merely a way-station on the bloody road to Orlando.
Other local commentators (and many further afield) have made similar points.
On the very day of the massacre, David P. Ball of
Vancouver Metro
spoke to
Trans Alliance chair Morgane Oger:
But for Oger, widespread condemnation of the massacre that is emerging from all sides of the political spectrum is not enough to undo the damage of "years of organized hate campaigns by Christian conservatives," she told Metro. "This guy is just a reflection of that five per cent of society who are bigots and hate others for bigoted reasons, and will actually go act on it.
Some within the church reflect a similar outlook:
There has been a lot of conversation about how the Church had a hand in the violence that took place [in Orlando] Sunday. I agree with that. When you sow seeds of homophobia and racism, hatred and violence, do not be surprised by the poisoned fruit you reap.
The fact is that the Orlando killer admired ISIS and apparently hated gays (and himself?). His acts were deplorable. Muslim organizations said so, the Catholic church said so, the Evangelical Fellowship of Canada said so. Anyone in their right mind said so. And believed it.
Omar Mateen cannot legitimately be said to have drawn on mainstream Muslim teachings, let alone on Christian teachings or practices. 
Listen to what the pope said:
A person once asked me, in a provocative manner, if I approved of homosexuality. I replied with another question: 'Tell me: when God looks at a gay person, does he endorse the existence of this person with love, or reject and condemn this person?' We must always consider the person. Here we enter into the mystery of the human being.
Or to Sam Allberry, an Anglican  minister visiting from England, who recently gave five lectures at Westside Church on the topic 
Is God Anti-gay?
He argued that in a democratic society it is our job to commend our views to one another. There is no reason why we should be excluded from the public square, he said, stressing that the gospel is for everyone:
Repent and believe in the good news. . . there's no one who is straight; we are all skewed in our sexuality.
Or to what Jesus said to the woman caught in adultery:
Let him who is without sin cast the first stone. . . . Has no one condemned you? [No one, Lord.]  Neither do I condemn you; go and sin no more. John 8:7,11
(I would like to add that Pat Johnson has written many good articles on religion in the Vancouver Courier. Within the last month or two, for example, his profiles on Gisela Kreglinger ('Wine and spirituality go hand-in-hand'), Ray Aldred ('Indigenous people see land as inseparable from spirituality') and Yonghua Ge ('Where science meets theology and duality') have all been very worthwhile.)
Who would Jesus blame?
What has stood out to us in the aftermath of the Orlando shooting is how quickly we move from tragedy to blame, how easy it is to make enemies, to pounce on the guilty, to leverage suffering for our own agendas, and to do it all as a means to secure our own self-justification.
This particular event offers us a seemingly endless smorgasbord of scapegoat games:
Muslims vs Christians
Progressive vs conservative
Gay rights vs religious liberty
America vs ISIS
Trump vs Hillary
Gun owners vs Obama
If we think there is a right side to these binary, zero-sum game antagonisms, the cross of Jesus Christ still has work to do in our life, because we are still caught up in the scapegoating polarity of the satanic system of the world.
The good news is that we are free in Christ, not to pick the "correct" scapegoat, but to refuse to scapegoat anyone!
They (Tebbe and Sternke) go on to suggest that we should (1) repent ("Instead of looking for the "right" person to blame, we pause to reflectively ask what 'us vs them' antagonism am I caught up in?"); (2) lament ("The Psalms are full of good lamenting. Start there if you need some words to get you going.") and (3) connect (Jesus "moved toward the people most likely to be scapegoated in his culture!").
The church still has a long way to go in loving and welcoming, but we won't get there by giving up the  biblical standard for marriage. As Sam Allberry put it, "We don't have a doctrine of homosexuality, we have a doctrine of marriage."