Simeon Garratt is hoping Prime Minister Stephen Harper will not cancel his trip to China next week, even if Harper feels he will have to cut the journey short to be back in Canada for Remembrance Day services November 11.
Garratt expressed that hope October 28 on CBC's As It Happens radio show while speaking out on the Chinese government's detention of his parents, Kevin and Julia Garratt.
Harper has high-level meetings with Chinese officials set for several days, but his office has announced that he will not be at the APEC Summit set to take place over the Remembrance Day holiday period. In view of the recent attacks on Canadian soldiers, on Parliament Hill and near Montreal, the government's position is that the prime minister needs to be in the country for the November 11 commemoration.
Simeon, a Vancouver resident, told Carol Off that, at the time of the interview, his parents had been held at an undisclosed location near Dandong, an entry point into North Korea.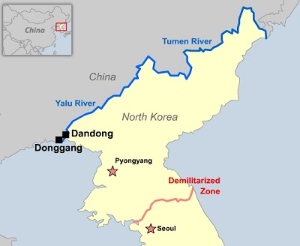 Peter's Coffee House, within sight of the bridge across the Yalu River that separates China and North Korea, has been operated by the Garratts for most of the past decade. Its web page is still up and running, and advertises music and English-practice nights, among other events. In addition, said Simeon, his parents run an organization that provides assistance to North Koreans with whom they have contact by virtue of their Dandong location.
The Garratts are known to be Christians. In an August 5 interview with Katelyn Verstraten of the Toronto Star, Kevin Garratt's brother, Todd, who lives in Mississauga (where Kevin grew up, before moving briefly to Vancouver and then to China), suggested that the Garratts are openly Christian and that he and his wife have founded several orphanages in China.
"They're open about their religion," Todd said. "They don't force it on anyone, but they're open about it. If someone asks about it they will talk about it."
When they were in the Vancouver area a few months ago, Kevin spoke at Terra Nova Church in Surrey. His sermon was posted on the church's website but was removed "for their safety" after word of the detention reached Canada, according to Kevin Har, lead pastor at Terra Nova.
He declined to be specific about the safety issue, saying he only became pastor of the church after the detention had begun and the sermon had been removed. Har explained that Terra Nova is an English-speaking congregation of about 80, made up mostly of Korean immigrants and their families.
Terra Nova shares facilities with Grace Community Hanin Church near the King George SkyTrain at the end of the Expo Line in Surrey. Grace is a Korean-speaking congregation of some 3,000. A Chinese-speaking branch of Grace also shares the facilities.
Har described Terra Nova as being a "typical evangelical church" with a fair smattering of people of "Reformed, Baptist, Pentecostal and other backgrounds" – all groups that are strong in Korea. Indications are that the Chinese/Korean links of the Surrey church cluster would have made it an interesting place for the Garratts to talk about what they do in Dandong.
Simeon Garratt could not be reached this week by Church for Vancouver, though he has been interviewed by several mainstream media outlets since the detention began.
During his As It Happens interview, Simeon told Carol Off that he would like Harper to make some statement about the case soon. "We have been fortunate to have a quite a tight communication line with foreign affairs. But publicly there has been nothing spoken from Harper or anything like that."
While he hopes Harper will not cancel his trip to China, he emphasizes he is encouraging the prime minister to speak out on the case – whether he does it in China or Canada.
Noting that his parents have been accused of spying and "stealing national secrets" – but not charged – Off asked Garratt what he thought the reasons for the detention might be. Simeon said he did not know, but explained they had located in Dandong as a result of "an amalgamation of their two passions" – their 30 years in China and their love for the North Korean people.
He said Kevin Garratt ran "an NGO [non-government organization] that does human aid work between China and North Korea." As well, he and Julia had been running Peter's Coffee House, whose clientele is anyone in Dandong who speaks English. They also had a lot of tourists "and reporters dropping in, as well as people from the US and Canadian embassies."
Simeon said his parents are being held in a "government facility" in or near Dandong, a city of two million. While they are in the same complex, they are not living together. They have had one breakfast together.
Consular officials have told him that both parents have lost weight and appear to be under some mental stress. They have a lawyer in Beijing, but he has little access to them. Family members' only contact is through written notes relayed by Canadian consular visitors. The Garratts are interrogated almost daily, Simeon indicated to Off.
Simeon hopes to be able to go to China soon to see them, but does not want to speculate on how soon his parents might be released.