A professor at UBC has become fully engaged in the American presidential election.
Sam Rocha's day job is associate professor, philosophy of education, but that doesn't prevent him from maintaining a very active presence on Twitter and writing for a wide range of Catholic publications.
Late last month he wrote one of four linked comments on the 2020 U.S. presidential election for Our Sunday Visitor.
His Catholic case for Joe Biden accompanied a comment making the case for Donald Trump and two other pieces, one arguing for Brian Carroll of the American Solidarity Party ("the closest thing we have to a party that is remotely consistent with Catholic teaching") and the other devoted to 'the importance of local elections.'
Here is a portion of Rocha's essay:
Using the Church's moral understanding of politics and answering her call for renewed engagement, I present this case to vote for Joe Biden in the 2020 presidential election. I rely upon two principles: social realism and minimal reason.
By "social realism," I mean a sense of what is actionable today. Social realism concedes that there are better ideal options but acknowledges, too, that they are not real. There are also perhaps better real options we could choose as individual voters – for example, third parties, write-ins or abstentions, but these reflect an individualistic rather than social option, because they are ultimately forms of self-expression, not public participation. Social realism, then, asserts that there are only two real and social options: President Donald Trump or former Vice President Joe Biden.
By "minimal reason," I simply mean the lowest standards that are nonetheless sufficient to call someone a rational person. . . .
This election is about a return to minimal reason by voting in a socially realistic way for the candidate who displays sufficient standards, in word and deed, that make for a rational person.
Along with his robustly consultative platform, Biden's record of experience as a senator and vice president, especially his record of bipartisanship, all indicate that he is someone who reads, listens and takes counsel.
In the real contrast of Trump vs. Biden, it is my prudential judgment that Biden is clearly the only one who is minimally rational of the two.
Go here for the full comment.
This online print debate between Rocha and Trump-champion Carson Holloway will carry on later today (Thursday, October 15) when the two face off in a YouTube debate.
A couple of responses
Rocha livens up the local scene; here are a couple of my responses to his enterprise.
First, I think Rocha has fought the good fight on Twitter and in his Our Sunday Visitor comment, standing up against the often virulent commentary of right wing American Catholics, who tend to blindly support Trump, not least because he is 'pro-life.' (I'm not referring to Carson Holloway; I don't know enough about him.)
In terms of whether or not Catholics (or socially conservative Protestants for that matter) should support Biden, I do think it is well worth reading Justin Taylor's comment: The case against pro-lifers voting for Joe Biden.)
While Rocha is not in the least hesitant to take sides on a variety of issues, he appears willing to talk and debate with anyone who will do so in good faith.
Second, I admire the breadth of Rocha's interests and the way he is willing to try things out. He is a keen and prolific musician, with six albums to his credit; he often plays live, with several shows coming up at the Wolf & Hound in Kitsilano.
My first sighting of Rocha was at Missions Fest in 2015. Here's part of what I wrote:
So, though I was a little surprised to see a philosopher/Catholic musician/UBC education prof in the 'Prelude of Praise' slot on the main stage Saturday afternoon at Missions Fest, I was not surprised by how much I liked his music.
I didn't take any notes, but what sticks with me are images of a man who combined sincere personal devotion with intelligent lyrics and an eclectic musical style:
* Sincere personal devotion: Just an impression.
* Intelligent lyrics: Rocha describes his new CD, Late to Love, as "an Augustinian soul album," a tribute to St. Augustine – and the reviews I've looked at since Missions Fest attest to its depth.
* Eclectic musical style: He says, "my musical influences range from folk, Latin, funk, soul, hip-hop and jazz, but my roots are in church music and the Mexican folk tradition. I could hear them all; my favourite was a Mexican folk song he had grown up with.
A couple of other things I like about Sam: he was playing at Missions Fest and he is not afraid to acknowledge Contemporary Christian Music (for all its many flaws) as an influence.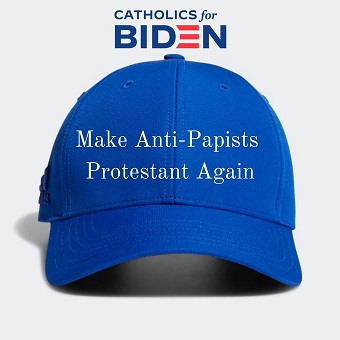 Third, I enjoy some of Rocha's comments on Protestantism. He appears to have been going after us a bit since Missions Fest, because he tweeted October 12:
I am very proud of us not dunking on Protestants for being Protestants that much anymore. Ever since we got our own protestant rad trads, we sort of lost that joke.
Rad trads are radically traditional Catholic (opposed to anything smacking of liberalism, Vatican II, Pope Francis, etc) – and sometimes converts from Protestantism – which has led Rocha, from time to time, to post the accompanying image on his Twitter feed.
Rocha also tweeted October 14:
To the folks flipping out about my claim that ACB's [Amy Coney Barrett's] performance at her hearing strikes me as being more Protestant than Catholic  . . .
 . . he pointed to her comments on the legal concept of originalism (the meaning of the Constitution doesn't change over time), which he apparently sees as taking too much of a sola scriptura approach.
Should be an interesting debate.
Evangelicals against Trump
A great majority of self-identified white evangelicals supported Trump in 2016 (some 81 percent, and still above 70 percent this time around).
But  many oppose Trump and two recent books, each featuring 30 contributors, make that case, with considerable vigour:
Ron Sider, editor: The Spiritual Danger of Donald Trump: 30 Evangelical Christians on Justice, Truth and Moral Integrity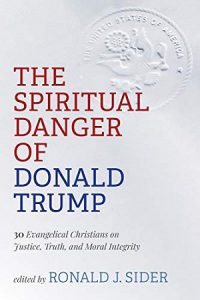 Here is (some of) the Amazon description:
What should Christians think about Donald Trump? His policies, his style, his personal life? Thirty evangelical Christians wrestle with these tough questions.
They are Republicans, Democrats, and Independents. They don't all agree, but they seek to let Christ be the Lord of their political views. They seek to apply biblical standards to difficult debates about our current political situation. . . .
Among the contributors are several with quite high profiles, including Miroslav Volf, Randall Balmer, Samuel Escobar and John Fea.
Jonathan Walton, Suzie Lahoud, Sy Hoekstra, editors: Keeping the Faith: Reflections on Politics & Christianity in the Era of Trump & Beyond
Here is the Amazon description: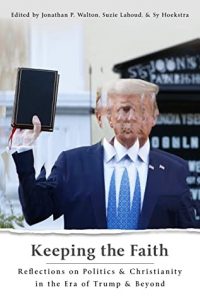 Since 2016, the story has been simple: Christians back President Trump. No matter what. We're here to change the story.
An anthology of dissent, Keeping the Faith unites the voices of believers across America who fall outside the narrative – who are re-imagining how the Gospel should intersect our politics.
This collection is for anyone who has ever looked at the religious pageantry propping up the Trump administration and said quietly in their heart: This is not my Jesus. We're with you. And we're saying it from the chest, for the people in the back.
My heart was warmed when I read about Ron Sider's book and his comments about this one on his own blog.
The author of Rich Christians in an Age of Hunger has been a guide for me; one of the highlights in my Christian life was chatting with him on the steps of the convention centre during the Lausanne Congress for World Evangelization in Cape Town in 2010.
Sider said of Keeping the Faith:
I want you to know about this important book. I also want you to know how grateful I am that young evangelicals are picking up the torch. . . .
When you are 80 (now 81) you often reflect on your life. And you wonder who will continue the vision you have sought to share. Well, this new book is one important, encouraging answer.
The book is a ringing appeal to Christians, especially white evangelicals, to follow Jesus and the Scriptures. All the authors share a solid commitment to Christ. They also all have a firm resolve not to vote for Donald Trump.