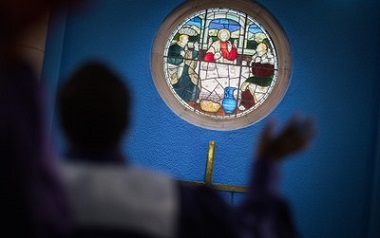 A version of this article was first published on When You Work for the Church by April Yamasaki.
It's been 11 weeks since my church has met in person for worship. Instead, we've been receiving the Sunday liturgy and homily by email or delivered to our homes. Some have been recording the worship music at home and sending out audio files, so we've been treated to piano and percussion, solos, a family singing together, a male quartet with one singer singing all the parts and overlaying the tracks.
Some worship alone or with those in their own household, others use Face Time, or gather together over Zoom. We're learning to worship in some different ways, but we're also wondering how long this might last.
As churches re-open, will it be safe for us to sing together?
Health authorities in BC are now allowing gatherings up to 50 people with appropriate hygiene practices in place and physical distancing of two meters between those who attend, but so far we have received no specific guidance on congregational singing or choirs.
However the neighbouring province of Alberta clearly identifies singing as a high-risk activity and says:
Congregational singing is not allowed. Consider a soloist or instrumental music instead.
Gatherings that include singing – soloists or in small groups – should take the following precautions:

keep singers completely separate from the audience and each other by livestreaming individuals singing separately
limit the number of people singing in the same place to the fewest possible
have people sing facing away from others or otherwise creating separation using a barrier such as Plexiglas

There is no evidence to determine exactly what a safe distance would be between singers and others, but greater distances can reduce risk.
As Christianity Today also notes, "singing releases more particles than other types of speech or breathing. It even spreads the virus more than coughing."
For churches this is of particular concern, since singing together is such a key part of worship for music teams, choirs, and whole congregations. In my church, the choir usually arrives early to practice every Sunday, takes a short break, and then leads the congregational singing and other music for the worship service. That's a lot of breathing and singing in an enclosed space over time, so I'm especially interested in how or whether we might do this safely.
Learning from other churches
Since the start of the pandemic I've been looking over the fence at what's been happening elsewhere. To the south of us in Washington State, a church choir made national headlines when two people died from COVID-19 and 45 others became ill after 60 members of the choir had met for an evening rehearsal.
To the east of us, an Alberta church met for worship, then stayed for a social event; of the 41 who had gathered, two people died of COVID-19, and 22 others were infected. These and other stories underscored the wisdom of finding alternatives to worshipping in person in order to limit the spread of the virus.
Now as the number of new cases has fallen in some areas and as restrictions begin to lift, I'm still looking over the fence. At the start of this month, churches in Germany that had been closed since mid-March began to re-open – with face masks, but without singing. Even with these and other precautions, an outbreak of 40 cases of coronavirus has now been traced back to a Baptist Church service in Frankfurt am Main.
In Canada, a recent article asks, "Can you imagine a church service without singing?" and then cites experts who say "there is no spacing solution for singing groups that would eliminate risk, noting singing can transmit the virus up to 16 feet."
The Canadian Pacific District Christian and Missionary Alliance notes:
It is widely recognized that singing propels droplets further than talking does and therefore, if congregational singing is occurring, that there may be additional physical distancing required. At present, the Provincial Health Officer has not issued a guidance on congregational singing for faith organizations.
So the Alliance suggests, "as a leadership and Board that you research and discuss this issue and determine what your approach in ensuring congregational safety in this matter will be."
For the Anglican Diocese of New Westminster, churches are also taking time to come to a decision and to plan carefully.
Discerning a way forward
As part of discerning whether and how to sing together in worship, I appreciate these additional questions from the Alliance Church document, BC's Restart Plan – Church Guidelines and Considerations:
After researching this issue, what do you feel are the risks associated with congregational singing and what is the safest approach for your church?
Does your church facility allow for greater physical distancing?
What creative options are available to both protect your congregation and incorporate worship through music in your services?
In Five Ways to Worship with Music Beyond Singing, Lilly Lewin explores how we might learn to worship without singing and beyond singing. She writes:
We all get to respond beyond using our voices. And for people who don't enjoy singing, this is what they've been waiting for! THIS is an opportunity to show our communities how their varied gifts can be gifts of worship too, beyond those who are usually up front, and those who have the gift of music and singing.
In A Concise Coronavirus Guide for Churches, Christianity Today doesn't address congregational singing directly, but encourages churches to "adjust worship practices and gatherings should conditions warrant," such as changing communion practices or passing the peace without shaking hands or hugs.
The guide also encourages churches to check with health authorities and other reliable sources of information, appoint a response team to plan and implement appropriate safety measures, and ensure clear communication in the congregation.
Trusting God
Above all, as we wrestle with the questions of this time, as we learn from and with one another, as we seek a way forward, let us pray and place our trust in God. Again from A Concise Coronavirus Guide for Churches:
Viral disease is a fact of biological existence and part of creation. Keeping perspective and not panicking apply here, just as they do for all risks we face as creatures in a finite world. No matter how dire circumstances get, the Lord remains our refuge and strength, "an ever-present help in trouble" (Psalm 46:1). To trust in the Lord amid trouble is to experience and bear witness to the power of Christ. . . .

In these anxious days, the church can shine as a light of hope, care, faith, patience and prudence, demonstrating for the world how our faith provides true assurance against worry and fear.
If you have additional thoughts, guidance, or links related to congregational singing and choirs in light of COVID-19, please add them in a reply below. I'm always looking to learn more and I know others are too!
April Yamasaki is an ordained minister with 25 years' experience as lead pastor of a mid-size, multi-staff church in the Fraser Valley, now resident author with a liturgical worship community, Valley CrossWay Church in Abbotsford.
She writes online and in print publications, and often speaks in churches and other settings. She is the author of On the Way with Jesus, Four Gifts, Sacred Pauses and other books on Christian living.
For more, see AprilYamasaki.com and WhenYouWorkfortheChurch.com.
Note: Peter Elliott, who retired as dean of Christ Church Cathedral last year, wrote On Not Singing the Lord's Song,' which was posted on the Anglican Journal site May 26.