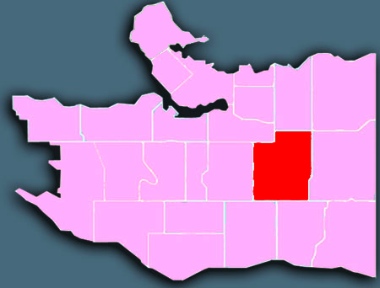 Kensington-Cedar Cottage consists of two historical neighbourhoods – Kensington and Cedar Cottage, which are south and north of Kingsway respectively. It sits in the centre of east Vancouver, offering stunning views of the city and the North Shore as one drives north from the southern boundary of 41st Avenue.
The northern boundary follows 16th Avenue from Fraser Street (the western boundary) to Clark Drive, where it jogs north to Broadway and east to Nanaimo Street (the eastern boundary). Kingsway cuts diagonally through the middle of the area, and Trout Lake is in the northeast corner.
Demographics
From Statistics Canada, 2011 Census, custom order for City of Vancouver Local Areas (comparative data for Census Metro Area in parentheses).
population: 47,470     under 18: 18% (19%)      aged 65+: 12% (13%)
married/common-law: 45% (48%)    living alone: 8% (11%)  
have kids at home: 44% (40%)     lone parents: 2,400     widows: 1,610
mother tongues: ESL 60% (44%), Cantonese 17%, unspecified Chinese 10%, Tagalog (Filipino) 6%, Vietnamese 5%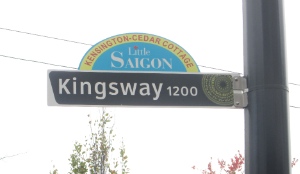 Kensington–Cedar Cottage was populated by successive waves of western then eastern and southern Europeans, followed by Vietnamese and other South Asians. The stretch of Kingsway that runs through Kensington–Cedar Cottage has been named Little Saigon by the city.
The 2011 Census shows that the percentage of Tagalog speakers has surged by 64 percent across Canada since 2006; that growth is certainly reflected here. Also in recent years, hundreds of Christian refugees from Burma and Vietnam have been settled here.
The median income for the area has been climbing steadily, as middle class younger families gradually buy out the older working class immigrant households. The southeastern half of the neighbourhood has a higher than average rate of poverty.
History
In 1888, Arthur Wilson bought 16 hectares at Knight Street and Westminster Highway (Kingsway) and began the Cedar Cottage Nursery. Farming began in that area, and also around Trout Lake. 
A tram stop at 18th and Commercial on the interurban line built between Vancouver and New Westminster in 1891 became an anchor point around which a village developed. By 1910 there were 40 stores and a school (Lord Selkirk, still standing today). In 1912, Cedar Cottage property owners voted for annexation by Vancouver.
As automobile traffic developed, Kingsway became a major through road, drawing business away from the village centre. By the beginning of World War One, Cedar Cottage was no longer rural, with industrial workers living in modest houses.
Notable features

Densification: Kensington was chosen to take part in CityPlan, launched in the mid-1990s. The purpose was to determine "programs, priorities and actions." Vancouver Sun columnist Pete McMartin said this about the process:
Kensington-Cedar Cottage and Dunbar, the other pilot neighbourhood, were to be the templates for all the other neighbourhoods in the city. . . . Beginning in 1992, Kensington-Cedar Cottage went through a 10-year design process to accommodate densification on its own terms. . . . (Dunbar went the other way, and fought densification fiercely, presaging what would be the pattern for most neighbourhoods today.)
McMartin, and many local residents, feel the process of densification brought more life to the area. But there are problems as well . . .
Prostitution, drug use:
Residents are trying to get the police and city hall to take action to contain the
prostitution, drug abuse and petty crime
that has become common along Kingsway, centred on Knight Street. When the King's Way Church of God of Prophecy suffered serious
fire damage
in the spring of 2015, Bishop Franklyn Allen wondered whether those issues – which he has seen signs of around his church at Kingsway and 17th Avenue – were related to the fire. He would like to see the city take action, but does not agree with some neighbours' proposal for a red light district.
Is this a neighbourhood?: Former city councillor Anne Roberts said in a 2007 Georgia Straight article:
It's a stretch to call [Kensington] a neighbourhood. With a population of about 45,000, it's larger than most cities in the province . . . You can't find a more multicultural population . . . People don't share a history. The area doesn't even have a central business district like Kerrisdale or Commercial Drive.
She was hoping the high-rises and other developments at King Edward Village (where Knight, Kingsway and King Edward converge) would become a "lively, attractive neighbourhood shopping area," that it would become the heart of Kensington. Kingsway has never been a pretty street, and traffic on Knight is brutal – but the development has created some sense of focus.
East along Kingsway from King Edward Village, at Gladstone Street, is the site of
Kensington Gardens
, a complex which will host three towers, town homes and commercial space; it is scheduled for completion in 2017. The developers – and their supporters – say it will rejuvenate the stretch of Kingsway between Victoria Drive and Nanaimo Street. Time will tell.
Churches
Kensington-Cedar Cottage has considerably more churches than most neighbourhoods (not just because it is a large area) and they reflect the diverse population:
Antioch; Basel Hakka; Bethel International; Father's House Church; First Christian Reformed; Glad Tidings Christian Fellowship; Grace New Covenant Pentecostal; Grandview Apostolic Pentecostal; Greater Vancouver Baptist; Heaven Bridge; Holy Family Catholic; Holy Trinity Church of the Nazarene; Hope Reformed; Iglesia de Dios de la Profecia; Immanuel Christian Fellowship; Immanuel; Jesus is Lord; King's Way Church of God of Prophecy; Knight Road Gospel Chapel; Korean Baptist; Lakeview Multicultural United; Maranatha; Mountainview Christian Fellowship; Our Lady of Fatima (Portuguese) Catholic; Praise International; Primera Iglesia Hispana del Nazareno; Reality; Slavic Evangelical Baptist; St. Casimir's (Polish) Catholic; St. Joseph's Catholic; St. Margaret's Cedar Cottage Anglican; St. Mark's Evangelical (German) Lutheran; Tai Kong United; Vancouver Chinese Alliance Church – Knight Street; Vancouver Japanese United; Vancouver First Church of the Nazarene; Victoria Drive Gospel Hall; Vietnamese Alliance. See map.
Here are a few ways in which Kensington-Cedar Cottage churches are linked to their neighbourhood. The list is far from complete and we would love to hear about other examples:
* First Christian Reformed Church has a community garden (Garden of Eatin') and Community Night Dinners every Wednesday. It has also made a serious commitment to environmental stewardship.
* Vancouver Chinese Alliance Church hosts a community party and a three-week 'Day Knight Camp' each summer. It will hold a FunFest October 31 for neighbourhood children.
Further information

* The Courier did several articles on Kensington-Cedar Cottage as part of a year-long series of articles on Vancouver neighbourhoods in 2013/2014.
* The City has a Kensington-Cedar Cottage page.