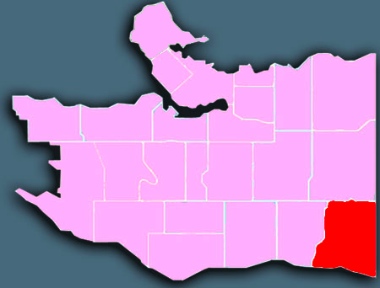 Killarney is a relatively low-density neighbourhood that has the third-highest concentration of families in the city. The median income has steadily risen and is now above the city's average. However, this masks a moderately high concentration of low-income residents living in co-ops and social housing in Champlain Heights.
Killarney occupies the southeastern corner of Vancouver, running up the hill from the Fraser River to 41st Avenue and Kingsway, between Vivian Street (until 41st, and then Elliott Street further down the hill) on the west and Boundary Road on the east. 
Demographics
From Statistics Canada, 2011 Census, custom order for City of Vancouver Local Areas (comparative data for the Census Metro Area in parentheses).
population: 28,450     under 18: 19% (19%)      aged 65+: 14% (13%)
married / common-law: 47% (48%)    living alone: 8% (11%)  
have kids at home: 50% (40%)     lone parents: 1,640     widows: 1,175
mother tongues: ESL 62% (44%), Cantonese 18%, unspecified Chinese 12%, Mandarin 5%, Tagalog (Filipino) 4%, Punjabi 3%
History
Killarney was the last part of Vancouver to be developed. Settlers arrived in the late 1800s, but it was still covered by second-growth forest and farms until after the Second World War, when much of it was turned over to single-family dwellings. The area got its name when the bog south of No. 1 Road (now 45th Avenue) was drained and developed at Killarney Street, where the high school and community centre were built.
Notable features

Townhouses: In 1970, Vancouver City Council approved the sale of a large undeveloped tract of land for multi-purpose development in the southern region. Champlain Heights was built up according to a municipal master plan similar to that used for southwest False Creek: townhouse complexes and co-op housing units for a mixture of incomes are tucked along streets winding through forest and park space.
Fully one-third of the row houses (townhouses) in the city are located in Killarney, dwarfing the numbers found in other neighbourhoods. The percentage of single-detached houses dropped significantly between the 1996 and 2011 censuses, from 35% to 21.5%. That percentage will continue to drop as more condos are built along the Fraser River.
Fraser River community: The City of Vancouver adopted an official development plan for the East Fraser Lands (which includes the land between Kerr Street and Boundary Road south of Marine Way and a triangle-shaped site north of Marine Way at Boundary Road) in 2006.
A 130-acre stretch of that river-front property is being privately developed as the River District to include 7,000 homes for 15,000 people, plus shops, restaurants, schools, daycare centres, parks and a community centre (but no provision for churches or other sacred spaces) in five distinct neighbourhoods.
A walkway now extends right along the Fraser River, through Killarney and beyond to the west. Though the three lumber mills which used to operate at the foot of Boundary Road are now gone, there are still plenty of log booms and tugs on the river.
Everett Crowley Park: Killarney boasts several sizable green spaces. For instance, Everett Crowley Park is the fifth largest park in Vancouver, at 94 acres. However, it must be the least known large park in Vancouver. It is certainly much less used than most, possibly because for the 25 years before being designated a park in 1987 it was a landfill known as the Kerr Road Dump. Named after the long-time owner of Avalon Dairies, the park features Avalon Pond and good views of the Fraser Delta. To the west of Everett Crowley is the Fraserview Golf Course, which covers an even larger area.
 
Shopping is focused along Kingsway (on the northern border with Renfrew-Collingwood) and in Champlain Square at Kerr Street and 54th Avenue. Killarney residents on the slope away from those shopping areas have relatively poor access to stores selling fresh, healthy natural produce. 
Churches
Bethel Chinese Christian MB; Blessings Evangelical Bible Church; Carleton Gospel Hall; Estrella de Belen; Faith Presbyterian; Grace Community Baptist;  Killarney Community Lutheran; Killarney Park MB; Liberty House of Worship; Peace Baptist; Prince of Peace Lutheran; Salvation Army (Southmount Citadel); Trinity Lutheran Church of the Deaf; Vancouver Chinese Alliance (Fraser Lands); Wild Goose Community. See map.
Here are a few ways in which Killarney churches are linked to their neighbourhood. The list is far from complete and we would love to hear about other examples:
* Killarney Park MB hosts a pre-school and a women's multicultural drop-in.
* Vancouver Chinese Alliance (Fraser Lands) offers a table tennis meet, knitting club and advanced care planning workshop this fall.
* Wild Goose is apparently planning a coffee house as part of its River District church plant.
Further information

* The Courier did several articles on Killarney as part of a year-long series of articles on Vancouver neighbourhoods in 2013/2014.
* The City has a Killarney page.