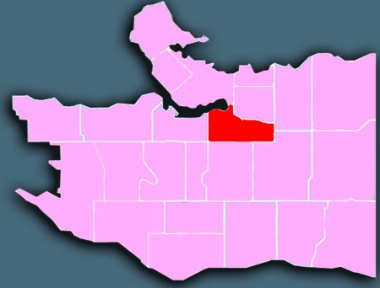 Mount Pleasant is a highly dense, economically diverse community in the mid-north section of Vancouver. The area has been steadily gentrifying since the 1990s, and the trend has intensified in the last decade as mid-rise condos have gone up along Kingsway, Broadway, Cambie (thanks in part to the SkyTrain Canada Line) and especially along southeast False Creek, starting with the construction of the Olympic Village.
Mount Pleasant extends from Cambie Street on the west to Clark Drive on the east, and 16th Avenue on the south to False Creek and 2nd Avenue / Great Northern Way on the north.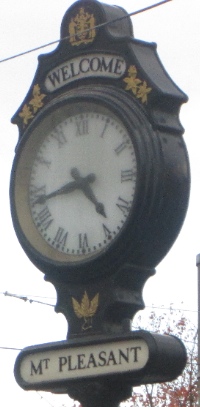 Demographics
From Statistics Canada, 2011 Census, custom order for City of Vancouver Local Areas (comparative data for Census Metro Area in parentheses).
population: 26,400     under 18: 11% (19%)           aged 65+: 7% (13%)
married/common-law: 39% (48%)    living alone: 27% (11%)        
have kids at home: 17% (40%)     lone parents: 895     widows: 535
ESL: 32% (44%)     mother tongues: Tagalog (Filipino) 4%, Cantonese 3%, unspecified Chinese 2%, French 2%, Spanish 2%
Mount Pleasant is a very dense neighbourhood where 89 percent of the housing stock is low- or mid-rise apartment buildings, and nearly all the rest are townhouses or duplexes. Approximately two-thirds of its residents are renters (compared to just over half for the city as a whole).
With a median resident age of 35.9 years, Mount Pleasant is the 'youngest' neighbourhood in the city (even though the percentage of those under 18 is well below the city average). It also has the fewest residents aged 65 or older.
Median income is rising quickly, along with the new condos and luxury apartments; however, there are high rates of poverty among households living in social housing and older apartments north of Broadway, particularly east of Main.
History
By 1897 the area had, along with Fairview (above False Creek), become Vancouver's first suburb. Located on a ridge where New Westminster Road (later Kingsway) and Westminster Avenue (now Main Street) converged, it was an easy commute by street car to the downtown core (then at Main and Hastings), across a bridge connecting two long necks of land jutting into False Creek.
The original and primary draw, however, was the availability of fresh water. A stream – now completely buried in a culvert – ran down into False Creek, servicing no less than four breweries and several other industries. Naturally, it was called Brewery Creek. By 1912 Mount Pleasant had all the amenities a thriving district could want, even Vancouver's first skyscraper, the Lee Building (still standing proud at Main and Broadway).
By 1930, the neighbourhood was fully built out, with finer homes on view sites above Broadway, and a mix of working class housing and industry elsewhere. But that mix wasn't to last, as industrial growth gradually displaced the moderately priced housing lower on the slope.
The tidal flats of False Creek – which used to extend as far as Clark Drive – were filled in during the First World War to make room for two railway terminals. During the 1930s, industry expanded in the area north of Broadway and spread back from False Creek. Throughout the 1950s and 1960s more industries, low-rise offices and warehouses moved in.
Although the area's residential prestige declined as industry expanded, many original houses survived and are now much sought after, especially the larger Queen Anne and Edwardian structures near Vancouver City Hall, which was built in 1936. Heritage Hall, at Main and 15th, is a historical building both architecturally significant and beloved as a community space. (In 2011, Heritage Vancouver Society listed Lower Mount Pleasant as one of its top 10 endangered sites.)
Notable features
Microcosm of Vancouver: Long a physical and social crossroads straddling the distinct western and eastern halves of the city, Mount Pleasant illustrates virtually all that is good and all that is troubling about Vancouver.
For decades it was a primary landing spot for refugees and new immigrants with low incomes but no local family connections.
In recent years, it has become a hot spot for young cultural creatives employed in film, TV, media and other arts. But gentrification and increased density are laying bare deeply held, contrasting views of what makes for a great neighbourhood and who is welcome to live there.
The Mount Pleasant Community Plan was adopted by City Council in 2010 after several years of intensive consultations with residents. However, there has been strong opposition to several new social housing projects and to tall condo towers, especially the 21-storey mixed used development called The Independent going in at the intersection of Kingsway, Broadway and Main.
Holy Hill no more: The area just east of city hall was often called 'Holy Hill' because of the number of large churches clustered there, primarily along 10th Avenue. Some have been lost, however. The former Evangelistic Tabernacle at 10th Avenue and Quebec Street was converted into condominiums in the 1990s, and the church (now called Cariboo Road Christian Fellowship) moved to Burnaby. Kitty-corner to Evangelistic Tabernacle was Mount Pleasant Baptist Church, which has been replaced by an apartment building.
On the other hand, several churches remain in the area, including one of the city's most dynamic, Tenth Mount Pleasant (Tenth Church has other sites in Kitsilano and Riley Park).
Churches
Bethlehem Lutheran; Chinese Tabernacle Baptist; Church of All Nations; Filipino Fellowship Baptist; Good Shepherd Anglican; Grace Memorial United; Holy Trinity Ukrainian Orthodox; Korean Brethren Lutheran; Open Bible Chapel; Spirit of Life Lutheran; St. Francis Xavier Catholic; St. Matthias & St. Luke; St. Michael's Multicultural Anglican; St. Nicholas Russian Orthodox; St. Patrick's Catholic; Tenth Mount Pleasant; Trinity United; Ukrainian & Slavic Pentecostal Temple; Vancouver Filipino SDA; Vancouver Korean Presbyterian. See map.
Here are a few ways in which Mount Pleasant churches are linked to their neighbourhood. The list is far from complete and we would love to hear about other examples:
* Grace Memorial United Church, just northeast of Kingsway and Fraser Street, has a thrift shop in the basement, a free weekly breakfast, a pantry (with groceries and other basic items) and often hosts community concerts.
* Holy Trinity Ukrainian Orthodox Cathedral: Thousands of handmade perogies are sold at the monthly Friday night perogy dinner at the church's auditorium on 10th Avenue, just west of Main Street.
* Tenth Mount Pleasant, on 10th Avenue a couple of blocks west of Main Street, offers a wide range of services to the community, including LiveWire (an after school care program), Divorce Care, meal and shelter programs, tax clinics and more.
Further information

* The Courier did several articles on Mount Pleasant as part of a year-long series of articles on Vancouver neighbourhoods in 2013/2014.
* The City has a Mount Pleasant page.
* RAMP: Residents Association Mount Pleasant