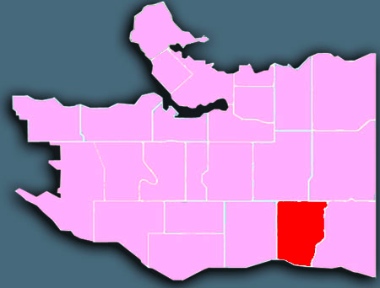 Victoria-Fraserview is an apt name for the neighbourhood which runs south down the hill on either side of Victoria Drive, from 41st Avenue to the Fraser River, between Knight Street on the west and Elliott and Vivian Streets on the east.
Demographics
From Statistics Canada, 2011 Census, custom order for City of Vancouver Local Areas (comparative data for Census Metro Area in parentheses).
population: 30,710     under 18: 17% (19%)     aged 65+: 15% (13%)
married/common-law: 47% (48%)     living alone: 5% (11%)           
have kids at home: 52% (40%)     lone parents: 1,630     widows: 1,600
ESL: 74% (44%)     mother tongues: Cantonese 26%, unspecified Chinese 15%, Punjabi 5%, Tagalog (Filipino) 5%, Mandarin 3%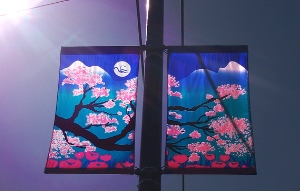 Victoria-Fraserview is a sizeable neighbourhood of predominately multi-generational immigrant Chinese households. It has the city's highest incidence of ESL. The proportion of people living alone here is lower than anywhere else in the city – even though the area has the second highest concentration of widows (behind Strathcona), which may signal that most of these elderly women are living with younger relatives. The neighbourhood also has the second highest prevalence of households with children at home.
History
The flats along the river were the site of an important Musqueam village. Although the first settlers arrived in the 1860s, few heritage buildings remain. Much of the development in Victoria-Fraserview came when Canada Mortgage and Housing expropriated land to build homes for veterans returning from World War II.
When the Fraserview residential development was built in the early 1950s, just west of the Fraserview Golf Course, streets – Muirfield, Bonneyvale and Stirling, for example – were named after famous golf courses of the world.
From the early 1900s onward, there has been considerable industrial development along the Fraser River, though in recent years condominiums and other types of housing have displaced some of that usage. Consequently, riverside walks and parks have improved dramatically.
Unique features

Avalon Dairy operated the last working farm in Vancouver – for 105 years, at 5805 Wales Street. Finally sold to Avalonna Homes Corporation in 2011, the 1.25 acre piece of land is being developed for housing.
Designed by Robert Ciccozzi of Robert Ciccozzi Architects, this residential development located on the old Avalon Dairy site will include six three-storey stacked town homes with 54 strata units . . . The Heritage A designation of the Craftsman-style 1900s-era farmhouse, which Avalon founder Jeremiah Crowley built in 1908, will be converted into one residential unit with common amenity space on the ground floor.
The property is surrounded by a handful of
heritage homes
and is just south of First Lutheran Church at 42nd and Wales.
Victoria Drive: The neighbourhood is still largely residential, with a wide range of commercial development along Victoria Drive. (Vancouver Chinese Baptist Church, in partnership with the Victoria Drive Business Improvement Association and the City of Vancouver, holds an annual clean-up of Victoria Drive.)
Commentary on the Victoria Drive Business Improvement Association site states:
We're building the history of Victoria Drive every day. Those who've grown up in this area and can recall shopping along Victoria Drive several decades ago will fondly remember the fine European bakeries, the Eastern European delis, the Mediterranean jewelers. . . .
The smell of rose infused coffee, the weekend line-ups for dim sum and dumplings, soya chicken displayed in a window, fruit cakes with whipped cream, friendly flower shops, colourful banners waving in the wind and a clear view of the North Shore mountains. Sounds inviting?
Find unbeatable prices for fresh produce, visit the stuffed wild Boar at a butcher shop, come fix your boat or car, dance on an authentic German wooden dance floor like no one is watching, sing Turkish Karaoke and park with no meters!
From 32nd to 55th Avenue on Victoria Drive find history in the long timers and exploration in the new businesses that are attracted now to a rapidly improving area.
Traffic: Knight Street is extremely busy, channeling a high volume of trucks and commuter traffic heading for the port and downtown from the southern suburbs over the Knight Street Bridge, which was opened in 1974. The intersection of the Knight Street Bridge and Southeast Marine Drive has been ranked as one of the top 10 motor vehicle crash sites in the Lower Mainland. Several other intersections along Knight are quite bad as well. Street racers have been attracted to the bridge and to Marine Drive.
Churches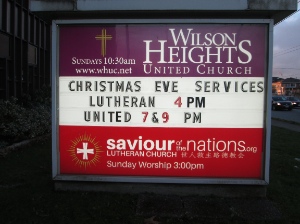 19Twenty; Breakthrough Church of God; Corpus Christi Catholic; Crave; Faith Fellowship Baptist; Faith Presbyterian; Finnish Bethel; First Lutheran; Grace International Baptist; Harvest City; Saviour of the Nations Lutheran; South Vancouver Community; St. Columba Presbyterian; St. Thomas Anglican; Tabernaculo Biblico Baptista el Redentor; Vancouver Bread of Life; Vancouver United Methodist; Wilson Heights United; Young Kwang Presbyterian. See map.
Here are some ways in which Victoria-Fraserview churches are linked to their neighbourhood. The list is far from complete and we would love to hear about other examples:
* Faith Fellowship Baptist Church, which shares its building at 49th and Elliott with Tabernaculo Biblico Baptista el Redentor, is very active in the community. It has had a major role in establishing New Hope Community Services Society, to help refugees and immigrants to settle into the community, and also operates out-of-school care and day care throughout the week.
* First Lutheran Church partnered with Terra Housing to create First Lutheran Court at 41st and Wales (just north of the church, on church-owned land), a 19-unit family housing project with a 25-space daycare facility, in the early 1990s.
Further reading
Some good sites to check out:
* The Courier did several articles on Fraserview as part of a year-long series of articles on Vancouver neighbourhoods in 2013/2014.
* The city has an Fraserview page.
The Avalon Dairy, at 5805 Wales St., was one of the longest-running and last working farms in Vancouver. The city has recognized the Avalon farmhouse for its significant heritage value, which means the city is required to try to find a way to preserve it. But recognition doesn't guarantee protection from demolition or alteration. – See more at: http://www.vancourier.com/news/victoria-fraserview-development-proposed-for-avalon-dairy-property-1.377573#sthash.Mn71dazT.dpuf
The Avalon Dairy, at 5805 Wales St., was one of the longest-running and last working farms in Vancouver. The city has recognized the Avalon farmhouse for its significant heritage value, which means the city is required to try to find a way to preserve it. But recognition doesn't guarantee protection from demolition or alteration. – See more at: http://www.vancourier.com/news/victoria-fraserview-development-proposed-for-avalon-dairy-property-1.377573#sthash.Mn71dazT.dpuf
The Avalon Dairy, at 5805 Wales St., was one of the longest-running and last working farms in Vancouver. The city has recognized the Avalon farmhouse for its significant heritage value, which means the city is required to try to find a way to preserve it. But recognition doesn't guarantee protection from demolition or alteration. – See more at: http://www.vancourier.com/news/victoria-fraserview-development-proposed-for-avalon-dairy-property-1.377573#sthash.Mn71dazT.dpuf
The Avalon Dairy, at 5805 Wales St., was one of the longest-running and last working farms in Vancouver. The city has recognized the Avalon farmhouse for its significant heritage value, which means the city is required to try to find a way to preserve it. But recognition doesn't guarantee protection from demolition or alteration. – See more at: http://www.vancourier.com/news/victoria-fraserview-development-proposed-for-avalon-dairy-property-1.377573#sthash.Mn71dazT.dpuf
The Avalon Dairy, at 5805 Wales St., was one of the longest-running and last working farms in Vancouver. The city has recognized the Avalon farmhouse for its significant heritage value, which means the city is required to try to find a way to preserve it. But recognition doesn't guarantee protection from demolition or alteration. – See more at: http://www.vancourier.com/news/victoria-fraserview-development-proposed-for-avalon-dairy-property-1.377573#sthash.Mn71dazT.dpuf
The Avalon Dairy, at 5805 Wales St., was one of the longest-running and last working farms in Vancouver. The city has recognized the Avalon farmhouse for its significant heritage value, which means the city is required to try to find a way to preserve it. But recognition doesn't guarantee protection from demolition or alteration. – See more at: http://www.vancourier.com/news/victoria-fraserview-development-proposed-for-avalon-dairy-property-1.377573#sthash.Mn71dazT.dpuf