A room full of pastors and Christian leaders from around Vancouver gathered June 16 at Tenth Church to learn more about the significance and potential of churches and ministries working together in the community.
They enjoyed the opportunity, denied during the pandemic, to meet and share insights – but also to receive specific data about the local church from WayBase, the group behind the event.
The gathering was the last of 14 stops across Canada (including Langley, June 7) for the City Impact Tour.
'Christian welcome'
Vancouver City Councillor Christine Boyle addressed the group, encouraging their participation in civic life, especially on two of her priorities – housing and climate issues.
She pointed to one church in her neighbourhood which "modelled a kind of Christian welcome" that still stands out in her mind.
Members of Grandview Church demonstrated what it means to be a good neighbour, she said, in the way they responded to plans for a detox centre and supportive housing nearby. She recognized the sincerity of their welcome when a number of church people came to a hearing in person and spoke up in support of those initiatives: "It was so powerful to witness."
She added that while there is usually general support for such housing, it is often followed with "but not here, not in our neighbourhood." Grandview was different, she said.
Boyle, an ordained United Church minister, also focused on the urgency of climate work. Acknowledging that her views might be controversial, she said, "Given the scale of the climate crisis," people should become very active, even consider civil disobedience.
She said some local Christian groups are indeed very involved in the issue, adding that it is good to see their big banners in marches, alongside Indigenous groups and others.
"The best antidote to despair is collective action," she concluded.
Tim Dickau, who was pastor of Grandview Church during the time Boyle described, prayed for her as she left for her next public engagement.
The City Impact Tour was by no means a political event, of course – more a chance to meet during table conversations and to consider various ways to learn more about the city and how to get our church members more involved.
A panel representing four local ministries showed how practical and diverse local initiatives can be:
Rebecca Pousette: Co:Here Housing
Daniel Whitehead: Sanctuary Mental Health Ministries
Dale Wagner: Union Gospel Mission
Joben David: Jacob's Well
Data collected from the table talk conversations will be sent out in order to document the collective thinking of those in the room.
WayBase data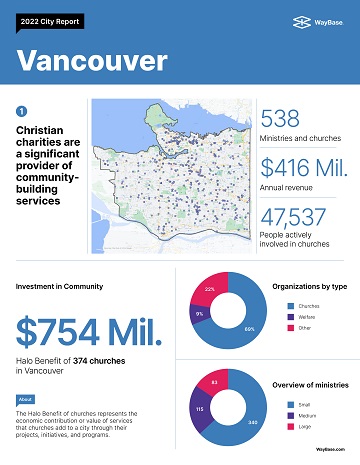 A key element of the WayBase presentation was related to the data they have been collecting on churches and ministries and their role in Canadian society over the past few years.
Some attending the Tenth Church gathering were surprised at the size and significance of the church presence in our community.
WayBase released these figures related to Christian presence in the City of Vancouver (ie, not including surrounding cities):
374 churches
164 ministries
3,768 staff
4,754 volunteers
$416 million – total revenue
$754 million – total Halo benefit (representing the economic contribution or value of services that churches add to a city through their projects, initiatives and programs)
Stephen Mulder, Director of National Engagement for WayBase – and a Vancouver resident – acknowledged that there are still gaps in the data. For example, there are clearly many more volunteers than noted, depending upon how one measures them, and the figures related to childcare still need more work.
[Having observed the local church scene for decades, this data offers a tremendous boon to anyone wanting to assess the situation and to determine how to join with others in the Christian community for the good of the broader community.]
Mulder said, "networks are key," referring to the concept of Collective Impact: "an intentional way of working together and share information to solve complex problems."
National database
Mulder emailed this comment following the conclusion of the tour:
WayBase really exists to organize and connect the entire Christian sector to work together for good, and move people to engage spiritual life in a new way.
The City Impact Tour has been such an encouraging time to see the church regather all over Canada and see the fruit of this happening. We believe we can and must work together for the good of our cities and we look forward to continuing to work with the church to develop tools and resources to do this better.
WayBase offers an online platform which allows users to "explore the 30,000-plus listings and opportunities to discover partners and increase your impact." These are the main uses:
All: Search for causes, churches, ministries, events, jobs and more
Churches and Ministries: Search over 30,000 listings to find programs, services, groups and leaders
Causes: Search causes to get involved in making a difference
Programs: Search for programs you can participate in based on name or keyword
Posts: Search events, announcements, jobs and more
The 'Starter' plan offers access to those opportunities. Two other plans, 'Essential' ($10 per month) and 'Advanced' ($25 per month) adds more tools and the ability for leaders to measure their ministry's impact.
Go here to compare plans and to consider signing your ministry up.
National Survey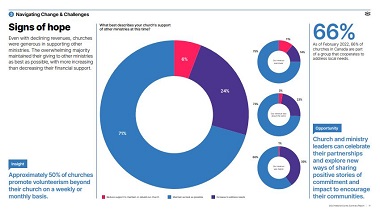 City Impact organizers also introduced a recent study. An earlier release about the research gave an overview:
WayBase has released The Next Normal: The Future of Christian Ministries and Churches in Canada, its 2022 National Church Survey Results, with better-than-expected findings.
Based on the responses of over 2,000 Canadian Christian leaders from coast to coast, the survey provides insight into the current state of Canadian churches and ministries, how they have adapted to shifting challenges and future implications. Despite the incredible difficulties of the last two years, the findings reveal unexpected stability, commitment to technological innovation and an opportunity for future investment.
"Division, drifting engagement, declining income, and struggling leaders were some of the challenges that seemed to exacerbate over 2021. Yet, there are strong reasons for hope. The Church is poised to turn a moment of uncertainty into one of possibility. It has shown that it can be resilient, that it is not fragile," states a WayBase spokesperson.
Some key findings reveal significant opportunities, for example:
The 'Great Resignation' has not impacted the church. 90 percent of church and ministry leaders intend to stay in their current role for the foreseeable future.

While this commitment is commendable, the energy levels of most leaders are either moderate or low. This is a time for leaders to re-energize.

Older leaders want to stay with their organizations. 79 percent of senior leaders over 60 years old are not planning to retire in the near future.

While this presents stability, older leaders must be mindful that this provides fewer opportunities for younger leaders ready for senior positions. This requires investment in the leadership pipeline.
The number of churches providing online services has quadrupled since 2020.
However, more than half of churches do not plan to have an online service going forward, primarily because they don't feel they've found the right digital tools for engagement and evangelism. This presents an opportunity to build on the momentum of online services and explore new technology to engage people.
"As our world continues to navigate the challenges of the pandemic and our rapidly changing world, it's clear that the church will need to adapt in order to flourish," adds Stephen Mulder, WayBase's Director of National Engagement.
"With much change on the horizon and the increasing complexity of our world, it is essential that we strengthen the church to remain strong, vibrant and bring renewed hope to a hurting world."
Download the summary or sign up for the full report here.
WayBase began under the aegis of City Movement, which co-sponsored the City Impact Tour. WayBase was launched as its own organization in 2018.