The folks who put out We Make Stuff Volume 01 – featuring 100 local artists – late last year are still alive and kicking and hosting artistic events.
'Loudmouths, Mavericks & Misfits' will feature "Ten artists, ten minutes, ten bucks" July 5 at Anchor Guitar Studio in Railtown. The talented 10 are Jill Marie Bronson, Chris Lemky, Diane Tucker, Bre McDaniel, David Vandas, Gwen Cornish, Kim Stevenson, Derek Usher, Steve Frost and Jess Park.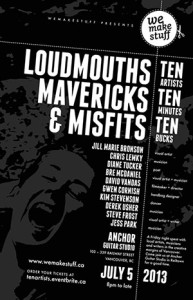 We make Stuff describes itself as "a community of artists and innovators, rallying together to document what creative people are doing across Canada. While sharing a passion for creative excellence, these artists also share a common pursuit of living a life that reflects the love presented by Jesus Christ."
David Vandas, publisher of the book and a key motivator in  the operation, assures us there will be a Volume 02, just stay tuned.