Twenty-seven pastors and network leaders met on a Zoom prayer call March 24 to firm up plans for a Day of Prayer and Fasting Across Metro Vancouver tomorrow (Wednesday, March 25), and for every Wednesday thereafter until further notice.
The idea began with senior pastor Brett Landry of Christ City Church, who acknowledged during the call that most churches and denominations are already very active in responding to the COVID-19 pandemic.
He said:
We're not looking to change anything we're already doing, just to augment it. This is an opportunity for us to grow in our unity.
Jonathan Bird, church relations specialist with Union Gospel Mission has been working with Landry to contact leaders and to set up the call. He said:
If you don't already have a personal or congregational rhythm of prayer and fasting during this crisis, here's a great way to begin. It's also a way to reinforce the connection and communication between the many localized prayer efforts in our city region, which will become all the more important as we head into stricter measures of physical distancing.
Since this pandemic is effectively a period of global Sabbath, this weekly rhythm of prayer and fasting is an opportunity to ask the Holy Spirit to show us what we need to cease from, to let go of.
What are the habits and attitudes that we carry in our hearts, our households and our churches, that we need to repent of because they've held us back from seizing until now the abundant opportunities God has always been extending to us for loving God and our neighbours? What blessing is God offering us, should we offer ourselves for the shalom and healing of our cities?
Aaron White, president of 24-7 Prayer Canada, led in a time of prayer.
Day of Prayer and Fasting
Landry made it clear that participation in the Day of Prayer and Fasting can take any number of forms. His church and others will take part in a Zoom call at noon.
A number of local leaders have said that they and their churches / networks / denominations will take part in some way. Among them:
Ken Shigematsu: Tenth Church
Dave Koop: Coastal Church
Darin Latham: Broadway Church
Cam Roxburgh: Southside Church / Forge Canada
Winston Pratt: Peace Mennonite Richmond
Stuart Appenheimer: Brighouse United Church
John Hall: Mission Central (Missions Fest)
Ted Ng: Faith Community Christian Church / Westside Christian Leaders Fellowship
Giulio Gabeli: Westwood Community Church / Pastors Together
Bird suggested these guidelines for those wanting to participate:
Designate Wednesdays as days of fasting and prayer in the midst of the COVID-19 pandemic
Each congregation will pray corporately at a time of their choosing every Wednesday, using whatever technology or procedure they are already using to meet: email, video conferencing, small groups in homes, etc.
Aaron White's team at 24-7 Prayer Canada is uniquely equipped to quarterback this effort. I highly commend them to you as part of a 20 year old international movement with close ties to Alpha, and which has always emphasized the integral linkages between prayer, mission and justice.
White said 24-7 Prayer Canada has several resources to aid the broader church:

o   guides for prayer 
o  Aaron's team has made a COVID-19 Prayer Resource Hub
o   a two-week online national prayer room where anyone can sign up for an hour or more of prayer from wherever they happen to be. This allows us to participate in a national (and international) prayer chain
o   capacity to set up your own congregation's virtual prayer room and encourage congregants to sign up to pray from home. The registration process is easy and gives you an interactive calendar for signing up, an email to each person who signs up, and a follow-up email an hour before their shift to remind them to pray.
o   congregations participating in the Wednesday Day of Prayer are not at all obligated to use these resources or prayer rooms, or to start a round-the-clock initiative.
Bird would like congregations participating in the Day of Prayer and Fasting to contact Angie Maghami (at[email protected]) so that she can update a public list on the 24-7 website and social media channels.
National prayer
There will be two concerted national prayer events later this week:
National Day of Prayer and Fasting
From the site:
The National Day of Prayer and Fasting is for our nation, believing God to minimize the effects of coronavirus.
Many ministries and leaders are sensing that we need to intentionally set aside time on this day (March 28th) to pray – either alone or in groups.
To aid us in praying together we are also hosting a virtual solemn assembly.
Prayer segments will be led by leaders from various provinces and territories in praying for Canada. 
There is a set agenda but it is subject to the movement of Holy Spirit and things may change. 
People from BC will take the lead from 6 – 7 pm.
Global Day of Prayer and Fasting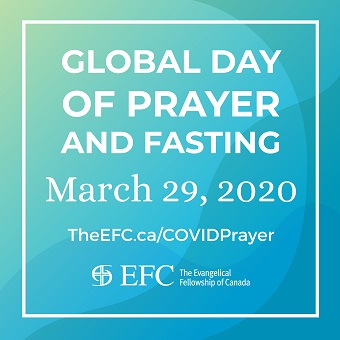 From the site:
The Evangelical Fellowship of Canada joins the World Evangelical Alliance in inviting Canadians and churches to a Global Day of Prayer and Fasting as part of the Church response to the COVID-19 pandemic.
The designated day is Sunday, March 29.
"We have been following with concern the news of the outbreak and spread of COVID-19 over the past weeks, first in China and then internationally, and we know that many among our constituency have already been praying for those affected.
We would like to now specifically call on churches and individual believers to take time to pray for God to intervene in this crisis and stop the virus from spreading any further," says Bishop Efraim Tendero, secretary general of the WEA.
Go here for COVID-19 content from the World Evangelical Alliance.