As a Palestinian, 'refugee' is a familiar word and status that many of my people have known since 1948. For non-refugees, this word can represent a stigma as it is associated with encroaching instability and danger. Others wear this term as a badge of pride, a reminder that they have a home and an origin, though they are separated from it.
Refugees in Vancouver
Over the past few months, I have been living in Vancouver, and have closely followed how Canadians are addressing refugees during these difficult times.
During my stay in your country, I have been volunteering with Dena Nicolai, chaplain and refugee support mobilizer with the Christian Reformed Churches of Metro Vancouver and the Lower Mainland.
This has been a particularly eye-opening experience for me as a Palestinian Christian woman from Nazareth. I initially came to Vancouver for a vacation, but shortly after arriving I decided to utilize my language skills and free time to help with refugees from Syria and Iraq.
I know one of the biggest challenges for refugees arriving in a new location is to adapt, and having someone speak their language can help ease the transition, so I wanted to use my skills as an English-Arabic translator to contribute to the amazing work your country is doing.
A Palestinian perspective
I would love to share a little about how this process has been for me as an outsider in Canada with a linguistic and cultural affinity to these Syrian refugees. My background with refugees is mostly with refugees from among my own people.
The uprooting of Palestinians as a result of the ongoing Israeli-Palestinian conflict continues to contribute to the number of homeless and displaced people in Israel and Palestine.
I have had experience working and volunteering with children that were not fortunate enough to resettle in a war-free zone, who were being transferred from Gaza to Israel for heart treatment because of insufficient medical facilities in Gaza.
As a Palestinian who was not displaced, I feel it is part of my duty as a Christian to help others in need. Although this experience was emotionally hard, it was also a unique opportunity to learn more about the situation in Gaza and the daily struggles and resilience of its inhabitants.
With refugees in Vancouver
Similarly, volunteering with Dena's team at First Vancouver Christian Reformed Church on Victoria Drive has been enlightening for me in many ways, leading me to make a few important observations that I think refugees would want you to know – such as how grateful they are to be given an opportunity to come to Canada and build a new home.
Interacting with some of the families, and particularly the women, has been a humbling experience, especially learning about their personal perspectives and lives. I would like to share just a couple of the stories I have come to know:
Maha is a widow from Syria who has been granted asylum along with her four children (ages 2, 9, 12 and 14), along with her mother (Em Maha) and her younger sister.
The minute they came into the church, her youngest boy ran toward the toys, his presence impossible for anyone to ignore. He is a hyper little boy who cannot sit still for a minute, shifting from one table to the other.
Maha told me that because of the civil war in Syria they fled to the neighbouring country, Jordan, but she would have to periodically return to visit her husband before he died. It seems that he was sick there. They waited for two years in Jordan until they were granted refugee status from the UN and were accepted to immigrate to Canada.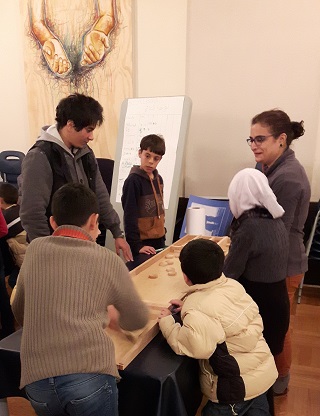 Her mother, who is in a wheelchair, told me she is now 54 years old, which was hard to believe because she looked much older. She listed several diseases that she is now suffering from – diabetes (the reason she is in a wheelchair as some of her toes were amputated) as well as vision and liver problems. She was holding a paper and a pen, trying to write the only thing she knows how to write – her name.
When I met them, Maha and her family had been here for only 15 days, and she had many questions about her situation. The first thing on the agenda was finding a permanent house for her family within the budget she received from the government. Housing is quite expensive here and she wanted to know where is the best place to live considering her financial limitations.
Right now they are staying at the Immigrant Services Society of BC's new Welcome Centre on Victoria Drive (right beside First Vancouver CRC), and she was overwhelmed with the decisions she needed to make in order to start her life here.
Aisha is another mother, who wears a niqab (a veil that fully covers the face); she has been in the country for two months now. She came with her husband and three children and only has positive things to say about how much people are welcoming of her and her family. She told me they had to leave their home in Syria because ISIS attacked their village, leading them to flee to Lebanon.
A welcoming environment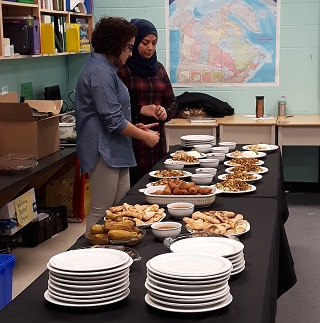 I am grateful that Dena allowed me to take part in this important work along with her team. I am very encouraged to see that many church members here are very welcoming to refugees and are actively attending to their needs and to the process of resettlement.
This experience has taught me a lot about the families that are resettling and about how long their journey was even before they arrived. From the time they left their homes until they got here, they have endured much waiting and uncertainty about their future.
Some of the delay was due to the long process of acquiring refugee status and applying for resettlement. It is hard for me to imagine what they went through during that period of time.
Challenges continue
Furthermore, their journey does not end once they arrive here; it just begins a new chapter accompanied by its own set of anxieties. Even though this country is welcoming and hospitable to its refugees, they face many challenges.
Starting a new life involves learning a new language, acquiring new jobs, learning new social norms and accepting that they cannot return to their original home. Canada has been overwhelmingly welcoming, yet many refugees are resettling in countries much more hostile to these newcomers.
I have been moved by this city's openness and hospitality towards its visitors and refugees. This is what I would like to see in my homeland – equal welcoming treatment for everyone, regardless of their legal status, ethnic background, gender and religious affiliation.
Many have told me that I have come here at a unique time, some referring to the exceptional snow in Vancouver, but also to the opportunity to witness the resilience of the city as it faces the anti-refugee and exclusionary policies and views coming from its neighbouring country to the south.
Returning home
My stay here is coming to an end and as I return to my homeland, I carry these experiences with me. As a Palestinian Christian resident of Israel, we face different types of challenges.
In Israel, 20 percent of the population is Palestinian with Israeli citizenship, 1.5 percent of whom are Christian. Being perceived and treated as a second-class citizen where you are not welcome in your own homeland is a reality that we refuse to accept.
At the same time, it can become overwhelming and discouraging, and many of us travel or leave due the injustice we face at home. I am moved by Canadians' and Canadian Christians' desire to be agents of change in their country, and I know will return home refreshed and with a renewed resolve to be an agent of positive change in mine.
Shadia Qubti is involved in many initiatives encouraging Palestinian women and youth to advocate for peace. Shadia was born and raised in Nazareth. She studied International Relations and English Language at the Hebrew University in Jerusalem, and Conflict Resolution and Nonviolent Action at Trinity College University in Dublin.
Shadia is a co-founder of the Another Voice blog, where Israeli Jewish and Palestinian Christian women share about their pursuit of peace in their context. If you want to hear more about her personal story, you can watch her sharing during a recent conference in the United Kingdom by clicking here.