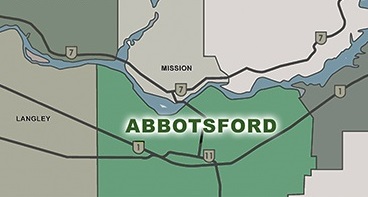 Peter Biggs of The Light Magazine is researching one Metro Vancouver / Fraser Valley municipality each month, and producing a four page feature. The June issue features Abbotsford.
Situated some 30 minutes east of the Port Mann Bridge, Abbotsford – aptly named 'city in the country' – is a fast-growing population centre.
There is no appreciable high rise downtown section; historically councils have been reluctant to approve high rises. Access to the city is easy, with most of Abbotsford being just north of the Trans-Canada Highway. The four exits into Abbotsford indicate something of its size.
Abbotsford's 141,397 population (2016 Census) has the third highest proportion of visible minorities among metropolitan areas in Canada (after the Greater Toronto Area and Metro Vancouver). European Caucasians make up 73.6 percent of the population. South Asians – mainly Punjabi – comprise 19.1 percent of the population.
Abbotsford has also been named by Statistics Canada as Canada's most generous city in terms of charitable donations for nine straight years.
The Abbotsford Regional Hospital and Cancer Centre is the city's largest employer. Although only nine years old, it has suffered from chronic nurse shortages, resulting in congestion in its Emergency Department.
Home to the University of the Fraser Valley, Tradex Exhibition Centre and Abbotsford International Airport, the city's Official Community Plan 'PLAN200K' leaves no doubt that Abbotsford sees itself as the 'hub of the Fraser Valley.'
Mennonite roots
Abbotsford has a strong historical relationship to Mennonites, who came to the valley in 1929. Although they numbered less than 50, within eight years they had built their first church. A post-World War II influx of refugees swelled their ranks and today the Mennonite community has deeply established roots and numbers in the thousands.
The Mennonite Heritage Museum opened in 2011, just south of the Trans-Canada at the Clearbrook exit. This privately funded initiative presents the Mennonite story through a variety of mediums, and has a cafe, library and computer resources.
Executive director Richard Thiessen (formerly library director at Columbia Bible College) said:
We are seeking to engage present and future generations with the Mennonite story, to preserve and document the history of Mennonites who came to British Columbia from Russia and Prussia/Poland by maintaining an historical library and an archive.
Mennonite Central Committee
The MCC Centre (opened October 2014) on Gladys Avenue displays an impressive range of services. The Light met with executive director Wayne Bremner and director of programs Melissa Giles.
"MCC is a large Christian organization, active in more than 50 countries, offering relief and development and promoting peace in the name of Christ," Bremner said.
MCC started in BC in the 1940s in response to refugees arriving from Europe, offering sponsorships and sending support to Europe. Bremner estimates there are now more than 50 Mennonite churches within 50 miles.
Every year MCC holds an 'Annual Festival for World Relief' at the Tradex. Last year they saw 20,000 attendees and raised $1 million.
Local ministries
Apart from the large Thrift Shop, Common Place Cafe, Quilt Store and Ten Thousand Villages Craft Store, Giles outlined the many local aspects of MCC's ministry.
"Every Thursday we provide a barbecue dinner to 60 to 70 along with clothing as needed. We also host a Sunday 4 pm meal," she said. They also run 'End Abuse' – a three phase support program with separate men's and women's groups which they take into the Fraser Valley Women's Prison weekly.
Bremner added:
MCC has been very active facilitating the recent refugee influx, helping 175 into BC – the majority being privately sponsored by local churches. Overall, since 1979, 14,000 refugees have been sponsored by MCC to enter Canada.
MCC is also helping to address the problem of homelessness. In 2106 they helped over 100 people with a program that averts evictions with affordable 'Rent Back' loans. "We also work with an organization called Raven's Moon," Giles said. Raven's Moon locates houses and acts as a support to potential landlords in renting to 'street people.'
Chief Constable Bob Rich: Issues for prayer
Abbotsford Police Department Chief Constable Bob Rich was a presenter at 'Together – an inter-congregational gathering hosted by Abbotsford Pentecostal Assembly and organized by the Abbotsford Christian Leadership Network (ACLN) April 30.
Tim MacIntosh – chair of  the ACLN and senior pastor of Heritage Alliance Church told The Light, "We felt it was timely to come together and pray for our city. Who better to help us know how to pray?"
Rich expressed his appreciation for the prayers that would follow. He said:
The Enemy is pressing in. I have in my back pocket a badge. It's meant to be a shield. The Bible talks about the 'shield' in Ephesians 6 right? The full armour of God. But for me many times that shield has not been perfect; the Enemy has been able to come in and destroy. So I've watched damage take place in Abbotsford.
I'm going to talk about three areas . . . the gang problem, the related and serious drugs problem and what my members face and are going through.
Right now in Abbotsford we are experiencing what we call 'The Lower Mainland Gang Conflict,' really focused on western side of the city. There are probably around 60 young men, many living with their parents, in competing gangs pitched against each other, perhaps driving around tonight. If they see the right person they will try to kill them. We've had three homicides this year and I've not yet figured out how we are going to stop number four. We have not found a way yet to convince young people to go in a different direction. So, that is something I ask for your prayers for. We're holding another forum on May 12 in Punjabi. We will again try to reach into that community to help them change the course of these young lives. It feels pretty brutal.
The other thing that is happening is that people are using drugs to deal with the pain in their lives. Many times the drugs are laced with fentanyl or carfentanyl and they will kill them, often alone and inside.
Rich also spoke of the emotional health of his members.
Most people will experience five traumatic events in their lives that could push them into 'Post Traumatic Stress Syndrome.' It is known that police witness and experience over 200. I want to find a way to help my members get through their careers and be able to retire physically and emotionally healthy.
Abbotsford City Prayer Breakfast
Hosted by the ACLN, the 28th annual Abbotsford City Prayer Breakfast was held May 17. Close to 220 people enjoyed breakfast and listened to Vijay Manuel, head of Mennonite Educational Institute (MEI) as he gave a talk on the theme 'Faith for Future Generations.'
[He] shared his personal faith story and recounted the positive influences of the humble Christians he and his family encountered during their early years in Abbotsford. Manuel is the son of pastor David and Stella Manuel of South Abbotsford MB church and several years ago was a leader of the popular youth gathering called Doxa which was held regularly at Central Heights Church. Manuel pursued a career in education, and taught at several schools before being offered the position at MEI.
Near the conclusion of the breakfast Mayor Henry Braun, himself a committed Christian, spoke a few words expressing his appreciation for the many young participants in the morning's event. . . .
For more information regarding events planned by the ACLN go to churchofabbotsford.com.
Next month will feature Abbotsford (2) / Mission.