Andy Harrington is well known locally as the leader, first, of Youth Unlimited / Youth For Christ and then of Wellspring, which focuses on education in Rwanda.
In September he made the transition from Wellspring to leadership of a worldwide organization devoted to food security:
Canadian Foodgrains Bank is a partnership of 15 Canadian churches and church-based agencies working together to end global hunger. We work with locally-based organizations in developing countries to meet emergency food needs, achieve long-term solutions to hunger and work to foster informed action by Canadians and governments to support this international cause.
Canadian Foodgrains Bank is well known in rural areas, but not so well in BC. Though the head office is in Winnipeg, Harrington plans to carry out most of his work from his home base in the Fraser Valley. And he hopes to raise the organization's profile considerably out here, beginning with "an advertising campaign coming up in the next few weeks that will be targeting places like Abbotsford and Chilliwack." 
While he has loved his time at Wellspring, he says:
I've got one more kick at the can left in me, and I'd like this to be the last kick at the can, we'll see. But I want to be part of something that is literally changing the world, and I think Canadian Foodgrains Bank is. But I'm leaving something that I think will change the world; it just needs someone with a fresh vision and fresh set of eyes.
Harrington made that comment during an interview with Ellen Graf-Martin, as part of her Change Makers Podcast series, just before he actually joined Canadian Foodgrains Bank at the beginning of September.
They discuss his journey to the new role as executive director, but for roughly the first half of the 48 minute video they focus on leadership issues – how he became a leader, how he determines whether and when to transition, living and making decisions through pain, walking through COVID, the importance of working for justice, listening to individual stories rather than treating people as groups and more.
Then they move on to Canadian Foodgrains Bank and related issues.
Following is a portion of the transcript of the latter part of their conversation. It's certainly worth reading, but I recommend watching the video. The interchange is lively; Harrington is an articulate and entertaining speaker.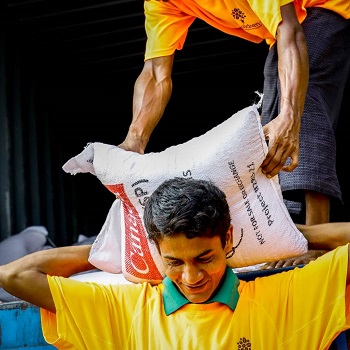 I've had quite a taste of [dealing with food insecurity] in these last four months as [Wellspring] had to pivot towards dealing with that.
I think what we have to remember is that there is food insecurity in Canada. You know, 27 percent of people in BC live below the poverty line. . . . So food insecurity is here but it's very different in the majority world; where you don't know if you're going to be able to put food on the table for the next meal, let alone the meal in two months' time, that you're stocking up for. . . .
So what does food insecurity look like? It looks like hundreds of millions of people in that situation. It looks like people in refugee camps trying to figure out how they're going to get food when they have no access to supply whatsoever.
It looks at the moment, where food supply chains are broken down – there's food in the ground that's been grown but there's no way to get it to market because of the lockdown – it looks like borders closed and the inability to have trade. It looks like crops rotting in the ground because they can't be harvested, which means a small holder farmer can't sell them so they can't buy the food, the seed, for the next crop and that creates long-term instability.
It looks like a lot more people being in a situation where they are – I've never really been hungry, but I've had it described to me by people on the ground – where they can't think of anything else other than I have to eat.
So, I would say, Ellen that it's a crucial, crucial thing for Canadians to be aware of and in a growing food crisis that we're going to see around the world we have to help – and there is a place for Canadians to help.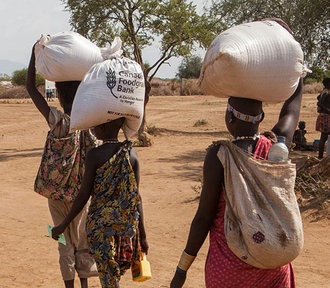 One of the other reasons I'm joining the Canadian Foodgrains Bank as a Christian – it's a Christian, faith-based organization – I love the fact that it's 15 denominations that are maybe quite separated in their theological stance, but when they come and sit around the table all they think about is Matthew 25 stuff: 'What you did for the least of these you did for me.'
They come together and it's love lived out in action. I want Canadians to understand that – inside the church and outside the church – at a time where Christians get a bad rap because of that some of that stuff you watch on the American news, and a bit on our side as well.
| want people to see, no, this is what Christian love is. Canadian Foodgrains Bank helped nearly a million people last year. | think the exact stats are 866,000 people – that's Canadians did that. That's people who made that happen in farms across the country and churches.
That's Canadians, and we need to be so, so proud of that. But as a country we need to do more. We want to see the government increase its overseas development aid. We should be at .7 percent; we're about .26 at the moment.
We want to see them do more and we want to see them come alongside those that are hungry, and we
know there's an interest there to do that. We know they want to do that and we're starting to see their
response already, So we encourage them to do more. . . .
| feel it would be wrong not to comment on some of the injustice that we see in the world at the moment.
We are watching a wave of people around the world rise up and say we don't want this anymore, we
can't take this anymore.
And I know, some of the phrases are controversial phrases and there are pitfalls you can go in, but I think one of the things that we are seeing in the world is that sense of God's heart for the poor and his anger against injustice.
If we are made in the image of God, that is coming out. Maybe not every action is a godly action or anything, but there is a place that people are coming from, whether it's Black Lives Matter or the issues we're facing in in terms of income inequality – whatever it might be, racial injustice – I think as Christians it's really important for us to start to grapple with those issues on a deep level.
And not to try and take a political stance. Politics and faith should not mix, and I know that's a controversial thing to say in North America, but Jesus doesn't take political sides, Jesus takes the side, often takes the side, of the poor. You see it again and again.
As Christians we have to grapple with that. We have to grapple that in the context of education in the majority world, we have to grapple with that as more and more people move into hunger. We also have to grapple with it here in Canada; we can't just look at the border and say those people have a problem down south.
We have our own issues here of systemic racism and systemic injustice. I did want to make sure I said that in this podcast, because I think that's going to be a key part of what every leader in every organization needs to look at.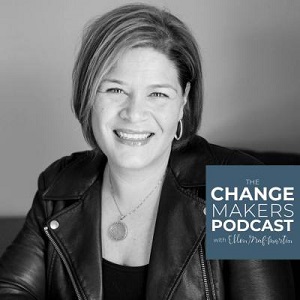 Where are my blind spots? What are we doing that's a blind spot because we think we're okay? We are not okay and | think things like COVID and everything that's happened brought this to the forefront and so it's time for us as leaders to take our lenses off and say, we need to listen, and to get educated, and to lead change; not be caught up in following the latest political craze.
This excerpt is re-posted by permission. Ellen Graf-Martin has interviewed another couple of local people on her Change Makers Podcast series: Shaila Visser (Alpha Canada) and Anne Miranda (Village Church).