Following a rigorous discernment period, the board of Pacific Theatre has chosen Kaitlin Williams as their new artistic director. Here is a portion of their media release:
Williams began her career in 2009 as an apprentice with Pacific Theatre. She has since become a familiar face on both the Pacific stage and in the broader Vancouver theatre community as an actor and director.
Her credits include work for Bard on the Beach, the Arts Club, the Belfry, ITSAZOO, Delinquent Theatre, the Electric Company, Chemainus Theatre, Western Canada Theatre, Touchstone Theatre, Rumble Theatre and many others.
Shows she directed have received eight Jessie nominations, including outstanding ensemble (Almost, Maine) and outstanding production and direction (Kim's Convenience).
Williams succeeds Pacific Theatre's founding artistic director Ron Reed.
Reed co-founded the company in 1984, shaping it from a small collective of artists meeting in church basements and kitchens to the full-scale Pacific Theatre of 2020.
Under his tenure, the company has produced over 150 professional productions, provided opportunities for hundreds of emerging artists, and developed and premiered dozens of new Canadian plays, including: Espresso, A Bright Particular Star, Prodigal Son, Navy Wife, Tent Meeting, Cariboo Magi, Mercy Wild, Book of the Dragon, Suitcase Stories, Bar Mitzvah Boy, Jesus Freak, Gramma and Tolkien, many of which have gone on to subsequent runs at other professional theatres around the world.
"I am thrilled with the decision," said Reed. "Kaitlin has a long history with our company and knows its ethos and mandate in her bones – as well as having her own ideas about how we need to move into the next chapter of the theatre's history."
Reed, now artistic director emeritus, will remain in an advisory capacity for the season as Pacific Theatre returns to COVID-safe operations model.
Said Williams, "I take on this role with a profound respect and appreciation for the artistic legacy that Ron has established. I myself am joining an incredible staff ready to tackle the challenges and opportunities that lie ahead along with a committed and engaged board of directors." . . .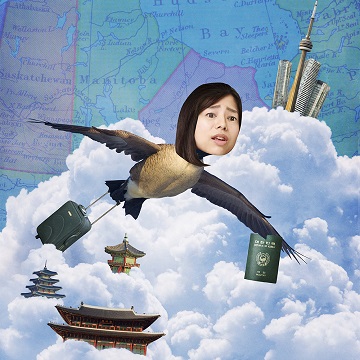 Williams' first project, and the return to performance for the company at large, is a remount of Maki Yi's one-woman show Suitcase Stories, which Yi developed during her own Pacific Theatre apprenticeship in 2016.
Suitcase Stories traces Maki's journey from South Korea to Canada and her experiences forging an identity in a new culture and career. The show will open in October.
"Suitcase Stories is a perfect way to welcome back our audience, and I'm so happy to begin my time at Pacific by featuring Maki's incredible talent and spirit," said Williams.
"My vision for PT is that we are known for a culture of equity, inclusion and broad community engagement – all while continuing to tell stories that rigorously explore the mysteries of life with artistic excellence."
Go here for the full statement.
(October 2: My wife just mentioned that she remembers when Kaitlin as a 14 year old in her Sunday school class paired up with another student to present a skit – the outcome was nothing short of inspired and beautifully executed.)
Douglas Coupland featured
Bryana Russell, curator of the Dal Schindell Gallery at Regent College, emailed some good news a few days ago. A "refreshed" website will take the place of live shows, featuring monthly digital exhibitions, interviews and explorations of art and theology.
One particularly positive development:
We have found a way to bring you the work of renowned author, artist and social commentator Douglas Coupland.
From now until next June, Coupland will release a new work of art and commentary through our digital gallery each month in an ongoing exhibition, The Whale Without Jonah. Circumstances permitting, the exhibition will culminate in a physical show in the Schindell Gallery in Summer 2021.
This exhibition is a coup for our humble gallery and provides a unique opportunity to seriously engage with cultural questions of belonging and narrative through visual arts. We are indebted to former scholar-in-residence Mary McCampbell for introducing us to Coupland and advocating for this show.
In 1994, Douglas Coupland wrote a small collection of witty and apocalyptic stories entitled Life After God. Prophetically reading the culture's concentric search for meaning amidst the new landscape of digital and technological connection, he concluded:
Now here is my secret: I tell you with an openness of heart that I doubt I shall ever achieve again, so I pray that you are in a quiet room as you hear these words. My secret is that I need God – that I am sick and can no longer make it alone. I need God to help me to give, because I no longer seem capable of giving; to help me be kind, as I no longer seem capable of kindness; to help me to love, as I seem beyond being able to love.
The Whale Without Jonah exhibition features 'Adam and Eve' (2019), about which Coupland says:
The sacred and the profane almost invariably inhabit the same orbit. If in doubt, simply look at our responses when we enter heightened emotional states when we swear; it's almost invariably a fusion of the religious with the biological.
Similarly, the banal and the transcendent exhibit a duality, and all it takes to shift from one realm to the other is the reframing of one's way of thinking. In this way we can view something as mundane as spray cans to flip our perspective.
In Adam and Eve (2019) we have pre-barcode spray cans arranged with products for women on the top shelf and those for men on the bottom. Instantly we recognize industrial color codes used to target gender. We also see a slice of life at a certain moment in time when spray cans contained a miracle called freon and TV comedians regularly made jokes about women drivers.
But then we pull back a bit and we see depictions of the ideal man and woman, and then we pull back further and think of the two sexes, and then we pull back to the dawn of not just our species but life itself.
Go here for the full statement and a curatorial statement by Russell. There are two other exhibitions as well: Art in Isolation, (various artists), and Visions from the Splash: Sculptural Meditations on Heaven & Hell (Dan Law).
Electing a new bishop
The Anglican Diocese of New Westminster will elect a new Bishop Coadjutor this Saturday (October 3); the Episcopal Election Synod will take place at Christ Church Cathedral.
The online election will offer a choice between five candidates: The one chosen will work with Archbishop Melissa Skelton, and then succeed her when she retires February 28, 2021.
The five candidates are:
The Venerable Allan Carson, Rector of St. John's Sardis & Archdeacon of Lougheed
The Reverend Philip Cochrane, Rector of St. Paul's Vancouver
The Reverend Philippa Segrave-Pride, Priest in Charge, St. Mark's Ocean Park
The Right Reverend Riscylla Shaw, Area Bishop of Trent-Durham in the Diocese of Toronto
The Reverend John Stephens, Rector of St. John's Shaughnessy, Vancouver
Go here for biographical information.
A one-and-a-half hour Town Hall video offers considerable insights into how the candidates think. I enjoyed hearing about their favourite books:
Carson – Darrell Johnston: Discipleship on the Edge ("one that I've read three times in the last decade")
Cochrane – C.S. Lewis: The Lion, The Witch and The Wardrobe ("C.S. Lewis comes from Belfast, which is the capital of where I come from")
Segrave-Pride – Bill Bryon: Notes from a Small Island ("a great commentary on my former home of Great Britain")
Shaw –  Alice Walker: The Temple of My Familiar; Audra Lord: Sister Outsider; Louis de Bernières: Captain Corelli's Mandolin
Stephens – J.R.R. Tolkien: The Lord of the Rings ("great story about pilgrimage and searching")
They responded to three questions:
Some of the qualities valuable in a bishop are good communication skills, pastoring, administration, preaching, spiritual maturity and others. Which of these qualities, or others, you might suggest, represent your greatest strengths?
What personal faith practices do you find most nourishing in your daily life? How would these practices vitalize and influence your leadership style as bishop?
What is one part of our diocesan profile you feel would stretch you if you were elected bishop? What learning or growth would you undertake if you were elected bishop to become more comfortable in that aspect of your ministry as bishop?
Go here for the video. Not as lively, perhaps, as the presidential debate, but considerably more edifying.
(October 3: John Stephens was elected.)
Life Chain
The annual Vancouver Life Chain will take place this Sunday, October 4. Here are the guidelines, sent to me by pastor John Kaptein:
We will meet at BC Women's and Children's Hospital along Oak Street at 29th Avenue (outside the bubble zone) from 2 – 3 pm. Because of social distancing rules, we must be six feet apart when on the line.

All church and pro-life groups and individuals are invited to help make this a large grassroots movement in solidarity with other Life Chains across North America. Please arrive 15 minutes early to find parking and be in position by 2 pm. Feel free to bring a chair if necessary for the elderly and infirm.

If possible, bring signs from previous Life Chains. Signs will also be at the Life Chain site. We ask each recipient to please spread the word to five other contacts and forward this announcement to your email list, social contacts and/or church/group bulletin contact.
Go here for more information on the movement and on other Life Chains in the Metro Vancouver area. Or contact John Kaptein at 604.708.1142 (home) or [email protected]. 
No Events