Archbishop Michael Miller returned last week from four weeks in Rome, where he participated in the Synod on Synodality.
He had been elected by his fellow Canadian bishops as one of six bishops to represent the Canadian Catholic Church at the Synod.
The global gathering was preceded by local parish meetings, beginning in 2021. The Synod marked the beginning of final phase of a three-year process. The bishops will meet again in October 2024 to conclude their "prolonged discernment."
In a November 2 YouTube interview, Archbishop Miller offered some definitions and context for the somewhat opaquely-named gathering.
First off, he said:
A synod is simply a gathering of people of the church.
Synodality is:
. . .  walking together as the people of God.
This Synod broke new ground:
It was very different from previous meetings of the Synod of Bishops, which previously were confined to mostly Bishops; a few others had participated. But at this Synod there were over 70 lay people and consecrated men and women who participated along with the bishops, on equal footing.
A key insight:
The big thing behind synodality is participation and communion. It's a call for people to become more engaged in the life of the church.
Can the approach to conversation at Synod be applied at a local level?:
It's something we can definitely use as a method at the local level. . . . For example, when an important decision had to be made in a parish community, instead of just sort of throwing open the question, folks, what should we do about XYZ – do we need a new parish centre and so on – how are we going to do it?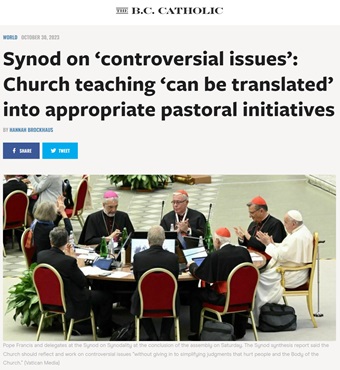 Instead of just allowing people who want to talk, everybody talks. You would have an appropriate scripture reading, everybody would would say their [piece], and it's usually timed to three minute max, maybe four, whatever you would decide
Then there's silence and then you go around again, not to repeat what you said, but what did you hear other people say. So you have to exercise your own listening skills, not just I want to get back in the argument. Then there's silence again, and the third time round there's kind of more open free debate. It allows for wide participation and it puts it in a more – contemplative is maybe a little over the top – but into a more rather prayerful context 
Go here to watch the 11-minute YouTube interview, and here to view the 42-page Synthesis Report following up on the Synod. It lays out conclusions of the Synod, including areas of disagreement, such as whether women should be ordained to the diaconate, gender identity and sexual orientation.
An October 30 article on The B.C. Catholic site is titled: "Synod on 'controversial issues': Church teaching 'Can be translated' into appropriate pastoral initiatives."
Real inclusivity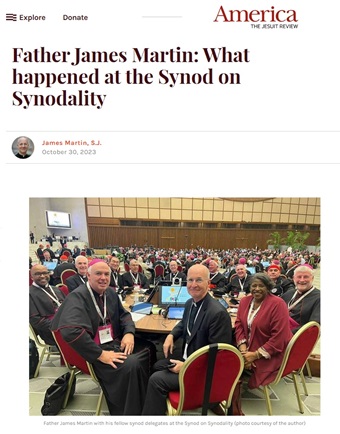 One Catholic commentator argued that 'the Synod on Synodality Report Models Real Inclusivity':
Elizabeth Grace Matthew took note of the polarization that divides the Catholic church, particularly on issues related to human sexuality. She wrote:
That the LGBTQ Catholic cause held so dear by many Western progressive Catholics was ultimately subordinated to the process of the synod – in which everyone's opinions were heard, and every part of the final report required two-thirds approval from the participants – merits great hope because it reflects good faith on the part of Pope Francis and his mostly progressive acolytes.
At the synod, true inclusivity took precedence over the faux-inclusivity that we so often see in progressive circles, in which the ostensibly marginalized are sycophantically tokenized when they tow the party line – and excluded when they don't.
This may not have been the synod report that progressive Catholics wanted, but it is to their credit one upon which the global Church can move forward none the worse – and perhaps even somewhat the better – for this synodal process.
Go here for her full article and here for an assessment by Father James Martin, one of those described by Matthew as an "LGBTQ Catholic advocate."
Ecumenical encouragement
One particular highlight of the Synod was its focus on ecumenism. As Thomas Schirrmacher, Secretary General of the World Evangelical Alliance, wrote:
On September 30, 2023, Pope Francis hosted an ecumenical prayer vigil in advance of the synod of Roman Catholic bishops that would begin on October 4.
He invited church leaders from various denominations to join him in prayer. Billy Wilson of the Pentecostal World Fellowship, Elijah Brown of the World Baptist Alliance and I prayed together with 17 other global Christian leaders from non-Catholic churches for the future of the world, the future of the church of Jesus Christ and the upcoming synod of the Catholic Church.
Of the Christian leaders present, roughly half represented the wider Protestant and Evangelical wing of Christianity, the other half the Orthodox and the Old-Oriental churches.
Section 7 of the Synthesis Report – 'On the Road Towards Christian Unity' – includes these passages:
This session of the Synodal Assembly opened with a profound ecumenical gesture. The 'Together' prayer vigil saw the presence of numerous other leaders and representatives of different Christian communions alongside Pope Francis, a clear and credible sign of the will to walk together in the spirit of unity of faith and exchange of gifts.
This highly significant event also allowed us to recognize that we are in an ecumenical kairos and to reaffirm that what unites us is greater than what divides us. For in common we have "one Lord, one faith, one baptism, one God and Father of all, who is over all, among all and in all." (Ephesians 4:5-6). . . .
Collaboration among all Christians is crucial in addressing the pastoral challenges of our time. In secularized societies, this enables the voice of the Gospel to have greater force. In contexts of poverty, it impels people to join forces in the service of justice, peace and the dignity of the least. In all instances, it is a resource for healing the culture of hatred, division and war that pits groups, peoples and nations against each other.
Go here for the full report.