The Roman Catholic Archbishop of Vancouver filed a petition with the B.C. Supreme Court February 26, requesting an exemption from the pandemic-related Provincial Health Order restricting church gatherings.
Archbishop Michael Miller is also seeking "a declaration that the Provincial Health Order is unconstitutional in its application to the Petitioner's activities constituting religious gatherings or worship, including Mass, weddings, funerals and baptisms."
Three Fraser Valley churches which have already defied the Order have been making a similar case before the court this week, and a group of Canadian Reformed Churches also filed a petition last week.
Appeals unheard
The petition makes it clear that Archbishop Miller and the Archdiocese are running out of patience with the provincial government. It points out:
First, in the Catholic faith, the Sunday Eucharist is the foundation and summit of all Christian practice. . . .
[T]his request is now of the utmost urgency. February 17 was Ash Wednesday, and our community has now commenced the Lenten season of the liturgical calendar. a period of solemn religious observance in anticipation of Easter.
The archbishop has been urging the government to loosen the restrictions since they were first imposed November 19. In the petition he points to earlier efforts to make the case.
The St. Thomas More Catholic Lawyers Guild of B.C. sent a formal letter to Provincial Health Officer Dr. Bonnie Henry and Health Minister Adrian Dix December 23, "in order to raise their concerns regarding the legality of the Orders in relation to the Charter of Rights and Freedoms."
Having received no response, they sent a follow-up email January 6 and sent the original letter to Attorney General David Eby January 25. The guild told the archbishop there had been no response to their correspondence.
To read the full petition from Archbishop Miller go here.
A February 24 BC Catholic article noted that "Archbishop Miller sent a 19-page submission to BC health officials February 19 asking that Catholic churches be permitted to celebrate Mass in-person with COVID-19 safety measures in place and an attendance limit of 10 percent of capacity."
Archbishop Miller asked officials for a response to his request by February 24, but it had not arrived by the time the article was written.
These references to a lack of response from the provincial government are widely shared. For example, Anthony Roy pointed out in a post last week how minimal is the evidence pointing to faith gatherings as being responsible for COVID-19 outbreaks – and how unwilling the government has been to acknowledge that fact:
However inadvertently, the current government policy of closing religious services entirely, while not providing any reasonable evidence for so doing, dissolves public trust and is creating a narrative of suspicion about religious British Columbians.
Pastor Sam Chua said, in his widely circulated open letter:
Even if religious gatherings were somehow more dangerous than the abovementioned (permitted) group activities – which they are not – the Ministry has made no effort to provide new COVID guidelines that would facilitate safe in-person religious group activities.
In contrast, the Ministry has prepared updated COVID safety plans to allow in-person non-religious activities to continue to operate.
Three churches in court
Three Fraser Valley churches actively resisting the Public Health Order were in B.C. Supreme Court March 1 – 3, arguing that in-person gatherings are an important part of their religious freedom.
Representing Riverside Calvary Chapel, Immanuel Covenant Reformed Church and Free Reformed Church of Chilliwack is the Justice Centre for Constitutional Freedoms (JCCF), which stated on the first day in court:
On January 8, 2021, the Justice Centre filed a constitutional challenge on behalf of three churches and four individuals against restrictions on public protest and the prohibition on in-person worship services in Public Health Orders issued by BC Provincial Health Officer Dr. Bonnie Henry.
In response, the BC government filed an injunction application, targeting the three churches who filed the court challenge. On February 17, the Court denied the government's request for an injunction.
The BC churches challenging the Provincial Health Orders assert that they have gone to extraordinary lengths to comply with extensive health guidelines, including limiting attendance to no more than 50 persons, pre-registering attendees, rearranging seating to ensure physical distancing, providing hand sanitizer and masks, and enhancing cleaning and sanitizing procedures.
Go here for the full statement.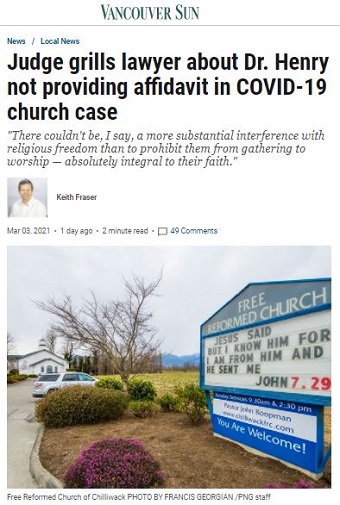 A March 2 report in The Vancouver Sun includes this interaction at court:
[B.C. Supreme Court Chief Justice Christopher Hinkson] said he wasn't sure the court was equipped to test the reasonableness of medical opinion and noted that it was not a battle of experts before him.
"But when you deprive the complainants of the ability to understand how (Dr. Henry) got from A to B, the court can't look at it, it really isn't much of a review," said Hinkson. "It gives Dr. Henry absolute authority and if she chooses not to share her thought process with the court, there's no oversight."
The judge said the churches were entitled to know how the orders would allow someone to go into a bar and watch a hockey game for an hour or two but at the same time prevent someone from sitting in a church for the same amount of time.
"It is a point I'm struggling with," he said. "Nobody elected Dr. Henry. She's been appointed and she has a difficult job. But if you just take it on faith, that's an ironic term to use. If you just take it on faith that she's balancing all of these things."
Gareth Morley, the government lawyer, said most of Dr. Henry's commentary related to health orders has been presented during her regular media briefings and that she has discussed the issues directly with members of the faith community.
Giulio Gabeli, senior pastor of Westwood Community Church in Coquitlam spoke outside the BC Supreme Court March 1. He said, in part:
We are here today to stand in support and solidarity with the pastors and churches that are challenging the ban on in-person worship gatherings, upholding their constitutional right to do so.
As a local pastor and the executive director of the Association of Christian Ministries of Vancouver (ACMV), we call upon our Provincial Health Officer Dr. Bonnie Henry and our Minister of Health Mr. Adrian Dix, respectfully:
To establish and declare that the faith community provides an essential service, and we ask you to recognize faith leaders as essential spiritual care workers . . . just like our health care workers.
The health of British Columbians is determined by their physical, spiritual, emotional and mental well-being as a whole; which the faith community is uniquely called to minister to and to provide.
As faith community leaders we desire to work alongside the Provincial Heath office and government and not be forced to be against them . . .
Watch the video above for the full message.
March 6 update: Chief Justice Christopher Hinkson reserved judgment Friday (March 5) at the conclusion of the week-long hearing.)
Canadian Reformed petition
Another set of churches joined the Catholics and the three Fraser Valley churches in petitioning the court.
A March 2 CTV News story noted:
On Tuesday, a separate petition was filed in B.C. Supreme Court by representatives of 10 other churches that are part of the Canadian Reformed Churches, which has about 3,000 members.
The group wants the court to quash the provincial health officer's restrictions that forbid in-person services.
"The petitioners believe that while meeting through electronic means may offer spiritual benefits, such means cannot replace the gathered worship service," the petition says.
The legal action isn't linked to the current application before the court, although Pastor Robert Schouten of the Aldergrove Canadian Reformed Church said in a news release that the objectives are shared.
Schouten was one of two pastors behind an Expand BC Worship Services letter sent May 21, 2020 to the provincial government, which stated, "Increasing access to worship services should be prioritized over recreational facilities or retail stores, not below them." The letter was supported by 144 churches.
Some relief offered
The provincial government has backed away, very slightly, from its outright ban on religious meetings. A BC Catholic article pointed out:
Archbishop Miller isn't the first religious leader to seek an exemption to BC's ban on religious gatherings. Vancouver Island's Rabbi Meir Kaplan sought and received an exemption for orthodox Jews, who are prohibited from using technology on the Sabbath and therefore cannot replace religious gatherings with virtual ones.
In that case, the provincial government allowed religious gatherings capped at 25 participants and held outdoors. Archbishop Miller said outdoor Masses would not be "practical" or "in the best interests" of Catholics.
A February 27 article in The Vancouver Sun noted:
Three Fraser Valley churches that have been challenging the COVID-19 ban on in-person worship services have been granted an exemption, days before their petition is due to be heard in court.
The Riverside Calvary Chapel in Langley, Immanuel Covenant Reformed Church in Abbotsford and Free Reformed Church of Chilliwack have received a "variance" from the provincial health officer, Dr. Bonnie Henry, allowing them to hold worship services, but only outdoors, with safety protocols in place and a maximum of 25 people.
"It's a very small step in the right direction," said lawyer Paul Jaffe with the Justice Centre for Constitutional Freedoms.
However, he said, "these orders are defective because they are arbitrary, disproportionate, over-broad and somewhat discriminatory when it comes to the churches." The churches are still meeting and carried on with their petition.
Waiting and hoping
While some churches are going to court and some leaders are (very politely) challenging the government – Sam Chua for example – but most are still waiting and praying.
Christian Life Assembly lead pastor Derrick Hamre, for example, said in his February 26 'Pandemic Blessings' newsletter:
We recognize that every church must make decisions on how they will do ministry in the pandemic. It is a complicated season. I've been in meetings with our MLA, Minister Dix and Dr. Bonnie Henry. Each day I pray for discernment, faith and courage. There is no fear.
We do NOT judge other churches or leadership teams for their approach to the pandemic or their approach to social issues. We recognize we are citizens of Canada, but we also affirm that our citizenship in heaven trumps this.
We do not believe this is a right and wrong issue. It is defined for each church because of their unique calling from God. Decisions are made sensitive to our times, and context, expressed uniquely for each church and denomination.
We support churches to take a stand and pray for current court cases. We resist division and talk that is disparaging toward any of our brothers and sisters. We pray, humbly take our stand, and communicate it to our people.
He reiterates that CLA, based in Langley, "is open on a limited ministry basis and is working hard to follow the current health orders," and believes the great majority of CLA's people support the church's stand.
Go here for his full comment.